He promises to name a new number one contender tonight, challenges everyone in the locker room to try to impress him, and then turns a salute into a hilariously blurred middle finger to end things. If you played the N64 WWF video games, you know and love this middle-finger blur. It's also a handy, "GFY, America," GIF for whenever Linda McMahon does whatever she's going to spend the next year and a half doing.
If you've ever seen an episode of Raw from 1998 before, you know this challenge leads to everyone in consideration for number one contender randomly showing up to ruin other people's matches. Undertaker randomly chokeslams D'Lo Brown and attacks Terry Funk (while Jim Ross shits his britches screaming, "WHY, WHY") and Kane and Mankind interrupt Vader vs. Bradshaw to beat them both down. Pictured above is Kane Tombstone piledriving Vader and missing the ground by about half a foot, because it's probably hard to judge distance when you're wearing a thick leather mask and upright 69'ing a 400 pound man in a leotard.
Note: Bradshaw vs. Vader is the ultimate battle of guys who need some forward momentum, but aren't going to get any. Bradshaw's a few years away from being a really important character, and Vader's a few years removed from importance. Bradshaw's spent the past year hanging out with TAKA Michinoku in "other cultures are bad" comedy angles, and Vader's only around to lose to new stars and literally shit-talk himself. Them going one-on-one and then getting beaten down by two people completely unrelated to the match is pitch-perfect, unfortunately.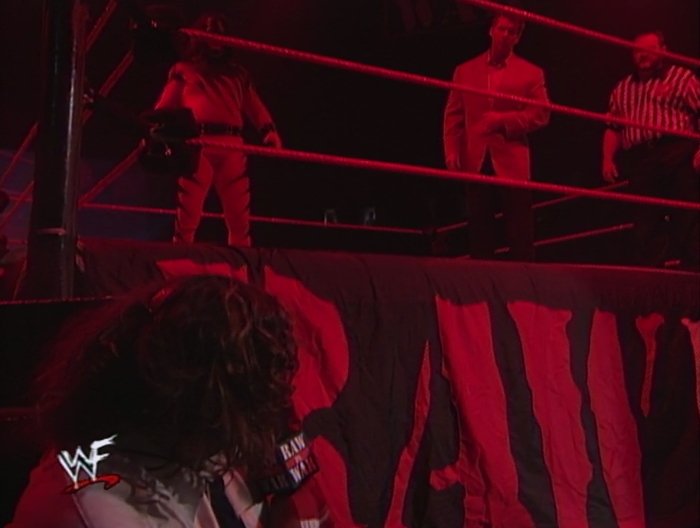 In response, McMahon brings the three match-invaders to the ring and addresses them individually before deciding — get this — they should compete in a triple threat match to see who should be number one contender. Triple threat matches weren't as common in 1998, sure, but it's the only solution, and WWE still puts way too much faith in the belief that its audience can't see "impromptu" tag or multi-man matches coming.
At the end of the night, Undertaker apparently no-shows the match (because he's a coward, you see) and Mankind pops a squat on the outside, saying he'll never fight his best friend Kane. In response to that, Kane smashes Mankind in the face with a chair and rolls him into the ring and pins him, because hey man, you don't become "the devil's favorite demon" by shaking hands and abiding by the Code of Honor.
But wait, there's one more swerve! You know how Kane's been wearing that suspicious ass double-sleeve version of his gear lately? That's because it's not Kane at all It's KANE THE UNDERTAKER!
Don't feel bad, Mankind, it could've been worse. It could've been Kane Dewey.
So there you have it; the Undertaker swerved everybody by pretending to be one of his opponents in a triple threat match he was supposed to be in already anyway. This helps set up the tag team main event for Fully Loaded — Austin and Taker vs. Mankind and Kane — which positions the WWF Champion and the number one contender on the same side and asks the rare question, "can they co-exist?" If you've watched an episode of Raw since 1998, you know the answer is, "of course not," with a side of, "and they'll probably end up Tag Team Champions."
In other words,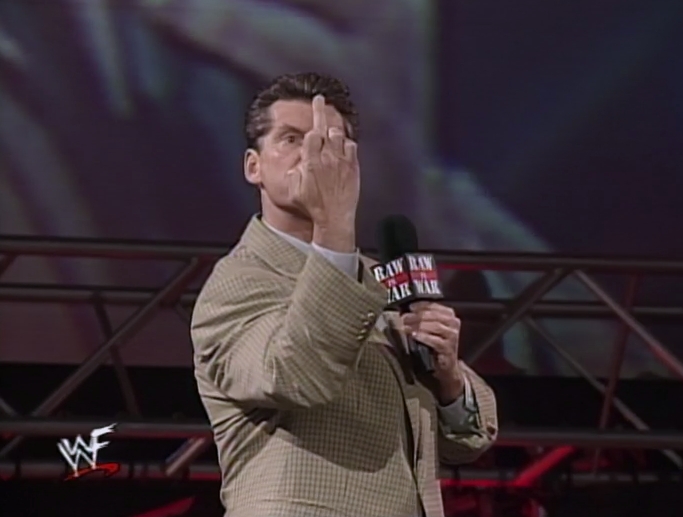 Worst: Brawl For All Isn't Getting Any Better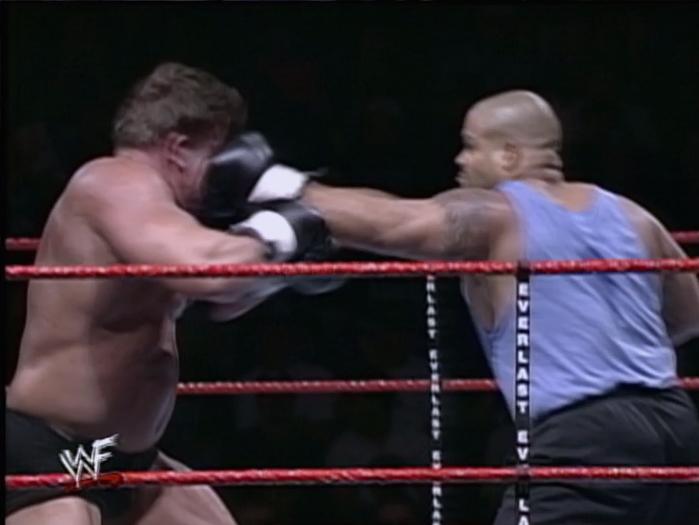 Hey, remember when BRAKKUS was supposed to be coming to the World Wrestling Federation to destroy all your favorites, and then nothing happened? Well, he finally makes it to Raw as part of Brawl For All, doesn't know it's supposed to be a shoot-fighting tournament, and gets his nose busted up by Savio Vega.