Previously on Jesus Christ, Superstars: The fearsome Damien DeMento debuted, hailing from The Outer Reaches of Your Mind! Also, Doink the Clown is hanging around. He's from the regular parts of your mind!
If you'd like to watch this week's episodes, you can do that here and here, and you can support the column (so we're allowed to keep writing it) by reading previous installments on our Jesus Christ, Superstars tag page.
If you like these, and our break from the normal Best and Worst format, make sure to share it around so it gets read and drop us a comment below.
Here's what you missed 27 years ago on WWF Superstars for November 14 and 21, 1992.
Ultimate Disappointment Of The Week
November 14
The Ultimate Warrior:
"TAKE A GOOD LOOK RAZOR RAMON AND NATURE BOY RIC FLAIR FOR WHAT YOU SEE ACROSS THE BACK OF THIS MACHO MAN AND ACROSS THE FACE OF THIS ONE, THE ULTIMATE WARRIOR, IS THE BONDAGE OF THE ULTIMATE MANIACS. NO SLEEP, NO FOOOOOOD, NO NOTHING, JUST MANIACISM, AS A SKELETON WE STILL WALK AS ULTIMATE MANIACS THEREFORE WHAT YOU GONNA DO, BURY US NOW, MAH HA HA HA HA"
Macho Man Randy Savage:
"Gets to a point where it really doesn't matter, you guys don't really know us like you think that you do, riding on the edge of a lightning bolt, yeah, we are, we the Ultimate Manaics, and we are ultimate survivors! We're not planning a hit, welcome to the big time, cause we're already here! And we aren't goin' nowhere, can you dig what I'm sayin'!"
November 21
Whoops, sorry everyone, The Ultimate Warrior has been released from the World Wrestling Federation a few days before Survivor Series for … [checks notes] "disputed reasons." Here's Macho Man Randy Savage, dressed like Marlins Park, to tell us all about it. Mean Gene Okerlund's only input is, "The Ultimate Warrior … is out!"
Via Wikipedia, because I can't summarize it any better without just calling Warrior "The Living Steroid" over and over.
The initial plan for Warrior's 1992 return was to eventually give him another run with the WWF World Heavyweight Championship. However, his return coincided with the government's crackdown on steroids in wrestling. Warrior was admittedly a heavy user of steroids during his professional wrestling career. In his book Sex, Lies and Headlocks, ESPN writer Shaun Assael stated that Canadian chemist Mauro Di Pasquale, who had been hired in June to monitor the WWF's new drug testing program and was known for being tough towards anyone who failed a drug test, nailed Warrior for steroid use in September and was able to successfully persuade McMahon, who was under federal scrutiny at the time for allegations of illegally supplying steroids to some of his wrestlers, to release Warrior from the company. However, in the Warrior: The Ultimate Legend documentary Vince McMahon claims that it was Warrior's experimenting with growth hormone which led to his departure; Warrior was suspended and, in return, skipped dates as he took offense to McMahon's actions. Warrior left the company on November 21, 1992.
What can they possibly do with only four days to restructure an entire pay-per-view main event?
November 14
Mr. Perfect:
"Macho Man Savage, and the Ultimate Warrior? The Ultimate Maniacs? Uh uh. The Ultimate LOSERS, at Survivor Series!"
November 21
Mr. Perfect:
lol nm I'll be your partner, it's fine
So yeah, with only four days to possibly restructure the selling point of a tent-pole pay-per-view, the World Wrestling Federation's just like, "put the bad guys' manager on Savage's team." That's the entire story. Perfect, who more or less ruined the SummerSlam main event by pretending that he was going to either manage Macho Man or The Ultimate Warrior, agrees to team up with Savage on short notice after the mysterious disappearance of his tag team partner. His explanation? He actually doesn't like Ric Flair, after spending all year talking about how much he likes Ric Flair.
Somehow this doesn't set up an extremely obvious swerve and 3-on-1 beatdown of Savage, and they prove to be a great and trusting tag team. Macho Man presumably learns an important lesson about choosing a tag team partner who can read and write, can speak in complete sentences, and doesn't dress like Winger's tour bus drove into a brick wall at 100 miles per hour. Warrior wouldn't return to the company until four years later, where he'd squash jobber of the week Hunter Hearst Helmsley at WrestleMania — whatever happened to THAT guy — and be gone again by midsummer for additional dumb bullshit.
Jobbers Of The Week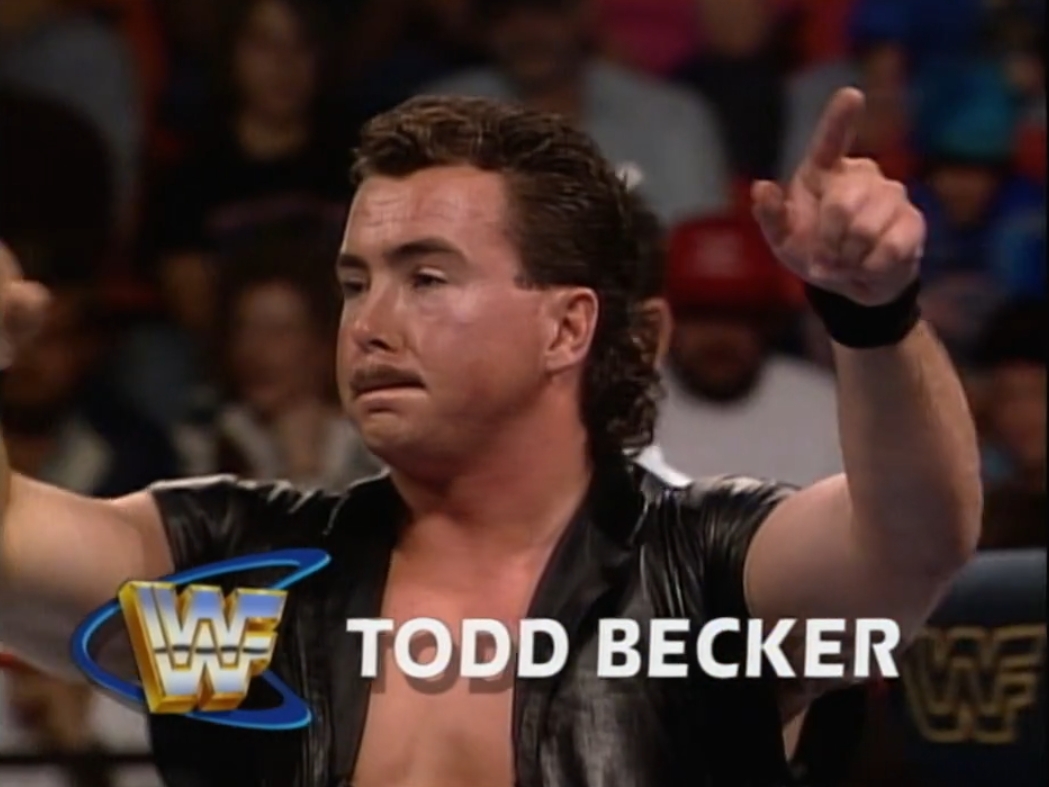 The latest graduate from the Kenny Powers Wrestling Academy is Todd Becker, former journeyman for the AWA, WWF Herb Abrams' UWF, and various Midwest indies. In true WWF Superstars fashion, he's alternately billed as Todd Baker, Todd Becker, and Todd Bocker. You can tell it's him because his gear looks like the intro to Saved by the Bell. He looks like a wrestler you'd get in a Happy Meal.
Becker's job is to get turned into a human tube of toothpaste by Yokozuna's Banzai drop.
Also jobbing to extremely fat people this week are Steve Walker and Mike Kramer, aka Brutus Beefcake and Hulk Hogan from an unlicensed dimension. This set of tapings seems to be the only professional record of either guy, so I guess after losing the Natural Disasters they fled back to Dimension X to wrestle a rhino that looks like Jerry Sags and a warthog that looks like Brian Knobbs.
New Champion Of The Week
On the November 14 episode, the British Bulldog begins his storied Intercontinental Championship run with a strong defense over his rival The Repo Man. If you'll recall, Repo tried to murder the Bulldog via hanging. He would've improved on his "almost murdering Davey Boy Smith" tactics by talking to the Ultimate Warrior, but that's a story for another time.
Later that night:
Yep, Bulldog's storied run comes to an end later that evening when Shawn Michaels unseats him as the Intercontinental Champion on Saturday Night's Main Event. If you'd like evidence of how royally the Ultimate Warrior leaving the company at the last second screwed everything up, they've got the guy who'll eventually main event in a WWF Championship match against Bret Hart out here winning the Intercontinental Championship a week before the pay-per-view. Bret defended against Papa Shango on the same show, so we're honestly lucky the Survivor Series card didn't end up with Papa Shango vs. Marty Jannetty in a soul on a pole match for the World Wrestling Federation title or some shit.
Speaking Of Bret Of The Week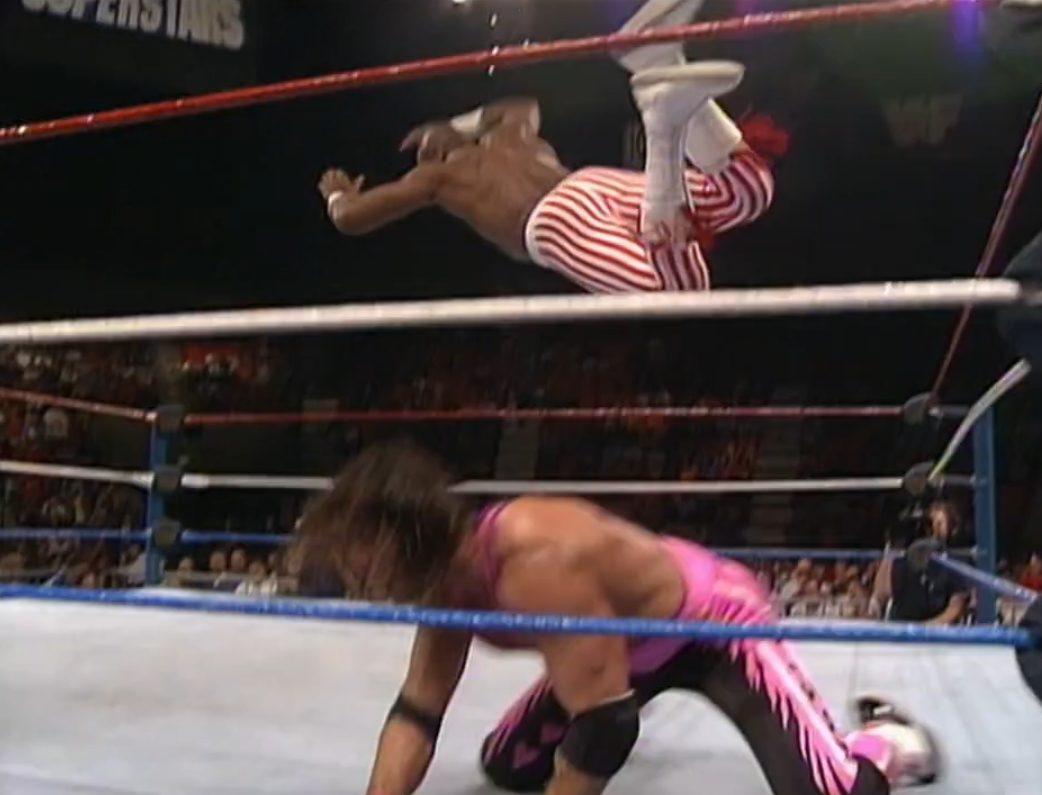 Bret defends the WWF Championship against Virgil, and retains using a unique tactic: remembering that he's Bret Hart, and that he's wrestling Virgil.
Other Not Entirely Interesting Survivor Series Hype Squashes Of The Week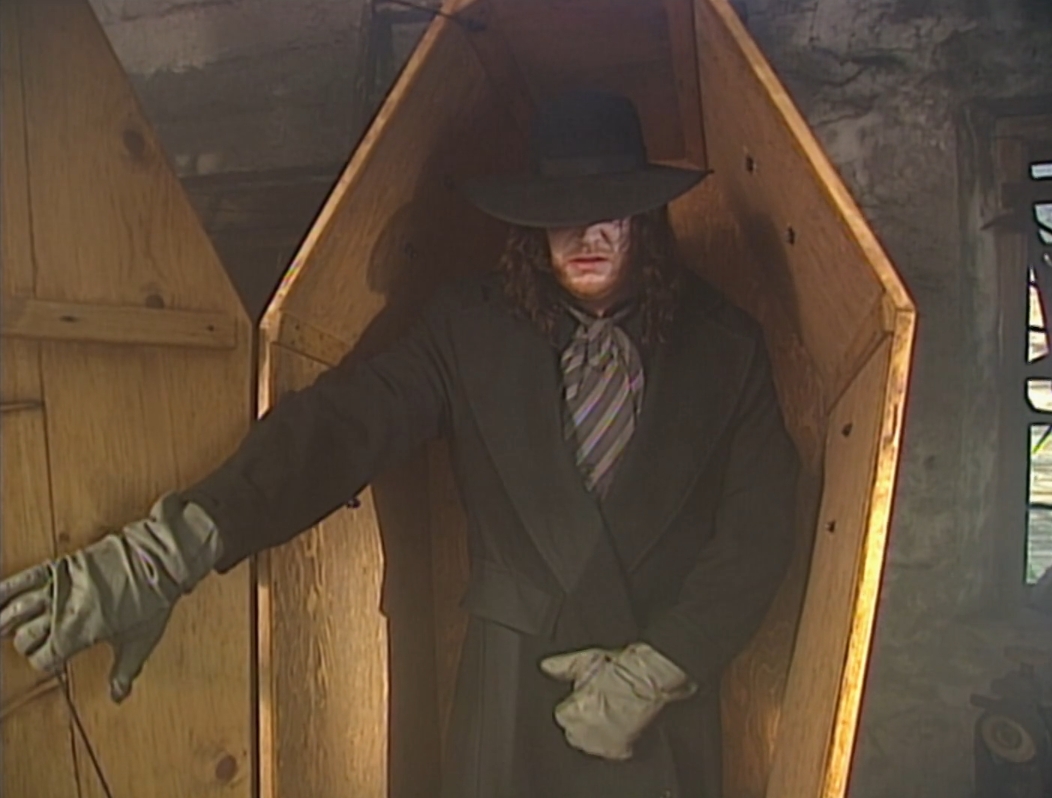 The Ugandan Giant Kamala defeats The Canadian Regular Sized Guy Steve Gillespie, reminding us that at one point the plot of King Kong was good enough for a semi-main event wrestling character. Later, Undertaker reveals the project he's been working on in his haunted wood-shop for the past several weeks: a slightly larger than normal wooden coffin with Kamala's chest paint symbols on the lid. I hope that when I die, somebody draws my chest tattoos on the top of my casket.
Again, feeling pretty sad for Kamala in this story. His poor savage got brought in to fight for sport like a dog and doesn't even understand the rules of the sport, and suddenly this 7-foot tall zombie is following him around trying to kill him for real. Won't somebody think of the cartoon savages?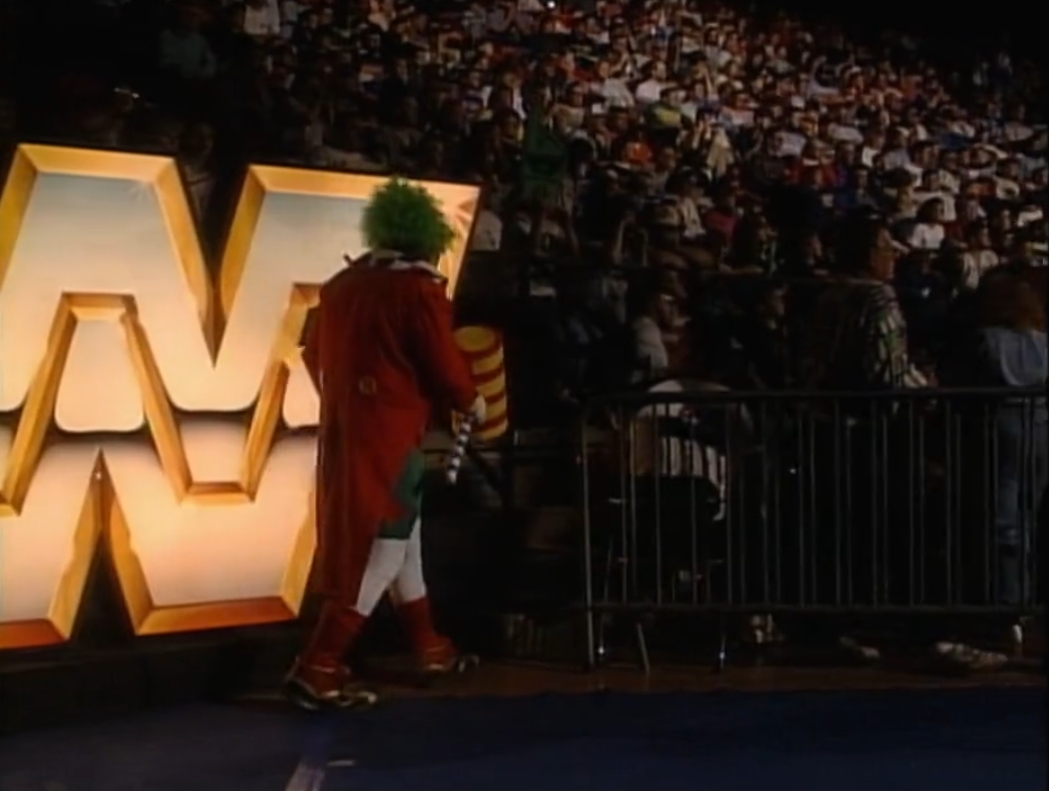 Doink the Clown, which still sounds like a euphamism for "have sex with this clown," shows up during Barry Horowitz vs. Lance Cassidy, to save us from having to watch Barry Horowitz vs. Lance Cassidy. The only time I want to read the words "Lance Cassidy" is if George R.R. Martin includes the Partridge Family in The Winds of Winter.
Finally, the Headshrinkers get a violent squash of Jim Powers and Marty St. Jannetty, and show up brandishing the World Wrestling Federation's most dangerous weapon, 30 years running: the clangy poles. In fact, this could be considered Clangy Poles: Origins. Did the Headshrinkers just leave their equipment backstage at Raw at some point? Are all those backstage brawls just wandering into the lost and found?
Next Week:
We experience the fallout from Survivor Series 1992 with (gulp) the final two episodes of Superstars available on WWE Network until they decide to add more. See you then, Warriors! No, not you.