Previously on Jesus Christ, Superstars: Marty Jannetty returned from having glass removed from his entire body to sneak up on Shawn Michaels and accidentally assault Sherri Martel. Also, Doink the Clown made his first appearance, and future WWF Champion Yokozuna sat on his first whole man.
If you'd like to watch this week's episode, you can do that here, and you can support the column (so we're allowed to keep writing it) by reading previous installments on our Jesus Christ, Superstars tag page.
If you like these, and our break from the normal Best and Worst format, make sure to share it around so it gets read and drop us a comment below.
Here's what you missed 27 years ago on WWF Superstars for November 7, 1992.
Debut Of The Week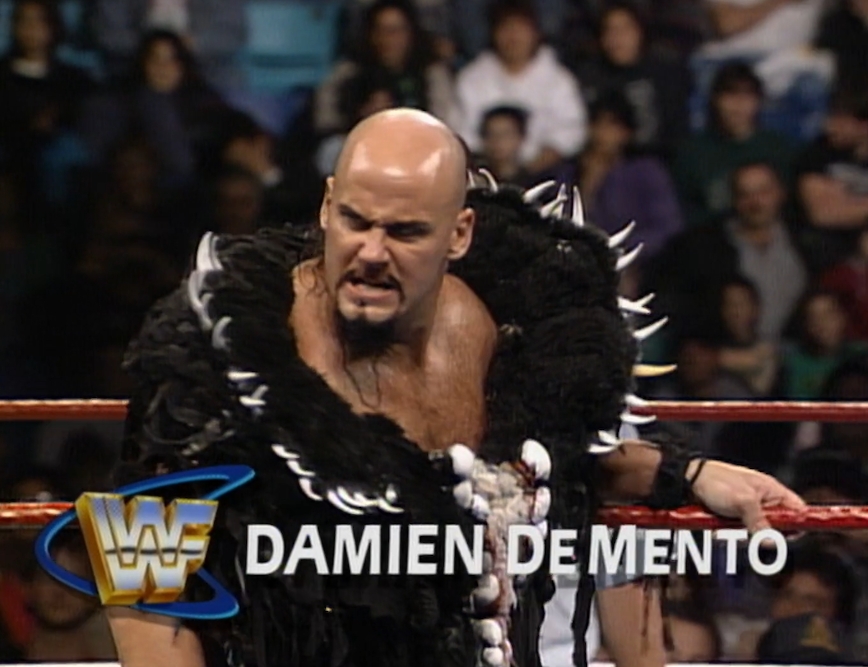 Welcome to the spectacular World Wrestling Federation debut of Damien Demento, a bald guy with a toilet clog on the back of his head and feathery shoulder pads that make him look like a big Venus fly trap ate Ming the Merciless from Flash Gordon. He's billed from, "The Outer Reaches of Your Mind," and I'll let him explain in his picture-in-picture.
"Ha ha ha ha ha! My name is Damien … Damien DOE-MENTO! And I am a creation of your mind! And your torment! Nyeh-ha ha ha ha ha!"
Yeah, he says "doe-mento" instead of "Demento." I don't know. The best part is that Vince McMahon responds with, "I don't believe he's a creation of MY mind." HE IS LITERALLY A CREATION OF ONLY YOUR MIND. A Vince McMahon character claiming to have been created by the mind of everyone except Vince McMahon is some "Eric Bischoff is the only person who can't see Ultimate Warrior in the mirror" shit.
Demento (or "Doe-mento," or whatever) finishes off Steve May with one of the most hilariously staged moves ever: a knee drop where he turns his knee pad around first. Not where he takes it OFF. He just turns it around. To EXPOSE THE TIP. It's a knee drop with the THINNER SIDE OF A PAD. OF DOOM.
To make this somehow even worse, Demento does the Dr. Evil "one MILLION dollars" taunt as he's laterally pressing, but only so he can … chew off his own pinkie nail and spit it out? Bruh, what is this character?
Music Video Of The Week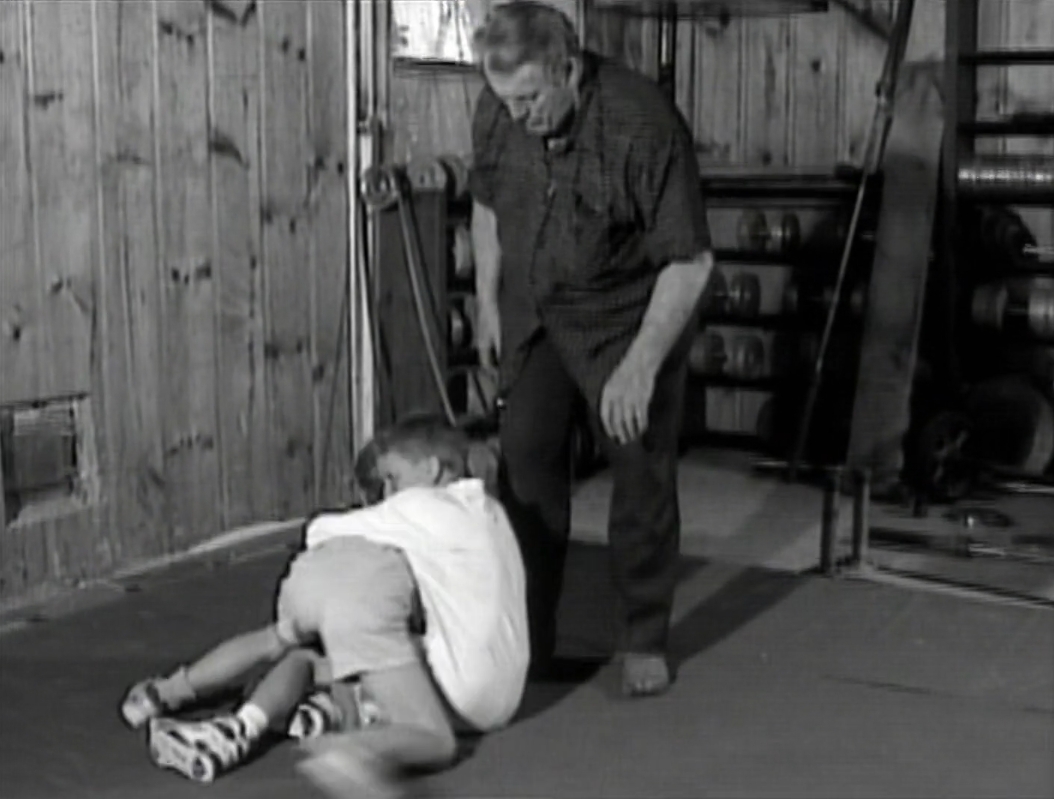 This week on Superstars, we get a musical tribute to new WWF Champion Bret Hart! Sadly this isn't the much funnir and more famous, 'You Start The Fire In Me,' clip, which didn't come around until 1996. This one originally featured Tom Petty and the Heartbreakers' 'Makin' Some Noise,' which you can watch below. It's cut with some black and white Unsolved Mysteries recreations of Stu Hart making children grapple that looks a little too much like George Bluth's Boyfights.
The WWE Network version is Pettiless, so it loses the whole, "when I was a young boy," angle and leaves you listening to stock rock while Bret Hart's dad stu-pervises some child on child violence. Mr. Perfect is upset that Ric Flair has been WWF Champion twice now and has never gotten a music video, and Vince McMahon responds in his signature, succinct style.
"Well, 'The Hitman' Bret Hart unquestionably making a lot of noise these days, and you can see 'The Hitman' Bret Hart on Primetime this coming Monday night. And by the way, the man who, well, he may be making a little noise, a little CRANG, uh, things of that nature, perhaps a little moaning, a little groaning, you know who I'm talking about, Ric Flair, Mr. Flair, apparently there is some validity to the fact that Mr. Flair is suffering a MIDDLE EAR PROBLEM!"
Maximum Amount Of Moon Of The Week
Max Moon quickly defeats future nWo groupie Louie Spicolli with a high cross-body, downgrading his Fit Finlay fireman's carry slam to make sure everyone enjoys Max Moon matches as little as possible. Read more about him in this month's WWF Magazine before he disappears forever!
Called Shot Of The Week
It's a good week for bat-shit promos, apparently, as The Big Boss Man goes borderline Ultimate Warrior in an attempt to explain his upcoming NIGHTSTICK ON A POLE MATCH against Nailz at Survivor Series to Joey Blevins. This is verbatim, and not exaggerated:
"YOU KNOW NAILZ WALKING AROUND AS A FREE MAN BECAUSE THE SYSTEM SET HIM FREE! BUT IN THE WORLD WRESTLING FEDERATION, THE BIG BOSS MAN IS THE SYSTEM! I'VE READ HIS PSYCHOLOGICAL REPORT, I'VE READ NAILZ FILE, I KNOW WHAT KIND OF CRIMINAL HE IS. IT'S TRUE, THAT WHEN THE NAILZ CAME INTO THE WORLD WRESTLING FEDERATION HE BACK-JUMPED THE BIG BOSS MAN AND BEAT ME, BUT HE DIDN'T BREAK ME, BECAUSE YOU CAIN'T BREAK THE LAW! RIGHT THERE IT IS! THAT NIGHT STICK! AT SURVIVOR SERIES! [off mic, screaming at the crowd] THE FIRST ONE TO GET TO IT GETS TO USE IT — [back on mic] WELL AT SURVIVOR SERIES, NAILZ AS YOU GET TO THIS NIGHT STICK YOU BETTER USE IT, BECAUSE WHEN I GET TO IT, I FER SURE GONNA DO IT, I'M GONNA DO SOCIETY A FAVOR! I'M GONNA LEAVE YOU LAYING IN THE MIDDLE OF THIS RING NO CHANCE FOR PAROLE, NO CHANCE FOR A PARDON, SERVING NOTHING BUT A LIFE SENTENCE, SERVIN' NOTHING BUT HARD TIME FOR EVERY MAN WOMAN AND CHILD WHO BELIEVE IN ALLOOORDER AND JUSTICE THE BIG BOSS MAN IS GONNA BEAT YOU WITHIN AN INCH A YER LIFE AND YOU CAN COUNT ON IT"
To recap:
1. holy shit
2. This is confirmation that the World Wrestling Federation in 1992 is a fascist police state.
3. So you read "Nailz file," did you? Did it leave you with smoother fingernails?
4. You can break the law, that's literally why Nailz was in prison in the first place.
5. He wants to say "law and order" there, but is so baked on Cobb County methamphetamine that it comes out as one jumbled word, like in a Scott Steiner promo.
Recurring Clown Of The Week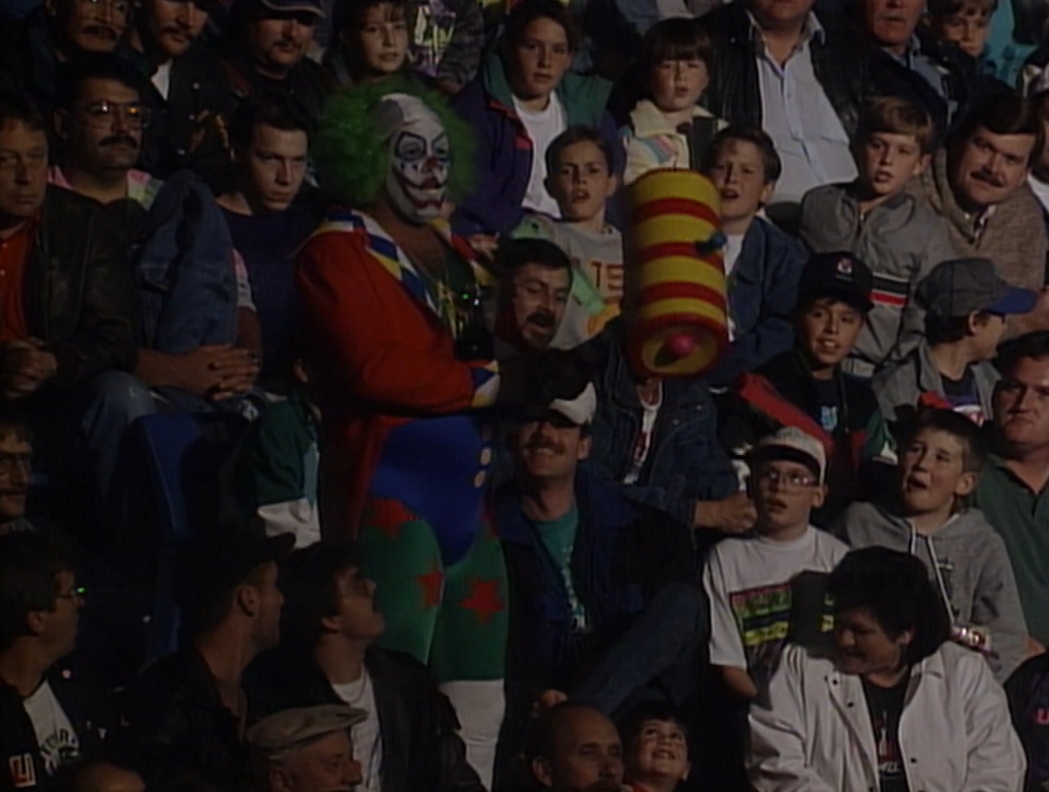 Doink the Clown makes his second appearance in the crowd this week, interrupting a Virgil vs. Jim Peterson match and thankfully giving me something to write about it. Otherwise I'd just be able to point out how funny it is that Virgil says in a picture-in-picture interview that he grew up idolizing Bob Backlund and wishes him the best in his comeback (as though Virgil has any idea who Bob Backlund is) (Virgil still doesn't know who Bob Backlund is), and remind you that Jim Peterson's that extremely sad jobber who wears his singlet backwards.
Styrofoam Diet Of The Week
During a Headshrinkers squash of Joey Maggs and Brian Costello (team name "Maggot and Costello"), a picture-in-picture interview with the "primal savages" sees Samu and Fatu make scary Barbarian and Warlord faces while Afa … eats a Styrofoam cup? I guess you can't eat raw fish and bite the face off a dead chicken on weekend children's programming.
The other highlight of the match is when the camera man tries to get a shot of Afa watching the match, and ends up getting this shot. Tell me this doesn't look like the cover of a weird album you'd find in your parents' record collection.
Weird Back Of Somebody's Head Of The Week
Have you ever noticed that when you only see the back of Bam Bam Bigelow's flames, it makes his head look exactly like a sweaty scrotum? Just asking.
Underwhelming Tag Team Championship Match Of The Week
When you see "Money Inc. vs. High Energy for the WWF Tag Team Championship" in 2019, you think you missed out on some hidden gem. It's Ted DiBiase and Owen Hart wrestling each other. How could that possibly not be great? I guess what you're failing to note there is that Owen was still being treated as a "rookie" around the time of High Energy, which means cagey veteran Koko B. Ware wrestles most of the match. Owen really only gets tagged in to take offense, which he's great at, but … well, he's not far enough along in his career to be losing to distractions and Pedigrees yet. He mostly loses to completely innocuous transitional offense, like this swinging neckbreaker:
It's such a fuck finish that it makes commentator Vince McMahon do the inverse of his normal, "ONE TWO THREE YES HE GOT HIM no he didn't" bit. Vince is like, "swinging neckbreaker, that's not gonna beat him … oh, it did." Uh, cool? Pretty underwhelming, guys.
Honeymooning Mooney Of The Week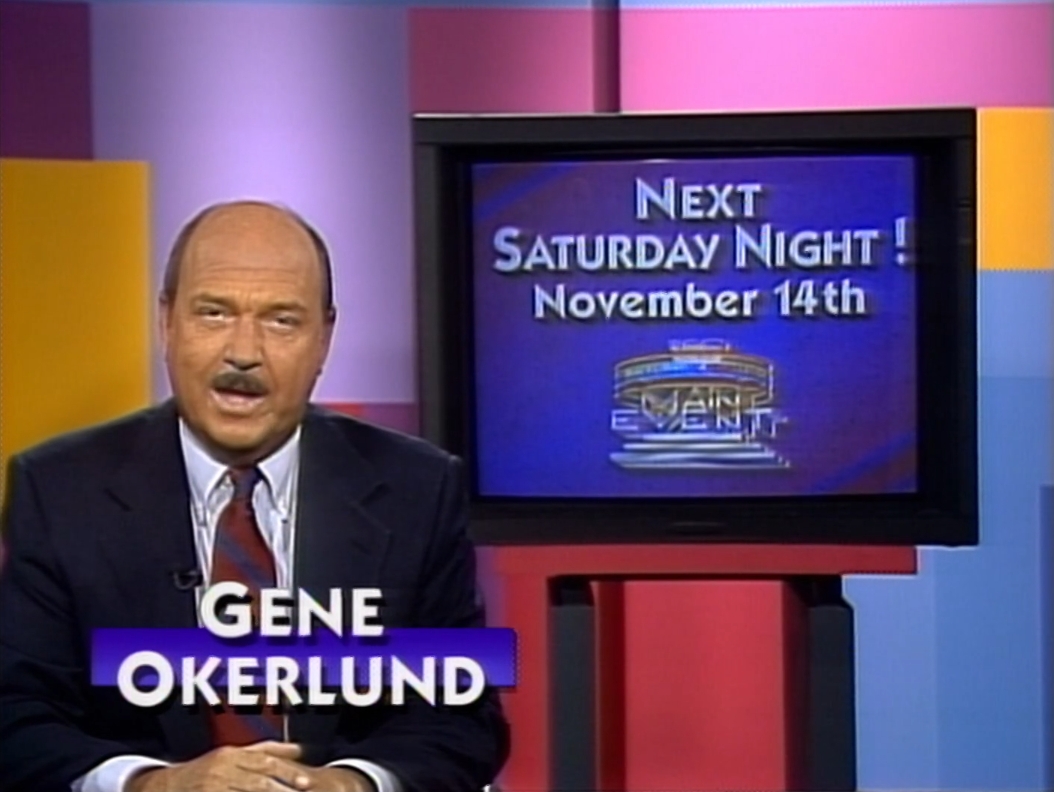 Sean Mooney is on his honeymoon(ey) this week, so Mean Gene Okerlund (Moon Gene?) fills in for him at the Event Center. Mean Gene's usual position on update is filled by Lord Alfred Hayes, who adds some real European gravitas to the "fire that burns inside" a returning Marty Jannetty.
Anyway, Gene's mostly here to call us "gang" a lot, pitch to promos about the Survivor Series — Tatanka is definitely going to get his ceremonial feathers back from the evil French-Canadian model who stole them and made them fashionable in Paris — and let us know about the return of Saturday Night's Main Event, now with the most 1992 logo ever: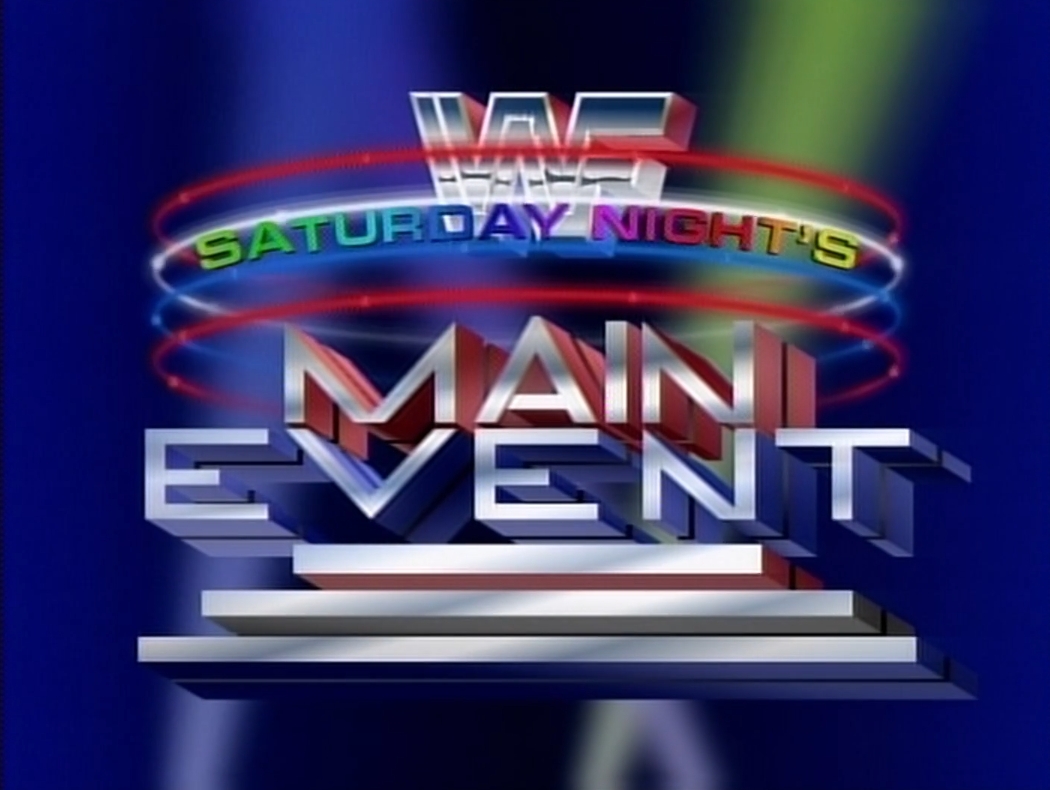 Sure you don't wanna toss in some more colors and fonts? You good?
Next Week Of The Week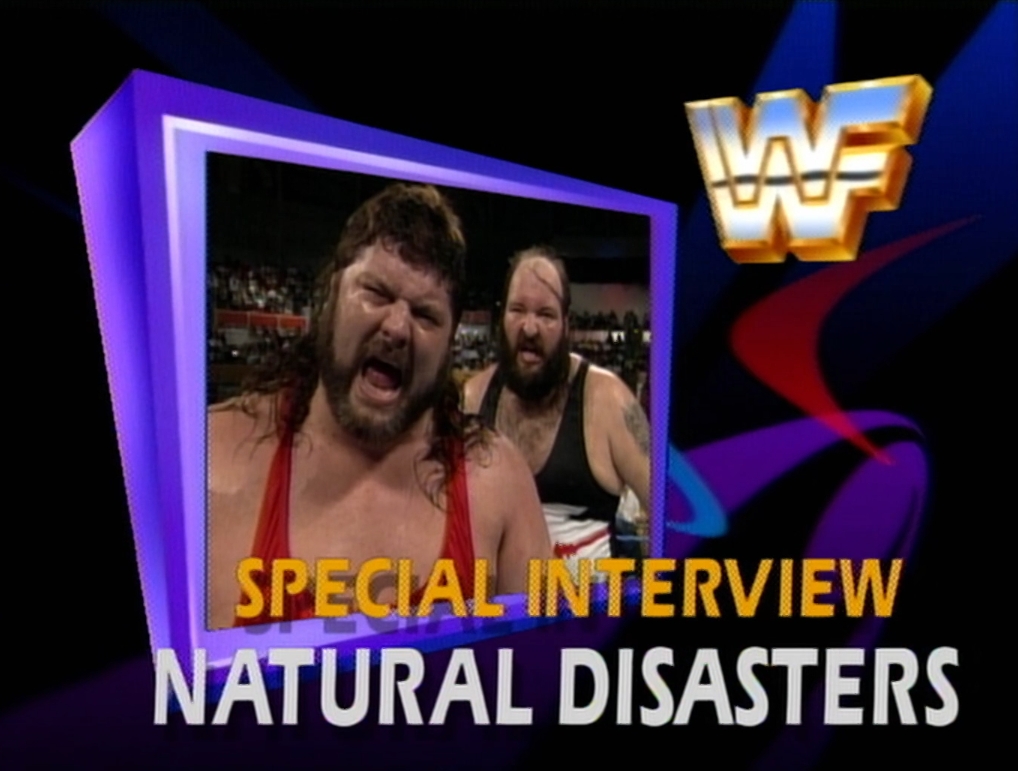 I am seriously in danger of running out of Superstars episodes on the Network as Repo Man challenges British Bulldog for the Intercontinental Championship, the Undertaker continues spending like two months building a Kamala-themed casket, and the Ultimate Maniacs are still definitely gonna be at Survivor Series. All this and slightly more, next week!