Previously on Jesus Christ, Superstars: Bob Backlund is returning to the World Wrestling Federation, and his quest for the championship will probably not turn him into a violent, screaming old man.
If you'd like to watch this week's episode, you can do that here, and you can support the column (so we're allowed to keep writing it) by reading previous installments on our Jesus Christ, Superstars tag page.
If you like these, and our break from the normal Best and Worst format, make sure to share it around so it gets read and drop us a comment below.
Here's what you missed 27 years ago on WWF Superstars for October 10, 1992.
Jobbers Of The Week
Who may take an embarrassing loss to Razor Ramon to open this week's show? Steve May! Here he not knowing when to turn around and face the hard cam and looking like Cousin Itt went to the Ribera Steakhouse in the process. This is Steve from the front, if you're curious. Nothing says, "I don't know how to be a wrestler but I can sure as hell LOOK like one," quite like a blonde mullet with the sides shaved and a patriotic leotard.
May, also known as "Steve Rivers" because he's a bastard born in the Riverlands, is actually a Davey Boy Smith student from Calgary. He still wrestles in Canada as the "All-American," because being from Canada and claiming America is the biggest heel move ever. In America, it's called the "reverse European vacation."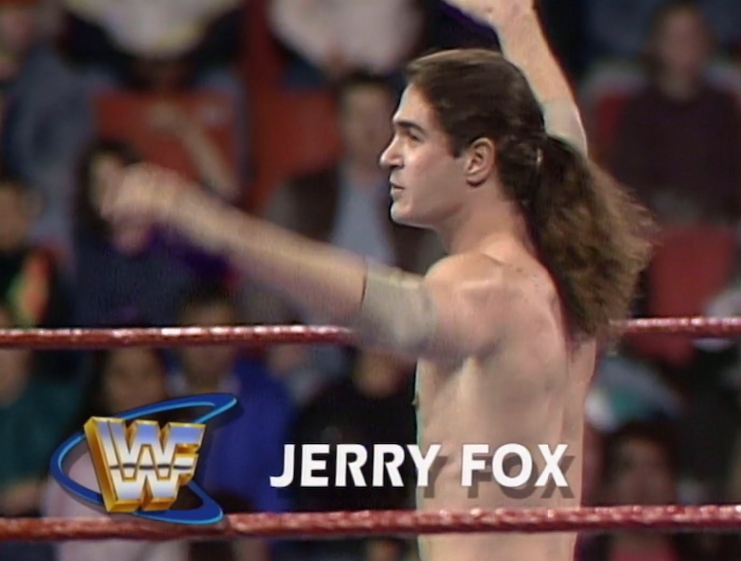 Did you know the girl that turns around in sunglasses to the opening of 'Take On Me' was once a pro wrestler?
Jerry Fox squares off against MAX MOON on this week's show, announced formally as, "Maximilian Moon." He debuted as "The Komet Kid" only two weeks ago and they've already made two major changes: a bad but still somehow-an-improvement name change, and no more jet pack to help him hop up the steps like a goober. They also focus on how fast and creative his wrestling is, which is probably a good idea when your new wrestling star looks like the booth in the shittiest restaurant in Tomorrowland.
I would give Jerry Fox more grief, but I watched this intensely sad documentary about him going into pro wrestling to avoid being abused by both of his parents, so I'll leave it at comparing him to a hard-to-name Vine.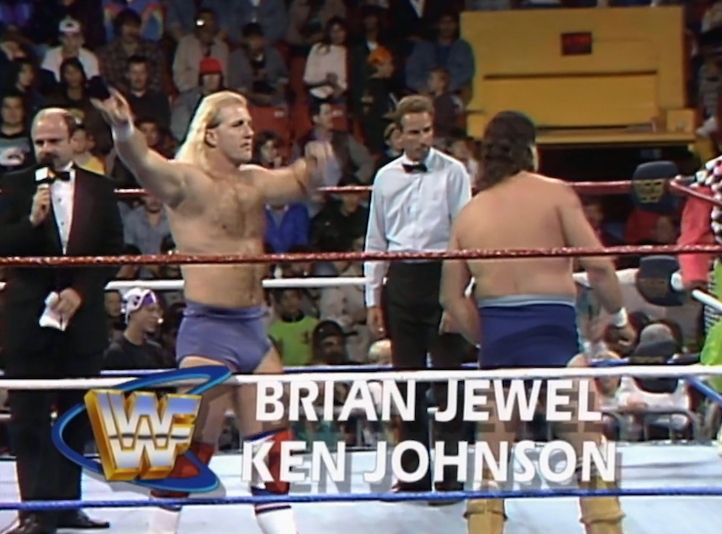 Also representing the best of the rural Canadian indies of 1992 are Brian Jewel and Kenny Johnson. Johnson's the one on the left who looks like Bruno Sammartino gave up lifting weights to become a surfer. Jewel's the guy on the right who looks like you walked in on an early '90s relief pitcher in his underpants.
30-50 parents in the Manitoba area may remember Jewel as the "Bad Boy" Brian Jewel. You may also know him from his 7-day reign as World Wrestling Council Junior Heavyweight Champion under the hilarious name "Joe Lightfoot." If you could read my mind you'd know that's the exact name they'd give a random Canadian dude in Puerto Rico in 1981. Johnson had a less illustrious career, but he was trained by the two worst Hart brothers — I wonder how he got this WWF spot against Owen? — so you might've seen him losing to Cuban assassins or whoever on Stampede in the late '80s.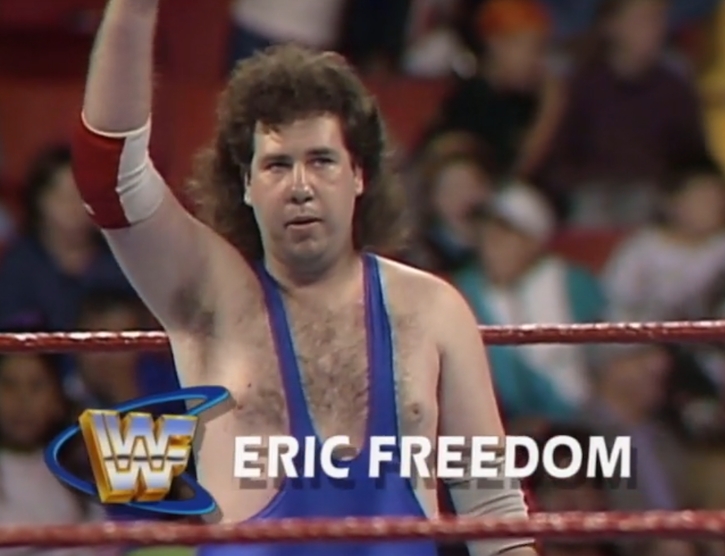 ERIC FREEDOM.
Way back on the April 25 edition of Superstars, the Beverly Brothers defeated "Mike Freedom" and "Eric Collins," two guys so unimportant the WWF couldn't even get their names right. It was actually Mike Collins and Eric Freedom. Imagine calling yourself ERIC FREEDOM and finally getting on TV only for your tag team partner to get your name. Anyway, Collins got a match under his real name shortly thereafter, and now it's time for Eric Freedom to get his. FREEDOM ISN'T FREE, WWE.
Freedom is "scheduled to face Nailz," but gets shit-canned almost immediately so Nailz can cut one of the worst promos in wrestling history. I guess they wanted him to "do the gimmick live," so they have a voice modulator on his microphone and he's gotta say his promo one. word. at. a. time. to make sure it sounds right. I urge you to go to WWE Network and watch the promo for yourself. It's like listening to the sloth at the DMV in Zootopia threaten the Big Boss Man.
Quick question: What did Scottie Pippen say to every hotel clerk in the 1990s?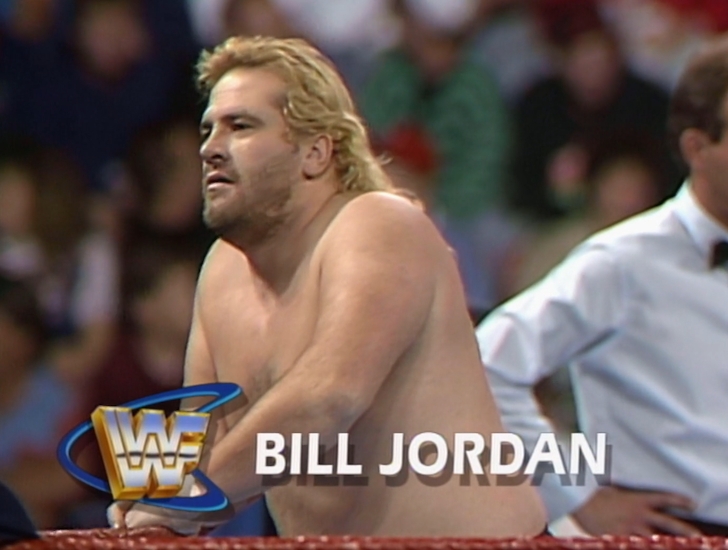 Bill Jordan trying to win a wrestling match against 1992 Bret Hart is like the Bagel Boss guy trying to out-box Floyd Mayweather. Dude is so out of shape he's leaning on the corner during his introduction, and spends every second he's not getting Russian leg-swept lounging in the ropes: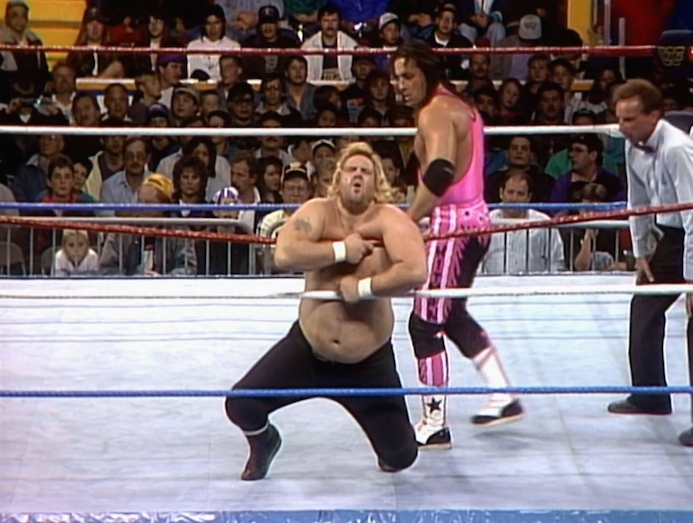 I'm happy he got through all five of Bret's Moves of Doom without complete organ failure.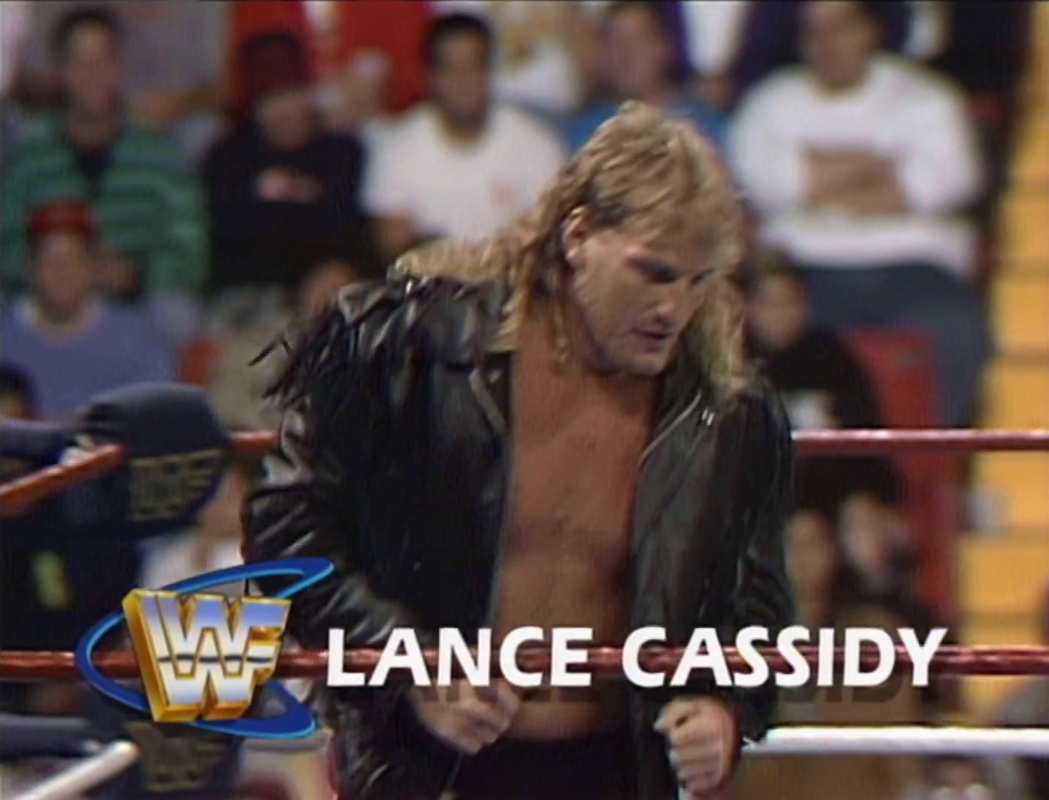 While he's not technically the jobber in his match — that honor goes to your 10th grade high school English teacher when you run into him at the grocery store, Tom Stone — I'm including the debuting Lance Cassidy as one of the Jobbers of the Week. He looks like half of every southern tag team from the 1980s and has two of Vince McMahon's favorite "strong" names, "Lance," and, "Cassidy."
You might know him better as Steve Armstrong, the least notable of the Armstrong wrestling dynasty that includes Bullet Bob, Brian "Road Dogg" James, WWE referee Scott, and the late Brad Armstrong. This is one of the only times you'll ever see "Lance" in the WWF, as he disappears to the house show circuit pretty quickly and is gone from the company by January. Who'd have thought a wild-eyed southern boy and his high cross-bodies wouldn't play in Vince McMahon's concept for a post-Hulk Hogan wrestling world full of clowns and witch doctors?
SURVIVOR SERIES ANNOUNCE MAIN EVENT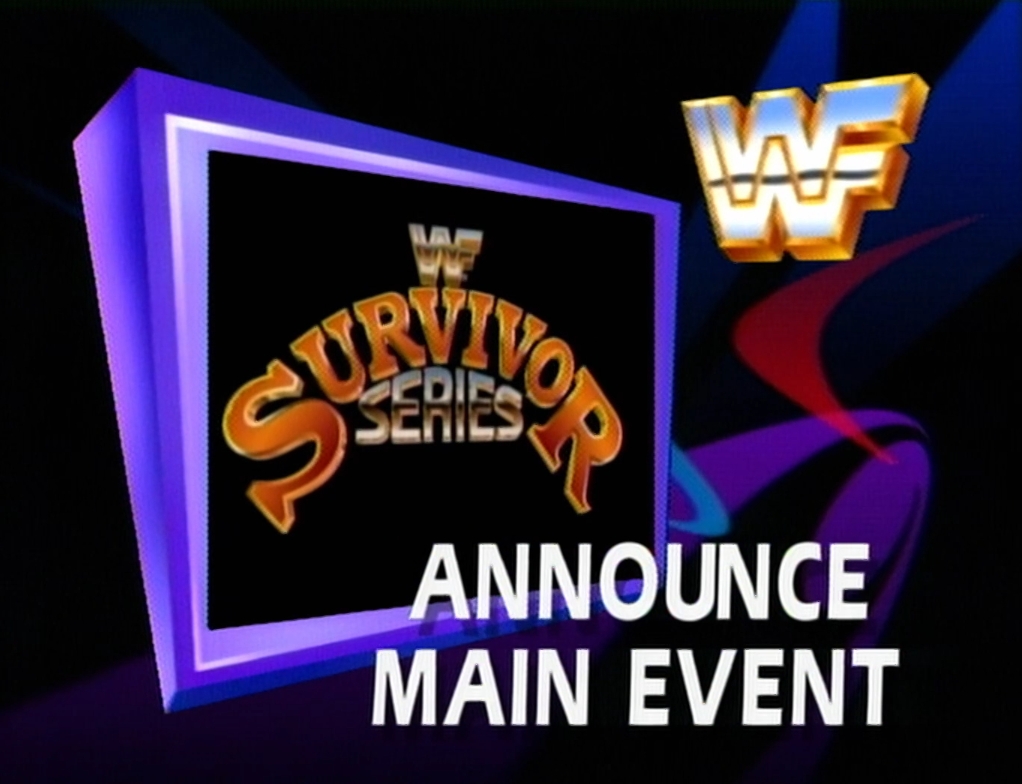 Okay okay, I will.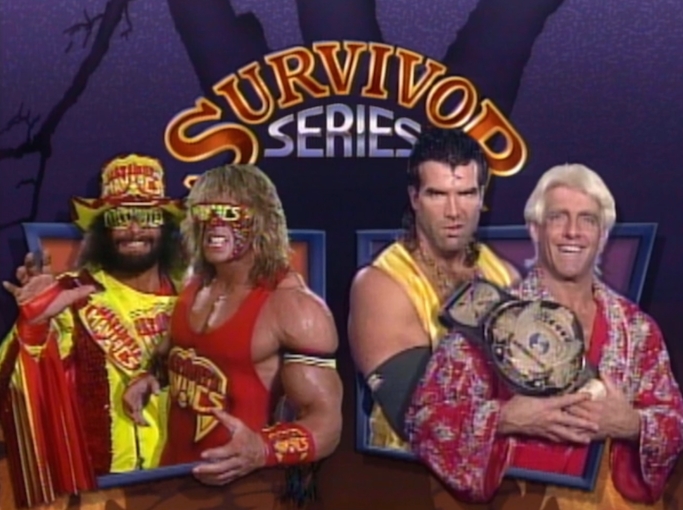 The main event for the 1992 Survivor Series will be the "Ultimate Maniacs" team of Macho Man Randy Savage and the Ultimate Warrior in tag team action against Ric Flair and Razor Ramon, who really should've called themselves Chico and The Man. As we've talked about a little before and will definitely have to talk about again, The Ultimate Warrior's shrewd business practices cause the match to never happen, and the version we do get goes on in the middle of the show as to not disappoint anybody. The actual main event ends up being Shawn Michaels vs. Bret Hart, and everyone watching sorta goes, "… ooooooh, yeah, why don't we do that instead of the crazy steroid guys," all at once.
Okay, maybe not all at once.
Coffin Fit Of The Week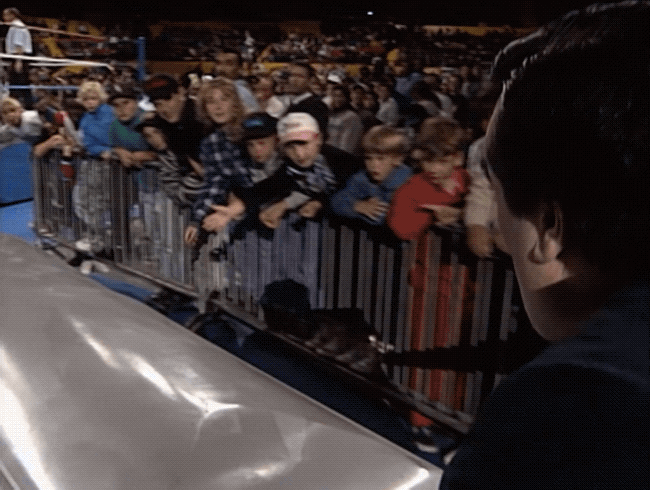 This week's only other story is that Kamala's handler are claiming that he's "fearless," despite him obviously being afraid of The Undertaker. Which, like, you have to understand. This guy got dragged out of the jungle and forced to fight without understanding why or knowing how to communicate with anybody, and suddenly he's being stalked by Literal Death. He can't even understand the language, how are you gonna explain to him that the 7-foot tall ginger zombie trying to zip him up in a bag and bury him in a coffin is just his pretend friend from work?
Next Week Of The Week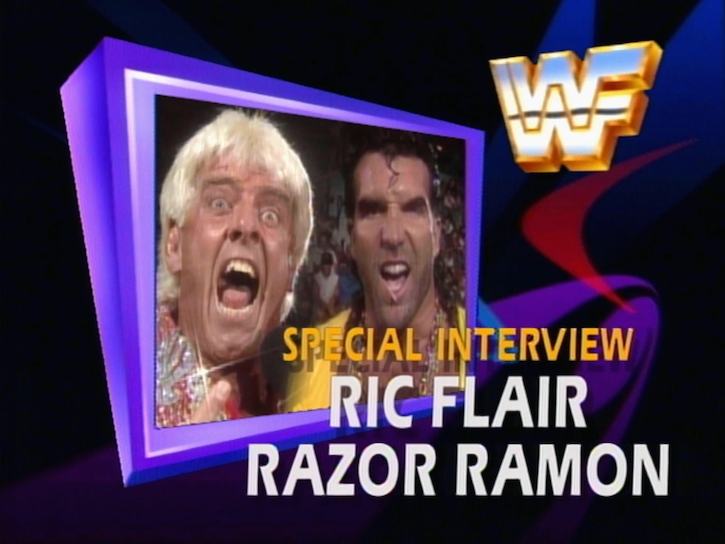 Chico and The Man show why they're the two people you'd most want beside you in a photo booth. Plus, a surprising new champion! All this and BOBBY ST. LAURENT, next week on Superstars!