Ladies and gents, boys and girls, it's that time again: Supreme drop day. Supreme drops new hotness every week, and super fans are always on the edges of their seats to see what's next from the urban brand. Supreme is never specific about exactly what will drop, we just get to know that something will be landing with the sound of a million hypebeasts shuffling into line. Fans are critics alike are looking to catch whatever falls every Thursday (Saturday, if you're in Japan).
This week, Supreme has finally stopped teasing us and released items from its Lacoste collaboration…which promptly sold out almost immediately. However, all hope is not lost — you still might be able to secure some items from the Lacoste online store Friday before your 4/20 celebration (Saturday for Lacoste's e-stores in Asia), or you can try to snag a few things from a reseller like Stadium Goods.
To save you a little time online, we're showing you the hottest five pieces that dropped today.
1. Supreme/Lacoste Wool Varsity Jacket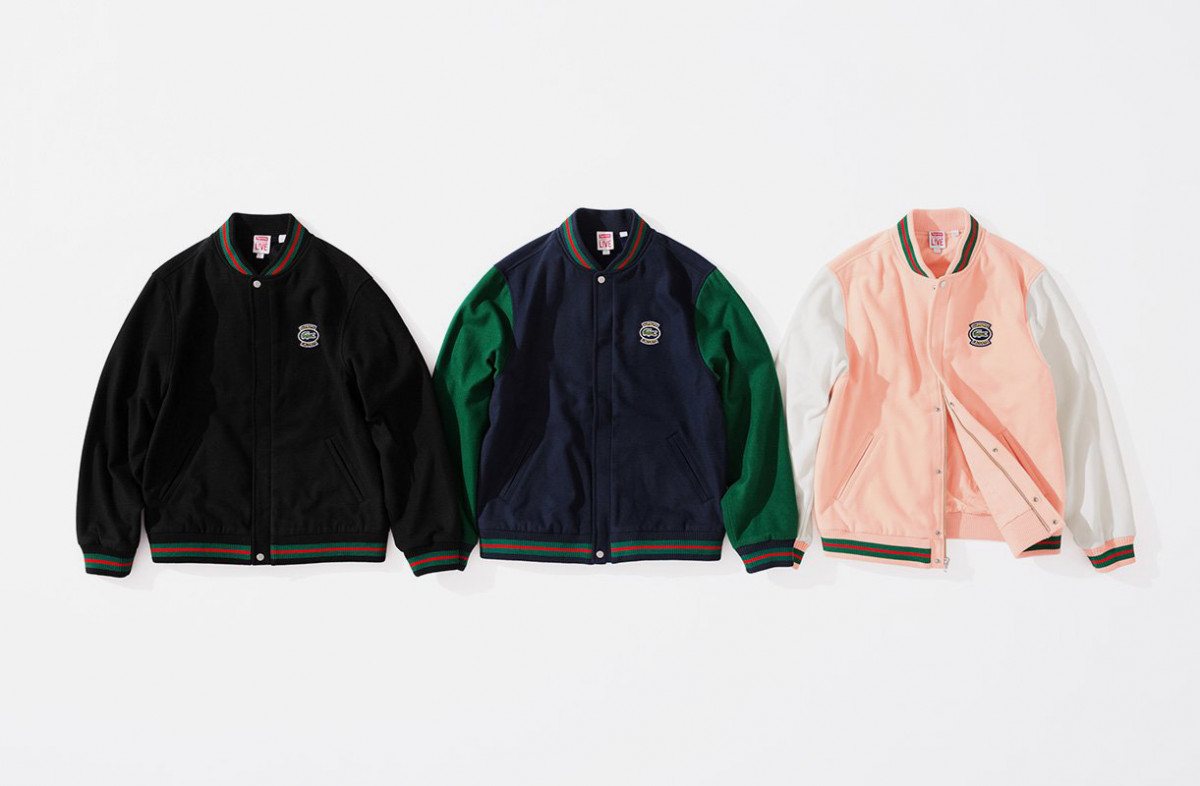 In three colors – peach, navy, and black, the wool varsity jacket in today's drop features embroidered hybrid Supreme/Lacoste patches on the front and back, a full zip closure AND snaps. Varsity jackets are perfect for the last cold snaps of the spring season, and this drop is just in time to still be dope when winter rolls back around later this year.
2. Supreme/Lacoste Velour Track Suit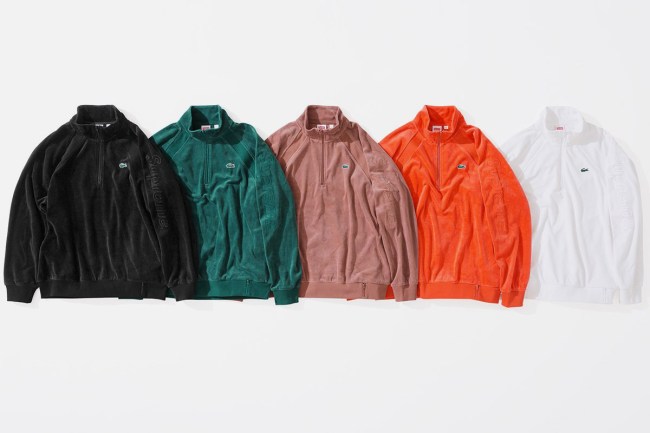 Velour is officially back in style, and like we told you before, track suits are back, as well. In a combo of the two hottest, newest, oldest trends, velour track suits are a part of today's Supreme/Lacoste drop, with a half-zip top and zippered pockets, featuring a waistband rib, an embroidered Supreme logo on the left sleeve and embroidered Lacoste logo on the left chest. The pants – sold separately – feature an embroidered Supreme logo on the left pant leg and an embroidered Lacoste logo on the right hip. The pants and jacket come in black, white, orange, teal, and light maroon.
3. Supreme/Lacoste Nylon Anorak/Track Pants
In another addition to the track suit family, the Supreme/Lacoste nylon anorak and matching track pants will be a delight to any Supreme or Lacoste fan, featuring the Supreme logo on the back of the anorak and the left thigh of the pants, as well as the Lacoste logo on the front left chest of the anorak and the upper right hip of the pants. Both are water resistant with a 3M printed pattern, and cotton blend lining. The anorak features a draw cord and half-zip closure with a snap patch, and the pants have zippered front pockets and a zippered back welt pocket. Both come in black, green, blue, peach, and white.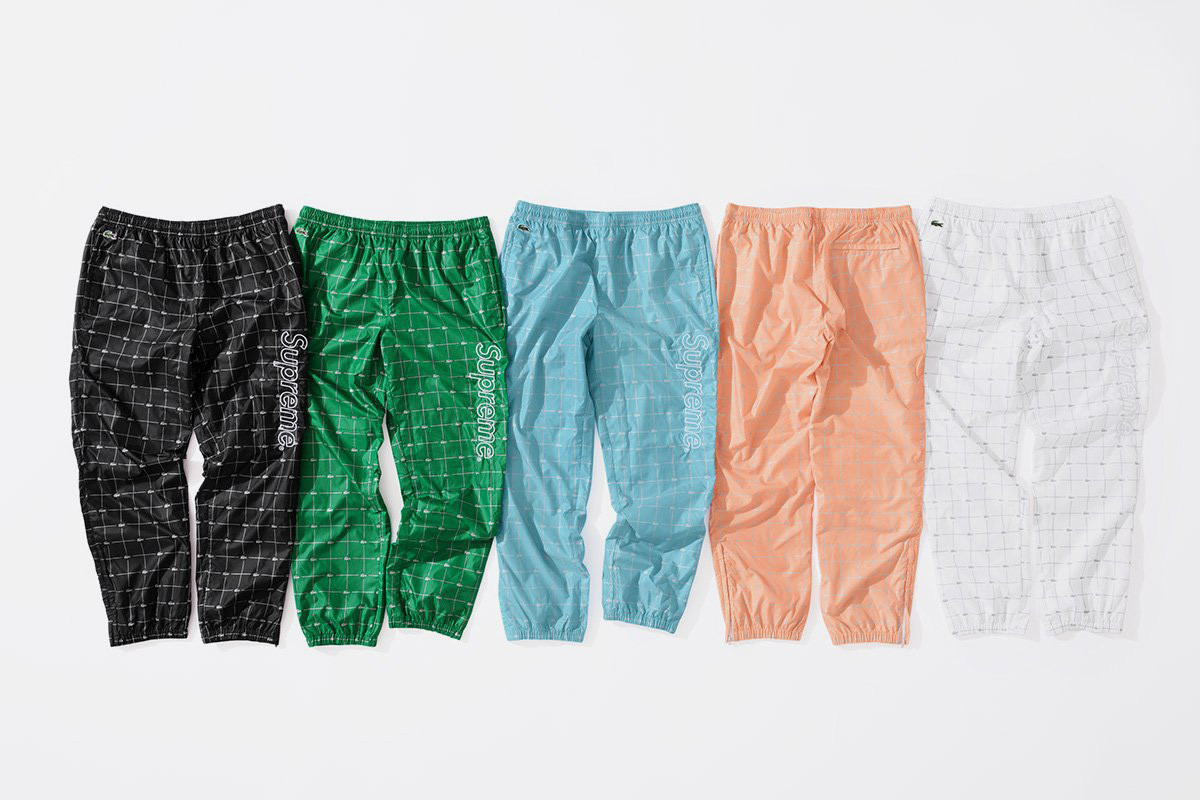 4. Supreme/Lacoste Waist Bag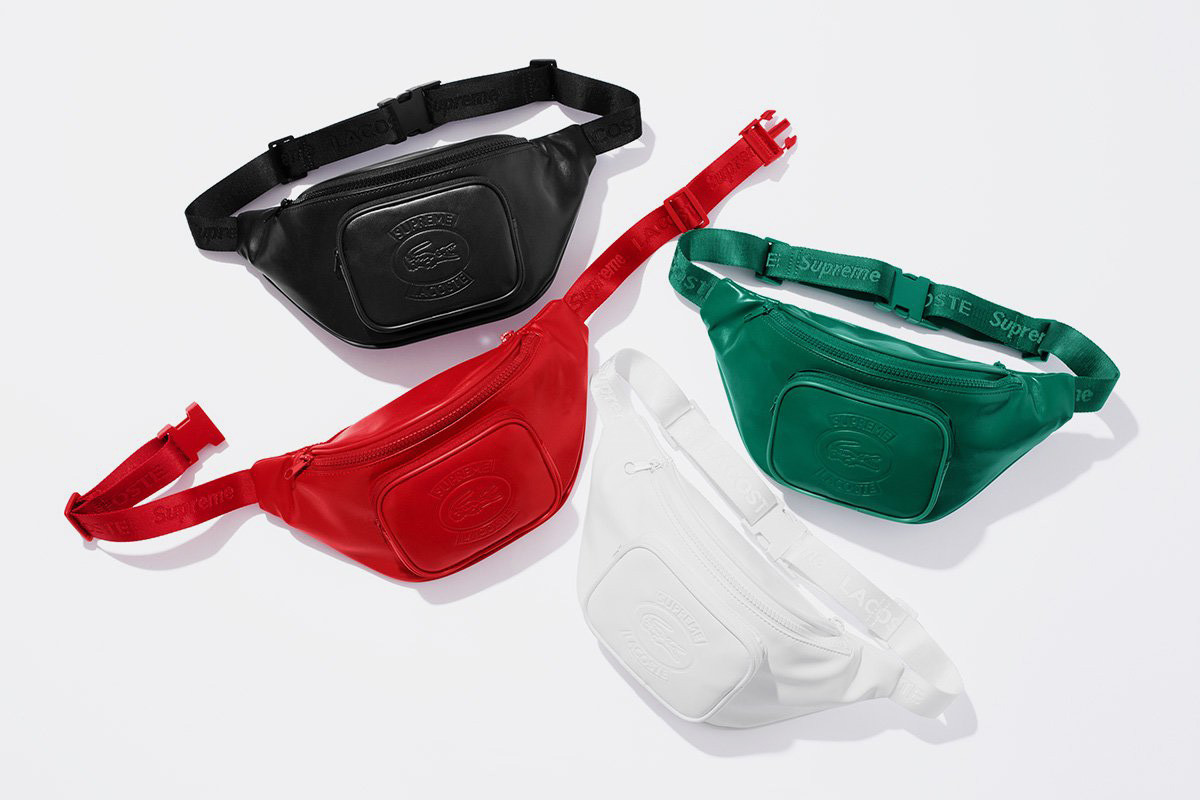 Not to say we called this trend, too… but we called this trend. Festival season lends itself to the rebirth of the fanny pack, or waist bag, as some would call them, and Supreme has released yet another cool one. They come in faux leather in black, green, red, and white, with a debossed hybrid logo on the front pocket and an adjustable strap.

5. Supreme/Lacoste Shoulder Bag
These faux leather bags also come in red, black, green, and white, and have a debossed hybrid logo on the front with an adjustable shoulder strap. Shoulder bags are super trendy for men this season as a bigger alternative than a wallet, but not quite venturing into purse land.