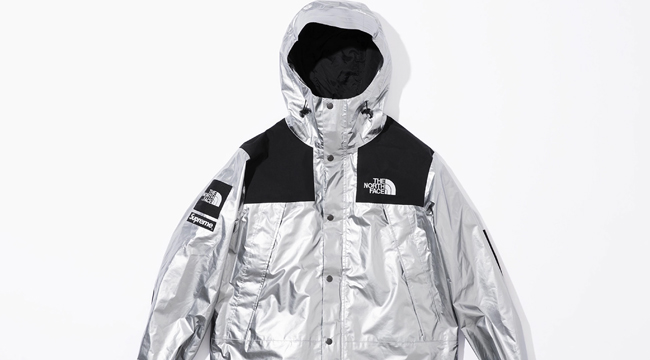 North Face probably isn't exactly buzzing on your "streetwear radar" (unless you lived in the Pacific Northwest in the 90s.) The look often reads like "adventure clothes for rich people" but — like many companies that carry that sort of branding — they've actually done a good job crossing over. Especially when it comes to working with the king of all collaborators: Supreme.
In fact, the past successes were so strong that the two companies are back at it again for Spring 2018. These fly ass space suits are actually parkas for Supreme's Metallic collection — made especially for the company as a new rendition of their previous North Face collab, the Mountain Parka. The coats come in gold, silver and rose metal colors (like an iPhone!).
The parkas will be accompanied by the Mountain Bib pants, hooded sweatshirt and a short-sleeved T-shirt featuring metallic graphics, six-panel hat, Borealis backpack, Roo II Lumbar Pack (fanny pack), and a shoulder bag — all in the Metallic facade.
The North Face is keeping steady with its activewear and outdoor sports reputation. The outerwear pieces feature a waterproof, fully seam-sealed nylon construction for maximum defense against the elements in a lightweight body, and the backpack, lumbar pack, and shoulder bag are made with a 420D water-resistant nylon ripstop material.
The parkas are sure to sell out as soon as they hit the Supreme online store and in-store in New York, Brooklyn, L.A., London, and Paris on April 5. The line won't release in Japan until April 7. No word yet on the potential cost, but who can put a price on dopeness? (Spoiler: Supreme and North Face both do… and it's a lot.)