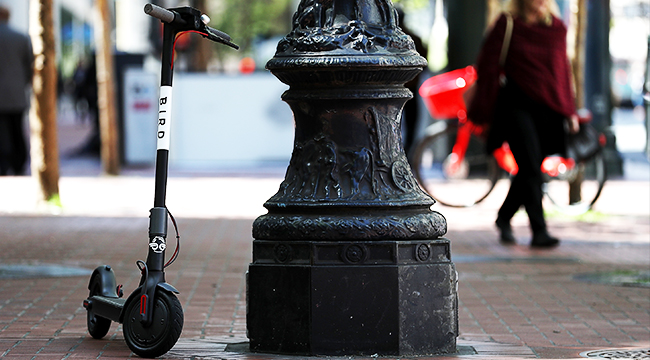 As anybody who pays attention to Uber and Facebook knows, Silicon Valley loves to live and die by the age-old maxim "Ask for forgiveness, not permission." But playing fast and loose isn't always smooth sailing. Just ask formerly obscure startup Bird — an app/ service that lets you rent an electric scooter for a nominal fee — which is in the spotlight for deciding to say "YOLO!" and ignore local statutes.
If you're not familiar, Bird offers "dockless" electric scooters. If you have their app, you can locate and unlock a scooter and ride it to your destination. The idea is that it can be used as a cheap, efficient layer of public transit on top of other transit networks. If you need to get somewhere quickly, you grab a scooter and dump it at your location for someone else to pick up. Overnight, they're collected and charged by contract workers who gather and arrange them for the next day.
The problem for Bird is that it tends to debut in a new city simply by showing up and throwing a bunch of scooters on the sidewalk unannounced, much to the consternation of a few Boston suburbs, where they prefer you get a permit first:
…both Cambridge and Somerville have specific ordinances requiring permits for such a dockless-scooter service to operate within their city limits. But, as they are wont to do, Bird deployed their scooters virtually overnight and without any prior notice. According to Barr, the company dropped around 100 scooters total in the two cities.
The two cities are threatening to impound the scooters. Milwaukee is going to start impounding Bird scooters too, in short order. To be fair, everyone seems to see the value of the idea and are working with Bird to get them legal, but you have to ask what the company's plan was long-term. Unlike LA and San Francisco, these are cities that are entombed in snow half the year. Plus there is the matter of people dropping scooters in places where they might block the accessibility of others.
Bird is, in truth, a good idea — along with bike shares and other small-scale public transit ideas. Closing that last mile from public transport hubs is important for cities to thrive. But real change in how we move around has to be more thoughtful than just throwing stuff at the problem. Hopefully, Bird and the rest of Silicon Valley learn these lessons and move forward with quick course corrections.