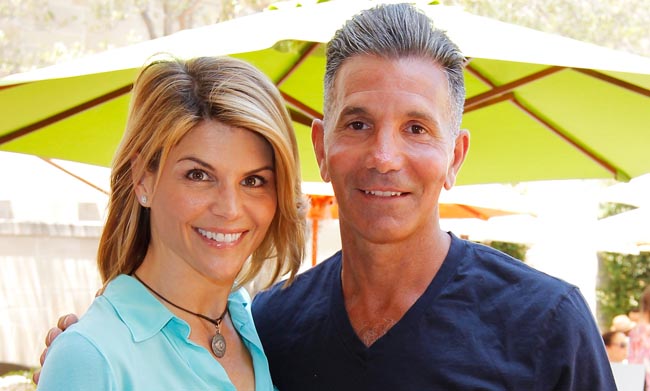 Lori Loughlin and her fashion designer husband Mossimo Giannulli are both looking down the barrel at up to 40 years in prison on charges of mail fraud and money laundering over their college admissions scandal, after passing up a sweet plea deal that would have gotten them just two years behind bars. And while that all sounds pretty bad, at least they still have their priorities straight.
According to PEOPLE, the couple is apparently so angry about how their drama is playing out in the public eye and resent the fact that they're being called "cheaters." (An aside; the couple is accused of paying $500,000 to assure their daughters' admission into USC and the definition of "cheater" is literally "a person who acts dishonestly in order to gain an advantage," but that's neither here nor there.) Some details:
"This is putting unspeakable stress on her and her family," a source close to Loughlin tells PEOPLE. "They're having to play this all out publicly, and they're fair game for jokes and memes, but also outraged [by] people who are saying that they are cheaters."

"They're being destroyed," the source adds.

"The idea of going to trial is terrifying for Lori," says the source close to the actress. "Everything comes out in trial, whether or not it's relevant to the case. She will be under a microscope, and you only have to look at the paparazzi outside the court to know that there is widespread interest in this case. She will lose every bit of her privacy, and that's a shame. This really is a family matter."
In more legitimately concerning news, Loughlin is reportedly afraid that her daughters Olivia Jade and Isabella Rose will have to take the stand if the case goes to trial (which it almost definitely will). Especially when you consider that Olivia Jade, at least, is already upset with her parents for derailing her burgeoning career:
"Lori is very concerned about what a trial will do to her daughters," says the legal source. "It will undermine every accomplishment they have in the future and it will be part of their story forever."

"It's not in their best interest for this to go to trial, and Lori knows it. Because if it goes to trial, the girls will have to take the stand, and be cross examined by a prosecution that wants nothing more than to put a notch on their belt," says the legal source.
Oh honey, this is already part of their story forever. She sealed their fate away when she signed those checks.
(Via PEOPLE)