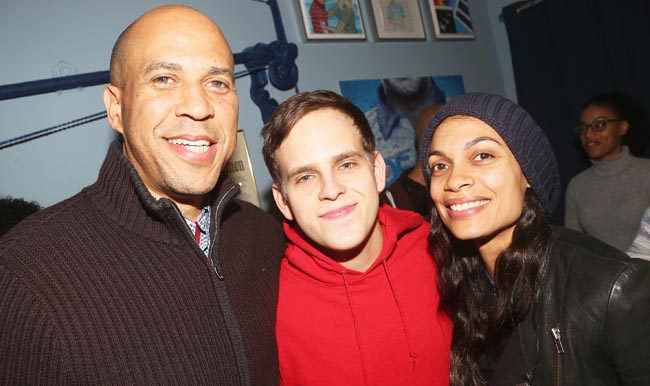 Rosario Dawson confirmed perhaps the worst kept secret on Thursday by revealing that she is indeed in a relationship with New Jersey Senator and presidential hopeful Cory Booker — pictured above together at a Broadway production of Dear Evan Hansen back in January, alongside star Taylor Trensch. When approached by TMZ at the Reagan National Airport in Washington, D.C., and asked if the two were an item, Dawson let the cat out of the bag: "Yes, very much so."
"So far, so wonderful," Dawson elaborated, when asked how things were going. "He's a wonderful human being. It's good to spend some time together when we can, we're very busy." She laughed off talk of an engagement, however. "I am just grateful to be with someone that I respect and love and admire so much who is so brilliant and kind and caring and loving," she continued.
Booker previously teased his love life to Charlemagne tha God during an appearance on The Breakfast Club last month (around the 31:00 mark in the below clip) when asked how much a candidate's personal life should factor into voting decisions. Booker is, of course, a lifelong bachelor, and America has only elected only two presidents who were unmarried at the time — James Buchanan and Grover Cleveland, the latter whom married while in office.
The 49-year-old was quick to remind Charlemagne that he still has two more years before potentially getting elected, admitting that he was dating someone "pretty special" to him. "Oh! So Cory Booker got a boo!" Charlemagne quipped. "I got a boo," Booker confirmed, laughing.
Politics aside, the prospect of a White House wedding might be enough to sway people to vote for Booker. Those Brits have been stealing the spotlight with their royal weddings for too damn long now.
(Via TMZ)