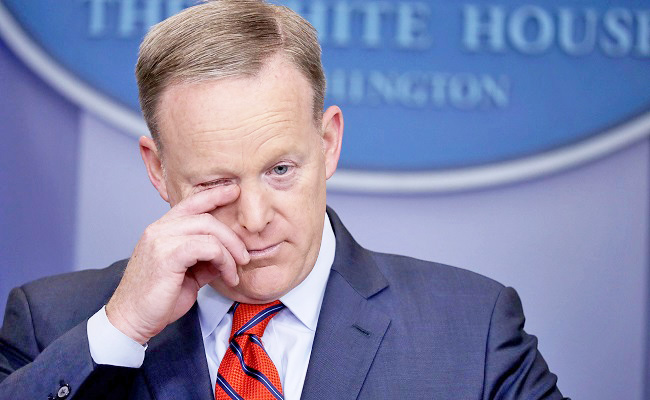 Following Sean Spicer's disastrous comments regarding Syria's use of chemical weapons, and how Adolf Hitler and Nazi Germany apparently didn't "sink" to depraved depths of President Bashar al-Assad, some called for the embattled press secretary's immediate dismissal. Chief among them was the Anne Frank Center for Mutual Respect, an independent U.S. branch of a worldwide network of organizations donning Frank's name, which works chiefly to "[address] civil and human rights across America."
Not long after Spicer's initial remarks and an equally botched followup went viral, the group's Twitter account released an official statement asking President Donald Trump to fire his press secretary for what they perceive as antisemitism.
"On Passover no less, Sean Spicer has engaged in Holocaust denial, the most offensive form of fake news imaginable, by denying Hitler gassed millions of Jews to death," read Executive Director Steve Goldstein's reaction. "Spicer's statement is the most evil slur upon a group of people we have ever heard from a White House press secretary. Sean Spicer now lacks the integrity to serve as White House press secretary, and President Trump must fire him at once."
Regarding Spicer's awkward phrasing, what he initially said was this: "You had someone as despicable as Hitler who didn't even sink to using chemical weapons." When understandably confused White House reporters subsequently asked the press secretary about his statement, he noted "[Hitler] was not using the gas on his own people the same way that Assad is doing" because the former "brought them into the Holocaust Center, I understand."

In other words, it looks an awful lot like Spicer doesn't fully grasp precisely what happened during the Holocaust — let alone what Hitler and the proponents of his "Final Solution" did to enact it. Then again, the press secretary is part of an administration that reportedly "blocked" a State Department memo about the Holocaust that explicitly referred to Jews. (The released statement, as it turns out, didn't reference the Jewish people once.) Throw in controversial Trump advisor Sebastian Gorka's alleged ties to Nazi groups and bam — you've got the White House's latest antisemitic pickle.
As The Atlantic's McKay Coppins puts it, however, who are critics like the Anne Frank Center hoping Trump will replace Spicer with should he actually fire him?
The ex-BuzzFeed News writer's former colleague, Legal Editor Chris Geidner, beat Coppins to the punch with a sadly realistic potential pick: