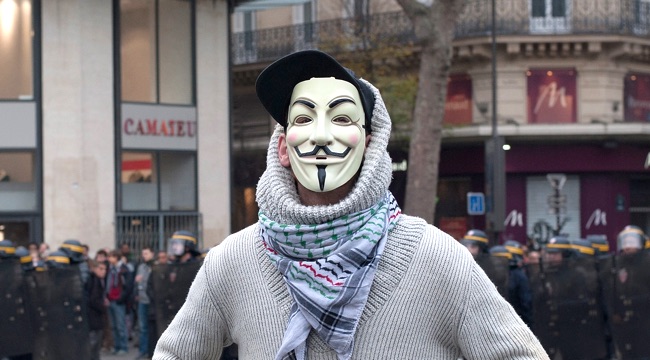 Anonymous may have briefly distracted itself with a first strike on Donald Trump last week, but the vigilante hackers have brought their multi-tasking capabilities into high gear by returning attentions to the Islamic State. The Brussels attacks waged another terror-driven battle and were claimed as an ISIS belt notch in a seemingly never-ending war. Authorities still seek those responsible, but Anonymous does not wait for the slow wheels of justice.
As such, the hacker collective has launched serious threats upon the Islamic State itself. This previously happened after the Paris attacks, and the group swiftly went about crippling some of the online connections that ISIS uses for recruitment and donation purposes. Now, Anonymous has more to say in a petrifying new video:
"We will not rest as long as terrorists continue their actions around the world. We will strike back against them. We defend the rights of freedom and tolerance. To the supporters of Daesh: We will track you down. We will find you. We are everywhere and we are more than you can imagine. Be afraid. When they kill innocent civilians in Belgium, they hit everybody in Europe. We have to fight back."
Gotta love how Anonymous continues to troll the Islamic State with their most dreaded nickname, "Daesh." The bouncing mask also asks casual audience members to stand up against discrimination and accept Muslims, who are frequently the most targeted in ISIS-related attacks. That sentiment should go much further than any hack to disable ISIS recruiting methods could.
Here's the newest video, which finishes with a familiar "We do not forgive. We do not forget. Expect us."