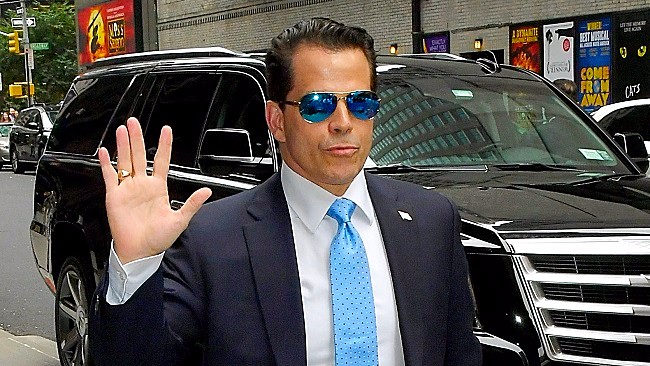 Aside from newly appointed White House Communication Director Hope Hicks' recent string of luck (and legal misfortune), her predecessor, Anthony Scaramucci has largely avoided the spotlight. Sure, he appeared on The Late Show with Stephen Colbert in mid-August, but the "Mooch" has otherwise refrained from re-entering the news media's cross hairs. Yet everything changed on Tuesday when he tweeted something called The Scaramucci Post, along with his advice they everyone "get ready" for its arrival. The next day, the paparazzi-fueled website TMZ announced Scaramucci would host its television program on Monday.
In a press release obtained by ABC News and other outlets, TMZ declared Scaramucci "will have a new day job… for a day" when he hosts TMZ on TV and TMZ Live on Monday, September 18th. For the latter, the longtime friend of Donald Trump will co-host the website's live show with founder Harvey Levin. "I'm really grateful to Harvey Levin and the entire TMZ family for this vote of confidence," Scaramucci said in a statement. "I'm looking forward to learning a lot and having a great time." Levin, meanwhile, quipped his co-host "will have an even shorter run on TMZ than he did as the White House Communications director, but it is going to be awesome."
As for The Scaramucci Post, the otherwise unexplained media venture solely exists as Twitter and Instagram accounts. According to Gizmodo, the web-based startup might be an extension (or revision) of the Mooch's original plan as White House communications director, which reportedly involved the production of video content "that constructively operates as 'The President Donald J. Trump' show." (In other words, even more of the so-called Trump TV social media-based outlet.) Some suspect his cancelled online event in early August was supposed to be a platform for this initiative after his firing.