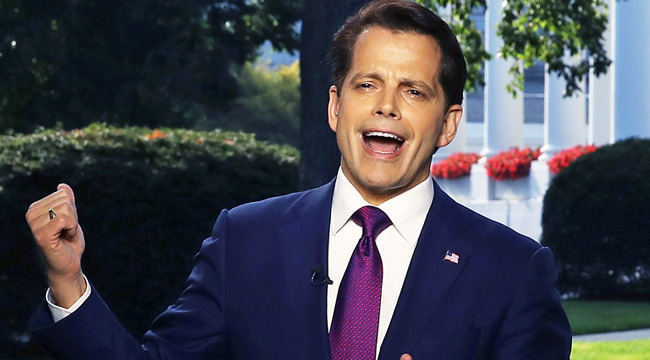 Anthony Scaramucci only worked as White House communications director for 10 drama-filled days, but he left a mark. This was especially the case when the Mooch characterized then-Chief Strategist Steve Bannon as one who self-fellatiates. Scaramucci later claimed that his comments about Bannon were "the truth" (interpret that as you will), and the Mooch is now back with yet another outrageous interview, this time with Vanity Fair.
The Mooch's targets this time? Oh, he praises President Trump by calling him a "winner" but is still railing against both Bannon and former Chief of Staff Reince Priebus. As to the latter, he has a new nickname … "Rancid Penis." And then he gets rolling with a Star Wars-related insult to communicate how he feels that Priebus is a two-faced backstabber:
"That's what they do to you, they say, 'golly gee' to your face and they act like Richie Cunningham to your face. They're Richie Cunningham and they're Opie from The Andy Griffith Show, but they're the f*cking Sith Lord behind your back. They're hitting you with a lightsaber behind your back."
Unsurprisingly, the Mooch is still not a fan of Bannon and unloads a plethora of unflattering imagery to kick his white nationalist enemy while he's down:
"Bannon turns on me, because Bannon is ultimately railing against the swamp, but he's actually a c*ck of the swamp. He's the creature from the Black Lagoon, Bannon. So for all of his railing on the swamp, he is literally the pig in George Orwell's Animal Farm that stands on his two legs the minute he gets power. He is the Creature from the Black Lagoon."
The interview goes on at length with the Mooch spewing all sorts of venom and talking about how he essentially saved the White House from "total disorganization" and leak after leak by Bannon and Priebus. He characterizes the atmosphere when he entered as "berserkazoid craziness," but if the Mooch thinks he cured that fever, well, that sounds about right from him.
(Via Vanity Fair)