I hesitate to say it, both because I'm dubious that progress will continue apace and because I don't want to jinx anything, but there were more than a few silver linings for Indigenous people in America in 2020. A fair number of hope-inducing bright spots. That's despite a pandemic that often disproportionately affected our communities, revealed the relative weakness of our healthcare infrastructure, and left Native artists and entrepreneurs out in the cold when seeking small business loans.
What were those silver linings? I take great joy in rattling off just a few.
While that final point is easy for outsiders to trivialize, remember that the fight against racist mascots and the use of Indigenous iconography in sports has been a generations-long battle, reaching all the way back to the 1950s.
"I'm excited." Jacqueline Keeler, the co-founder of #NotYourMascot, told UPROXX in July. "Now the other teams — the Atlanta Braves, the Kansas City Chiefs, Florida State Seminoles, the 49ers — need to change."
Statues falling and mascots getting retired is only a step, but it does matter. For centuries, Indigenous people have been marginalized, vilified, and tokenized in American media. The increased positive visibility paired with the removal of harmful tropes will, hopefully, lead to broader, more systemic change. To put it more bluntly, the idea is that increased/ more thoughtful representation draws eyes to issues facing Indigenous communities — from lack of education to food scarcity to hunting and fishing rights to health care to systemic poverty.
"I'm really excited about Rutherford Falls, the upcoming sitcom on NBC's Peacock service," comedian Jackie Keliiaa told us in an interview this year. "If you don't know about it, get ready. Native showrunner. Native writers' room. Native actors. Period. The show is still in production, but with that much Native talent steering the ship, you know it's going to be amazing!"
Other Native-led shows are being greenlit, too — with representation rapidly expanding in writers' rooms. Reservation Dogs from Taika Waititi and Indigenous filmmaker Sterlin Harjo will air on FX/ Hulu in 2021, Rutherford Falls is getting excellent buzz at Peacock, and Netflix's Spirit Rangers features an all-Native writers' room, including friend of UPROXX, Joey Clift. Meanwhile, shows that are reckless with Indigenous identity are getting called out, like ABC's Big Sky.
As a fan and an Indigenous person, seeing our stories told by our people is exhilarating.
Indigenous issues finally started making appearances in other forms of mainstream media this year, as well. One of this year's best food shows, Padma Lakshmi's Taste The Nation, took a step towards a wider inclusion by devoting an entire episode to Indigenous American foods in the Southwest. Lakshmi explained her reasoning in an interview with us last summer:
"While I'm an immigrant, I've done most of my schooling in America. And I was appalled at how little instruction I was given on this part of our land's history. So it was important for me to set the groundwork and say, 'Well, this is what actual American food is and has been.'"
One of Lakshmi's guests on that episode was Chef Brian Yazzie of the Navajo Nation, who cooked Three Sisters (a combination of corn, squash, and beans) along with grilled antelope. It was a meal that hit close to home for so many Native people. Speaking personally, I'm not afraid to say that I cried watching it.
Yazzie used his increased visibility to highlight the struggles facing Indigenous communities in Minneapolis. Throughout the pandemic, the chef has been working tirelessly at Gatherings Cafe in the Twin Cities to get local elders fed. It's both admirable and significant that someone with newfound media clout put his career on hold to feed his community.
"Being a servant to the community myself," Yazzie told us when the pandemic started, "I felt like I should use my platform and do something."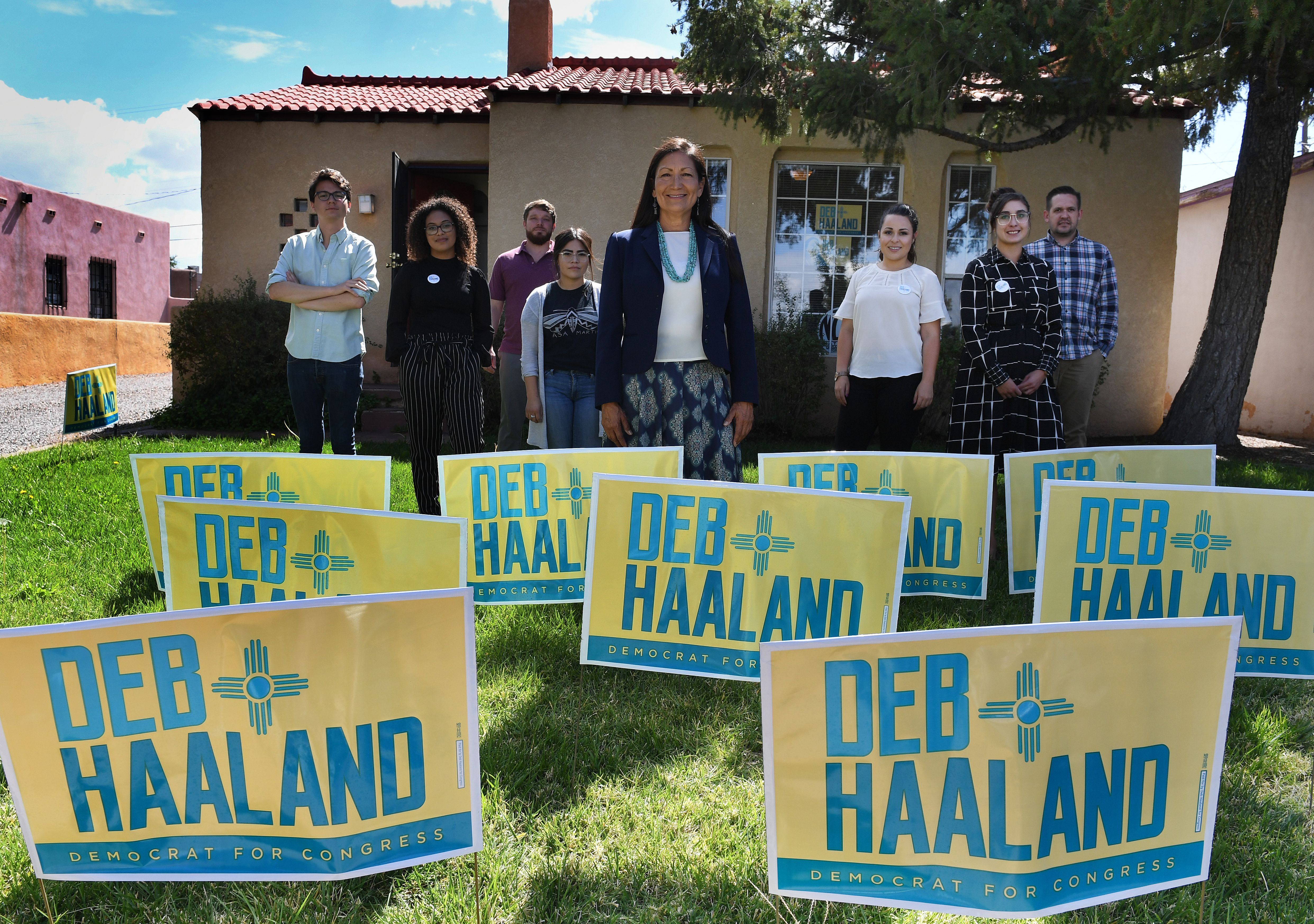 This brings us to the inevitable caveat of all this progress: There's still a long way to go. Yes, there have been some real wins this year. But those wins were fought for by generations of Indigenous folks from all over the nation. Now's not the time to rest on laurels and wait for the government to "do the right thing." Now's the time to push harder, speak louder, and educate more deeply. (It's also the time for allies to keep Indigenous struggles front of mind.)
Hopefully, with conversations around why racists mascots are damaging to Indigenous youth, statues of Columbus were always a bad idea, having Indigenous shows on TV created and made by Indigenous folks is important, and the return of the original "American foods" is crucial to our national foodway, we will see continued change. Hopefully, the light shone on Indigenous culture via the various inroads made in 2020 will illuminate ignored issues, like the plight of the most brutalized group of people in America: Indigenous women, girls, and 2-spirits which has been turned into the #MMIWG2S movement. Hopefully, with Rep. Deb Haaland (NM) in the running to become the first Native Secretary of the Interior (and first Indigenous American ever to serve in a White House Cabinet position), and more Indigenous people in Congress than ever before, the silver linings of 2020 will become the policy decisions of 2021 — helping protect a collective of Indigenous American Nations that has been decimated and ignored since the founding of this country.