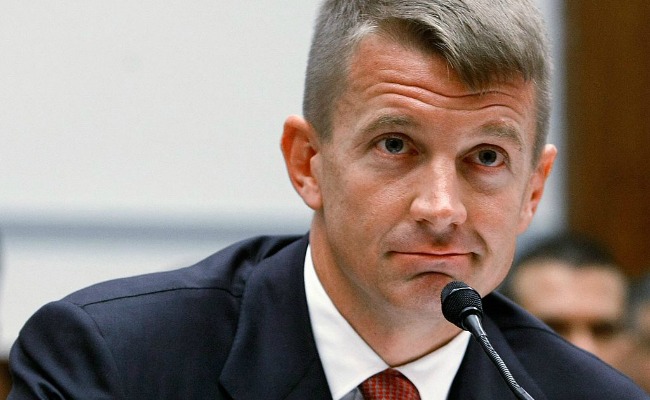 It seems that with each passing day, new links between Donald Trump's administration and Russia are brought to light. On Monday, The Washington Post revealed that Erik Prince, founder of the Iraq War security firm Blackwater, tried to set up a secret line of communication between Moscow and then-President-elect Trump. Held on January 11, Prince attended the meeting with an unidentified Russian official in the Seychelles islands as an "unofficial envoy" despite not being a member of Trump's transition team. According to reports,
Though the full agenda remains unclear, the UAE agreed to broker the meeting in part to explore whether Russia could be persuaded to curtail its relationship with Iran, including in Syria, a Trump administration objective that would be likely to require major concessions to Moscow on U.S. sanctions.
While they have declined to make an official comment on the matter, the FBI has been scrutinizing the Seychelles meetings as part of their deeper investigation into Trump's alleged Russian ties. Press secretary Sean Spicer said regarding the matter, "we are not aware of any meetings and Erik Prince had no role in the transition." Additionally, a spokesman for Prince also released a statement:
"Erik had no role on the transition team. This is a complete fabrication. The meeting had nothing to do with President Trump. Why is the so-called under-resourced intelligence community messing around with surveillance of American citizens when they should be hunting terrorists?"
Brother of education secretary Betsy DeVos, Prince was deemed to controversial to be an official member of Trump's team because of the criminal charges brought against members of Blackwater for killing Iraqi civilians in 2007. Despite not having an official role, Prince was a strong supporter and contributed $250,000 to Trump's campaign.
According to The Washington Post, the meeting was orchestrated between by the crown prince of Abu Dhabi, Sheikh Mohamed bin Zayed al-Nahyan, and his brother soon after they met with Trump adviser and son-in-law Jared Kushner and White House chief strategist Steve Bannon. Regarding this meeting, Barry Faure, the Seychelles secretary of state for foreign affairs cut straight to the heart of the matter: "the Seychelles is the kind of place where you can have a good time away from the eyes of the media. That's even printed in our tourism marketing. But I guess this time you smelled something."
How long between Trump starts tweeting about "witch hunts" again?
(Via The Washington Post)