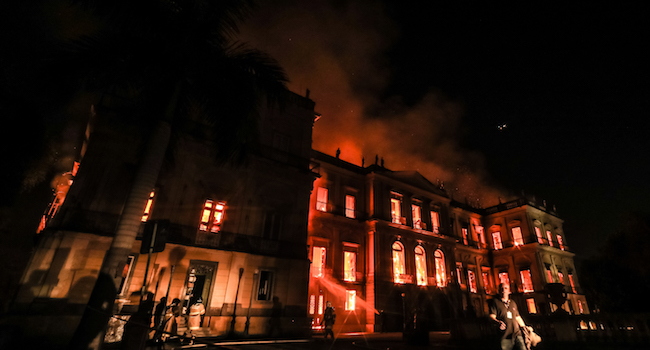 Brazil's oldest museum went up in flames Sunday night, with most of its 20 million artifacts believed to be destroyed, as per The Guardian.
Rio de Janeiro's Museu Nacional, the country's national museum, which celebrated its 200th anniversary in June, began burning after closing to the public; it is not yet known how the fire began. No one was injured, but many administrators and government officials have used the word "incalculable" to describe the loss of over two centuries of history and irreplaceable rarities.
"It was the biggest natural history museum in Latin America. We have invaluable collections. Collections that are over 100 years old," Cristiana Serejo, one of the museum's vice-directors, told Brazil's G1 news.
Luiz Duarte, another vice-director, told the country's TV Globo: "It is an unbearable catastrophe. It is 200 years of this country's heritage. It is 200 years of memory. It is 200 years of science. It is 200 years of culture, of education."
The museum's collections include items such as Egyptian and Greco-Roman artifacts, fossils, dinosaurs, and a meteorite found in 1784. They also included "Luzia," a 12,000-year-old skeleton, which is the oldest in the Americas. All are presumed lost in the fire.
According to the Guardian report, firefighters reportedly had trouble finding water to combat the blaze. After two adjacent hydrants were found to be dry, water trucks, with water from nearby lakes, had to be brought in. At the scene, locals complained that there had been little government money allocated for maintenance of hydrants, especially around old and flammable objects.
Duarte blamed the government, led by president Michel Temer — who has watched over cuts to science and education — for failing to support the museum and letting it fall into disrepair. "For many years we fought with different governments to get adequate resources to preserve what is now completely destroyed," Duarte said. "My feeling is of total dismay and immense anger."