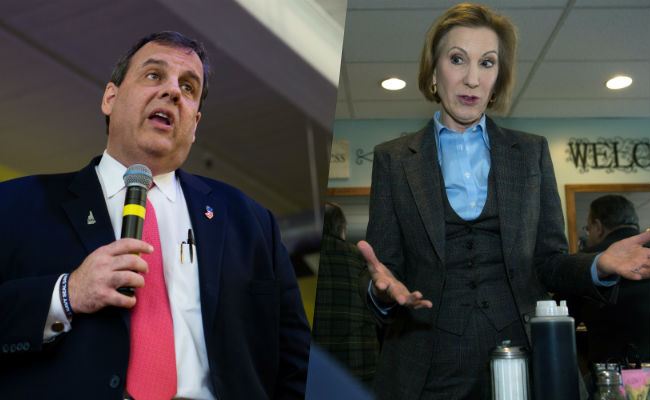 Like former fellow Republican presidential rivals Lindsey Graham, Rick Santorum and Rand Paul, hopeful candidates Chris Christie and Carly Fiorina have suspended their campaigns. The news comes as no surprise, as neither contender made it past the single digit voting percentages in the New Hampshire Primary on Tuesday, which meant both left New England without any delegates for the Republican nomination.
Rumors about Christie's impending decision to drop out of the race began to swirl when the New Jersey governor told reporters that he would return home to "take a deep breath and see what the results are." Instead of heading to South Carolina to continue campaigning ahead of the state's Republican primary on Feb. 20, he was returning to New Jersey to reassess the situation. Then on Wednesday, CBS News reported that Christie had met with major campaign donors and advisers to discuss the results in New Hampshire, and what — if anything — his next move would be.
The results were 21,069 votes, or 7.4 percent of the total voter turnout. This meant no delegates for Christie, who'd only garnered 3,284 votes (1.4 percent) and no delegates in the Iowa Caucus, which was won by Texas Senator Ted Cruz. So the governor announced his decision to suspend his campaign formally.
Meanwhile, Fiorina — who'd earned 11,706 votes (4.1 percent) and no delegates in New Hampshire, and 3,485 votes (1.9 percent) and one delegate in Iowa, also announced her decision to drop out of the race on Wednesday. Despite her campaign's equally poor performance record, however, rumors about a possible campaign suspension hadn't been as rampant as they had been for Christie. Though it still wasn't a surprise when the former Hewlett-Packard CEO announced her decision on Twitter and Facebook.
In her full statement, Fiorina said that she "will continue to travel this country and fight for those Americans who refuse to settle for the way things are and a status quo that no longer works for them."
She also included a veiled jab at Democratic presidential candidate Hillary Clinton with a message for "young girls and women across the country," in which she presented arguments about what a feminist is and is not. "Do not listen to anyone who says you have to vote a certain way or for a certain candidate because you're a woman," she wrote. "That is not feminism. Feminism doesn't shut down conversations or threaten women."
(Via CBS News & Carly Fiorina on Facebook)