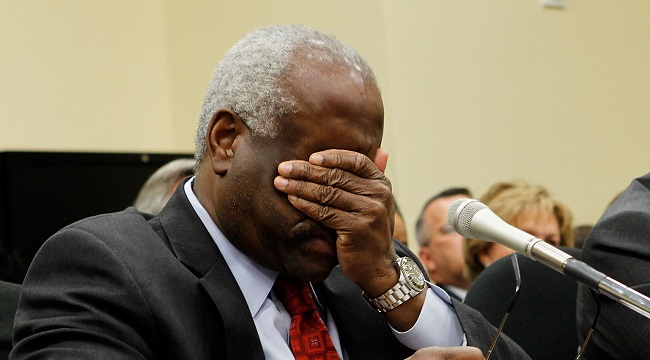 Between the upcoming HBO film Confirmation, which dramatizes his nomination by President George H. W. Bush and the subsequent confirmation hearings, and his speaking in court for the first time in 10 years, 2016 is shaping up to be a banner year for Supreme Court Justice Clarence Thomas. The major headlines he's generated thus far pale in comparison to his former colleage Antonin Scalia's passing in February, which generated a smorgasbord of conspiracy theories and political quarrels about a possible successor. But if a courtroom sketch artist's most recent drawing of Thomas in (in-)action is any indication, the judge won't go down without a publicized fight.
During the Supreme Court's hearing of oral arguments in the case of Birchfield v. North Dakota, sketch artist Arthur Lien caught Thomas in such a subtle way, he's easy to miss. Good thing social media was on the case:
Yes, that's a shot of Thomas's head — and just his head — peering above the bench. His fellow justices are at least present enough to display their shoulders, arms and elbows, but according to Lien's drawing, Thomas just couldn't be bothered.
However, that isn't the case as Law Newz caught up with Lien to find out what happened. Lien, who's been sketching for the Supreme Court since 1976, explained that Thomas "often leans way back in his chair and looks at the ceiling."
"In this case he may have been reading something or just listening. He does give the appearance of being disengaged at times, but then he'll sit up and lean forward as if he's about to ask a question, which of course he rarely does. I've sketched him both ways. I sketch what I see."
Per Lien's statement and sketch, it seems what he sees is Thomas simply adopting a rather relaxed sitting position during oral arguments. Twitter thought differently:
(Via Law Newz)