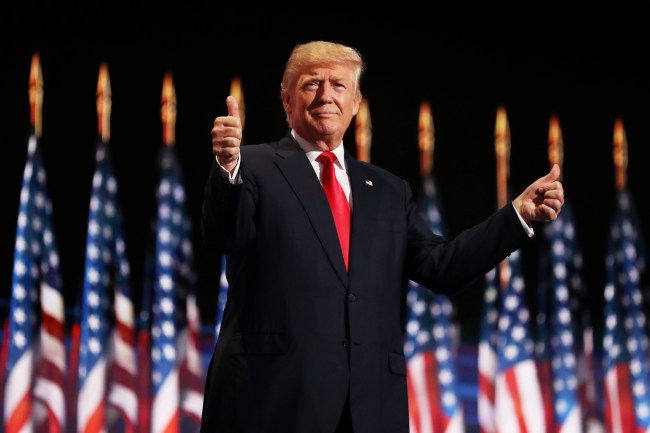 At 2:31 A.M. on the morning of Wednesday, November 9, 2016, the Associated Press projected that Donald Trump will defeat Hillary Clinton and become the 45th president of the United States of America. CNN reports that shortly after the AP made its call, Clinton called Trump to concede the race.
As it currently stands, Trump has secured more than the 270 Electoral Votes needed to secure the presidency. He appears to have emerged victorious in crucial swing states like Ohio, Florida, North Carolina, Wisconsin, and Pennsylvania. Also tonight, the Republicans maintained control of the House and the Senate, which means the GOP, led by President Trump, will have control of all three branches of government in 2017.
Trump's victory rocked the political world, as just about every major poll had him losing the popular vote and the electoral vote in the weeks leading up to the election. Going into election day, the New York Times gave Clinton an 85% chance of winning. Nate Silver's Five Thirty Eight gave Clinton a 71% chance of winning. Global financial markets dropped progressively throughout the evening as Trump gained momentum, with Dow futures dropping more than 800 points. For context, they went down 690 points after 9/11.
Trump formally announced his campaign for the presidency on June 16, 2015. After weathering a tough GOP primary challenge that saw him vanquish 17 opponents, Trump defeated the controversial Democratic nominee in a grueling and at-times downright nasty general election campaign. He will be inaugurated on Friday, January 20, 2017 in Washington D.C.
Watch his victory speech below.