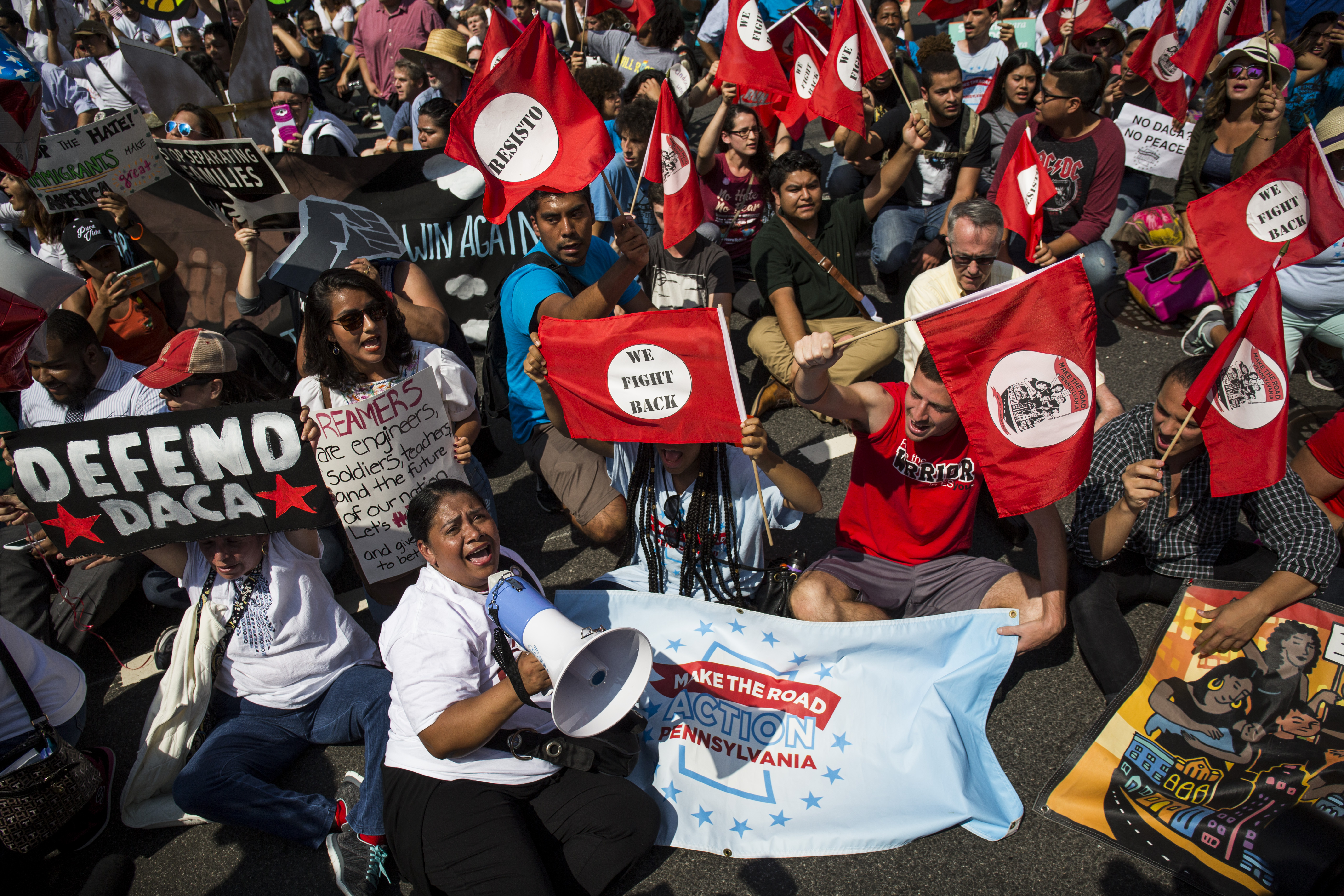 When Jeff Sessions announced that the Trump administration would indeed be ending Deferred Action for Childhood Arrivals, known as DACA, the backlash was swift. New Yorkers grabbed their protest signs and headed to picket the Trump Tower, a bunch of students walked out of school in Denver, Dreamers affected by the decision headed for the ICE office in Phoenix, and attorney generals got busy drafting their responses. Washington was one of the first to announce it would sue; now over a dozen states and the District of Columbia are joining in the legal fight.
Those states include New York, Massachusetts, Washington, Connecticut, Delaware, Hawaii, Illinois, Iowa, New Mexico, North Carolina, Oregon, Pennsylvania, Rhode Island, Vermont, Virginia, and D.C. They are jointly filing their suit with the Eastern District of New York. The argument they are outlining is based on several points of constitutional law, as well the president's own numerous derogatory comments about Mexicans. CNN reports a joint statement from the attorneys general:
"As President Trump's statements about Mexico and those with Mexican roots show, the President has demonstrated a willingness to disparage Mexicans in a misguided attempt to secure support from his constituency, even when such impulses are impermissible motives for directing governmental policy."
The lawsuit also takes aim at Texas, which has vocally agreed with Trump on immigration and rescinding DACA. The attorneys general describe Texas as "a state found to have discriminated against Latinos/Hispanics nine times since 2012," referencing a case that found the Texan legislature had purposefully drawn voting maps in a way that discriminated against minority voters. Texas is still involved in an ongoing legal battle about voter ID laws, and just two weeks ago, a U.S. District Judge found the latest iteration of a voter ID bill was intentionally discriminatory.
Legal experts aren't sure how likely it is that the states' suit will succeed, seeing as how the defendant is POTUS. Just because Trump's opponents say his decision was cruel doesn't necessarily make it unjust in the eyes of the law — which Sarah Huckabee Sanders sort of pointed out. On the other hand, federal judges have cited constitutional law in their rulings against the president on another controversial immigration issue, his Muslim travel ban.