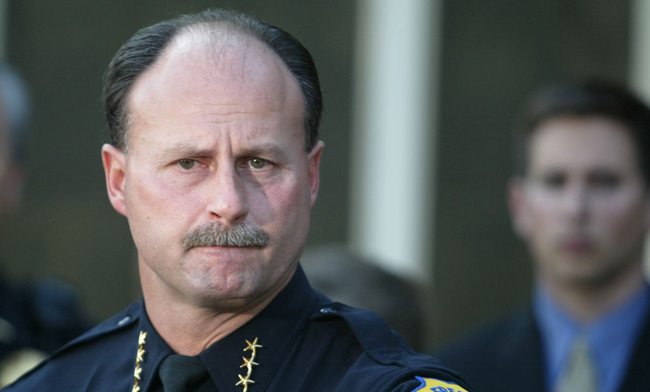 Police have apprehended the suspect in three random killings in Fresno, California, identifying him as Kori Ali Muhammad, who yelled "Allahu akbar," as he was being arrested by the Fresno PD. Muhammad's arrest also ends a manhunt as he was wanted in connection to a murder at a Motel 6 last Thursday.
Police Chief Jerry Dyer has informed the FBI of the shooting deaths and is investigating whether this act was terrorism due to the phrase that closely translates to "God is great" by Muhammad after the murders. Dyer spoke to the LA Times:
"Too early to say whether or not this involves terrorism. Certainly, by the statement that was made, it could give that indication. However, there was no statement made on Thursday night when he shot the security guard and killed him. There was no comments or no statements made at that time, so I am not certain why he said what he said today."
Various witnesses have described the mayhem as Muhammad strolled down Fresno streets, opening fire on multiple people as he reloaded his .357 magnum and moved onto the next target. Some ducked for cover and were able to evade Muhammad. Police Chief Dyer continued:
"These individuals who were chosen today did not do anything to deserve what they got. These were unprovoked attacks by an individual who was intent on carrying out homicides today, and he did that."
According to reports, Kori Muhammad changed his name from Kori Taylor to Kori Ali Muhammad as a teen and was described as a black sheep of the family, but one who would always have a place to stay with relatives, his grandmother Glenestene Taylor said: "He maybe would call himself homeless because he didn't have a place he's paying for with his name on it, but he always stays with some relative… He always knew he could come here if he needed to."
Taylor's father, Vincent Taylor, was "not surprised at all," by his son's publicly expressed hatred towards the government and white people and said, "I'm happy he was arrested… I would hope that whatever Kori tells [police,] they take him seriously and they start following up." According to the elder Taylor, his son believed he was part of an ongoing war between whites and blacks.