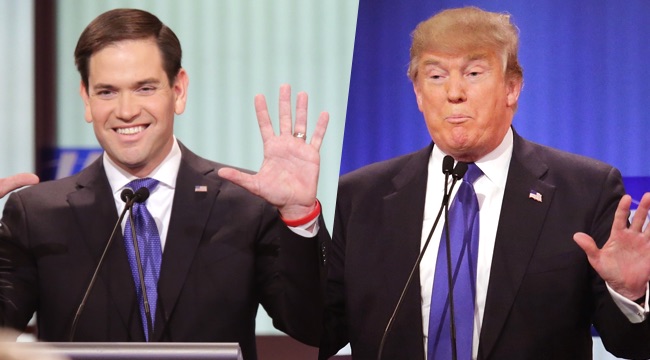 Marco Rubio woke up Friday morning after the strangest GOP debate (so far) with one thing on his mind. He aimed to continue his mission of taking down Donald Trump. Rubio, who appeared to be amused (and who wasn't?) by Trump's discussion of his own assets on live television, feels the humor is starting to wear thin. Or perhaps Rubio's acting out his own script, for he's certainly egged Trump by ripping him for spelling errors and pulling out "small hands" comments. Rubio has stooped to Trump's level in some regard, and neither man is acting very "presidential."
At a recent rally in Jenks, Oklahoma, Rubio was greeted with a spectator who shouted about the tiny hands comment. He laughed, but said the media was just as guilty for grabbing onto the sensationalism of candidate insults. At last night's debate, Rubio said Trump deserved a little ribbing for mocking everyone, including a disabled reporter and any woman who's ever had a bodily function. Rubio would sort of like to bring things back to the issues, although that may not be possible at this late primary stage. To be certain, Trump turned cable news networks upside down on Thursday. They simply couldn't decide how to report on Trump's "penis" revelation.
Rubio did the Friday cable show rounds, which included a visit to CNN. He lamented how this was not "a policy debate," which is a shame because the U.S. will soon decide who will take the highest office in the land. Rubio has sort of resigned himself to the circus, but he's not happy:
"I think it's par for the course in this very unusual election. Look, I go into the debates and I hope every question is a policy question. It hasn't been that way … because Donald Trump has been perhaps the most vulgar – no, I don't think perhaps – the most vulgar person to ever aspire to the presidency in terms of how he's carried out his candidacy, and it's cut into a lot of these debates and some of the things that are asked about."
He's not wrong about Trump proving himself as a distraction to issues like foreign policy, healthcare, the economy, and immigration. Trump mainly mentions "winning" and "negotiations," and although he finally published a healthcare reform plan, that didn't become part of a substantive discussion in the Fox News debate. Barely any substance was addressed at all, and — here's the real kicker — the event was held in Detroit, but the Flint water crisis received a cursory 60 seconds of talk.
Here's a video clip of Rubio's Friday visit with CNN. He'll keep plugging away as more states cast their primary and caucus votes, and March 15 should be the day of reckoning when Florida makes its choice.