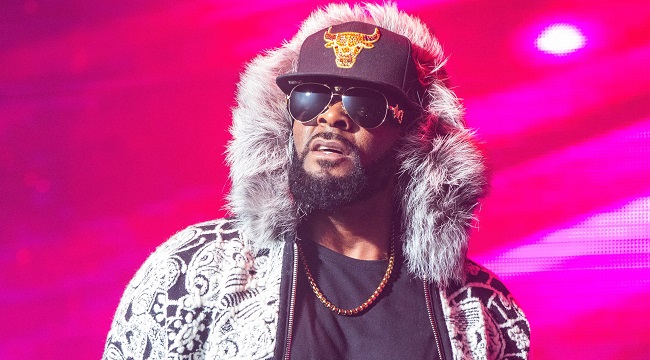 It seems like the consequences of R. Kelly's decades of being, as Vince Staples deemed, a "f*cking child molestor" are finally affecting his music career. The R&B veteran has had trouble overcoming the outrage over longstanding accusations of ephebophilia and sexual abuse since whispers of a "sex cult" and a recent BBC documentary. He was dropped by his publicist, lawyer and assistant, and has had trouble finding new staff. The Blast reported that R. Kelly has made efforts to hire a crisis management firm, but two high-powered firms rebuffed the singer's request because his alleged actions were apparently too disturbing to support.
Atlanta-based activists Oronikie Odeleye and Kenyette Tish spearheaded the #MuteRKelly movement after expanding on Dr. Sharnell Myles and Dr. Stephanie Evans' hashtag. Now, a coalition of women of color in Hollywood's #TimesUp movement have joined their campaign.
Odeleye and Tish noted in their Medium post that they had two demands: for Atlanta radio to stop playing R Kelly's music, and for the Fulton County Board of Commissioners to cancel a show he had planned in Atlanta. They also want to "hold the artist's community accountable and complicit for their silence and de-facto endorsement of his behavior."
Despite the controversy around R. Kelly's alleged sextape with a 14-year-old girl (which includes urinating on her), his marriage to a then-15-year-old Aaliyah, being indicted for 21-counts of child porn, and the recent accusations of a "sex cult," R Kelly has still been able to tour the country, release music, and accrue a fortune that Odeleye noted "insulates him" from investigations of his alleged actions.
#TimesUP is expanding on the two activists' requests, calling upon the RCA Records label he's signed to, Ticketmaster, Spotify and Apple Music to respectively end their relationships with him and take his music off of their services. They've also asked the Greensboro (NC) Coliseum Complex, where R. Kelly has a show scheduled on May 11th, to cancel the performance.
#TimesUp concluded their open letter by demanding "appropriate investigations and inquiries into the allegations of R. Kelly's abuse made by women of color and their families for over two decades now."