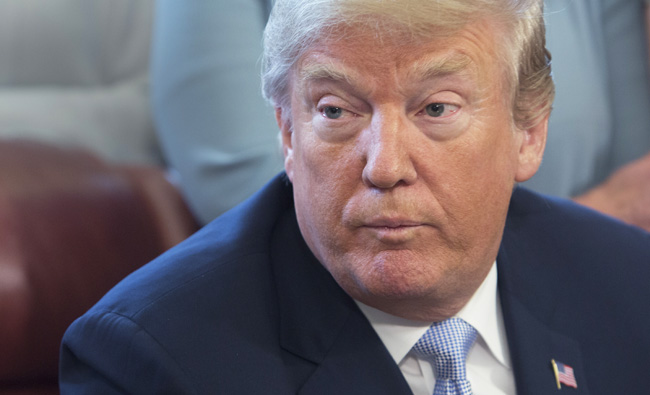 On Thursday morning, both The New Yorker and Associated Press ran tandem stories about how the famously Trump-friendly National Enquirer paid off a former Trump Tower doorman $30,000 for a "catch and kill" type of story alleging that Trump fathered an illegitimate child with an employee in the late '80s. Dino Sajudin met with a reporter with American Media, Inc. (which owns the Enquirer) in 2015 about five months after Trump announced his presidential campaign, with second-hand accounts he claims he heard through Trump's head of security, Matthew Calamari, and other high-level Trump employees.
Sajudin was paid $500 down to take a lie detector to confirm that he was telling the truth about what he had heard, which he passed. At that point he was paid the full amount for the rights to his story, and the Enquirer promptly stopped pursuing it. Ronan Farrow was able to track down the alleged mother and now-adult child at the center of the claims for the The New Yorker, who both declined to comment for the story and their identity has not been revealed out of respect for their privacy.
Whether or not Trump fathered an illegitimate child in the late '80s (while he was still married to Ivana, who he would later go on to cheat on with his second wife Marla Maples) is not the takeaway here. Instead, that A.M.I. has a pattern of buying, then burying, unfavorable stories about Trump — particularly leading up to the 2016 election. It's also common knowledge that Trump is close personal friends with David Pecker, the chairman and C.E.O. of A.M.I.
Former Playboy Playmate Karen McDougal, who allegedly carried on an affair with Trump in 2006 around the same time as his alleged tryst with Stormy Daniels, was likewise paid $150,000 by A.M.I. for the rights to her story, which never ran, and she is currently suing to break her silence.
Although Sajudin's $30,000 pales in comparison to McDougal's, the kicker is a clause that subjects him to a $1 million penalty should he break his contract with A.M.I., which later claimed that his story was bogus.
The Associated Press confirmed the details of the Enquirer's payment through a review of a confidential contract and interviews with dozens of current and former employees of the Enquirer and its parent company, American Media Inc. Sajudin got $30,000 in exchange for signing over the rights, "in perpetuity," to a rumor he'd heard about Trump's sex life — that the president had fathered an illegitimate child with an employee at Trump World Tower, a skyscraper he owns near the United Nations. The contract subjected Sajudin to a $1 million penalty if he disclosed either the rumor or the terms of the deal to anyone.
Farrow writes that thirty minutes after The New Yorker contacted A.M.I. for comment about the payment, Radar Online, which is owned by A.M.I., posted a story acknowledging that the payment had been made to Sajudin, but that his story had been determined to be false.
The Radar Online piece quoted [Dylan Howard, A.M.I.'s chief content officer] saying, "When we realized we would be unable to publish, and other media outlets approached the source about his tale, we released Sajudin from the exclusivity clause that had accompanied his $30,000 payment, freeing him to tell his story to whomever he wanted." Two A.M.I. employees told me that they'd never seen such a release during their time at the company. A.M.I. has said that Karen McDougal, the former Playboy model, has a similar amendment to her contract, but McDougal argues that the company continues to try to prevent her from talking to the press.
Paying for a catch-and-kill story is unto itself not a crime, however whether or not these payments were made with campaign funds may be the smoking gun. On Monday the office of Trump's longtime personal attorney Michael Cohen was raided by the FBI, and among documents reportedly seized were correspondence between Cohen, Pecker, and Howard. The crux will come down to whether or not these payments violated campaign-finance laws.
Shortly after The New Yorker piece published, Farrow sat down on Good Morning America to discuss the legal ramifications and what this could mean for A.M.I. and Cohen.
(Via AP, The New Yorker)