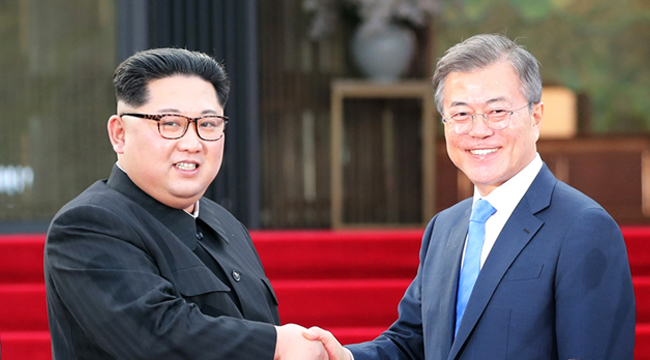 North Korean leader Kim Jong-un historically crossed the DMZ to meet with South Korean President Moon Jae-in, which led to a photo op that few would have expected only a few short months ago. No one knew how this Inter-Korean summit would end — that it was occurring in the first place as miraculous enough — but after a handshake and a day full of meetings, the two leaders have signed a declaration agreeing to formally end the Korean War.
CNN reports the announcement of the Panmunjom Declaration for Peace, Prosperity and Unification, which will officially end the Korean War later this year, 68 years after it began and 65 years after hostilities ceased:
"The two leaders solemnly declared before the 80 million Korean people and the whole world that there will be no more war on the Korean Peninsula and thus a new era of peace has begun," the declaration said.

"There will not be any more war on the Korean Peninsula, a new era of peace has begun," Moon said after signing the declaration. "Chairman Kim Jong Un and I have agreed that complete denuclearization will be achieved, and that is our common goal."
Complete denuclearization of the Korean Peninsula may have been an inevitable goal after North Korea's nuclear test site recently collapsed, rendering it unusable, which may have been the real reason that Kim suspended nuke and missile tests a week ago. Still, all of this news is positive news, so how it happened doesn't really matter at this precise moment, as long as both sides keep their word.
On Twitter, President Trump lauded the "good things" happening at the summit, but he (strangely) added that "only time will tell!"
(Via CNN)