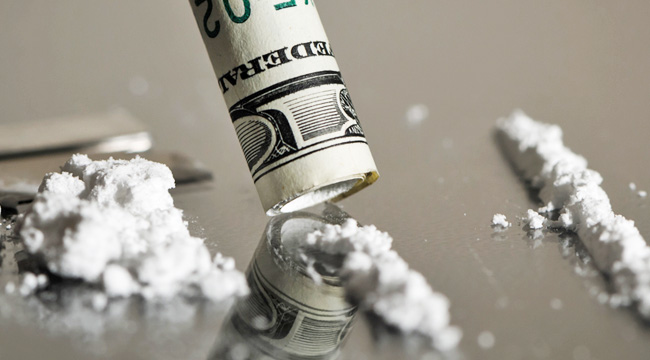 If the late great Rick James taught us just one thing, it's that cocaine is one helluva drug. That's just the normal stuff. Like, the stuff that's been stepped on and chopped up by dealers all the way down the coke-chain until it makes its way into the user's hands. We already know that run-of-the-mill cocaine can take over and run lives, but what if people started getting their hands on stuff that was one-hundred-percent pure? That's reportedly exactly what is getting passed around on some U.K. streets these days.
Police have issued a warning in Eastbourne about a batch that's currently circulating with Detective Inspector Neil Ralph providing the following statement to the Eastbourne Herald:
"Since April there have been a number of drug overdoses in the town and two drug-related deaths. We investigate all drug overdoses and drug-related deaths and look to identify who has supplied the drugs and seek a prosecution. This can be difficult at times because it is often the case the only person who knows the source of the drug is deceased. Taking drugs in any form is dangerous, particularly when the user does not know the purity of the drug."
Since no one's sure where this cocaine batched sourced from, there's no way to ascertain the dealer's motives. However, a recent Dazed Digital piece details an alarming new spike in dealer competition, which could partially be to blame.
In other words, this "killer cocaine" may be part of a quest to supply something purer than the purest blue glass Walter White cooked up in Breaking Bad, and its existence causes great concern for those who fear it will cause mass overdoses. Competition between sellers on darknet marketplaces has grown so fierce that some include test kits that accompany the cocaine, just so buyers know the stuff could kill a horse.

According to Dr. Adam Winstock of the Global Drug Survey, the new system of buying-and-selling cocaine has created an absolute arms race in the street cocaine business, via Dazed.
"While the cocaine dealers I have worked with in prisons have said more often than not the cocaine is the same (the only difference between economy and premium being the pocket they take it out of!) the emergence of two-tier markets does suggest that cocaine markets are evolving and diversifying to compete with the arrival of novel psychoactive drugs and attract clientele with vastly differing incomes and expectations."
The report suggests dealers are buying the pure stuff, then offering it in its most potent state for a weighty cost, or a stepped-on version at a discount. Buyers are there for both options, but the ones who pick the untouched version are playing Russian roulette with their lives. And in the case of one batch circulating in the U.K. right now, the chances of a fatality are very high.
(Via Eastbound Herald & Dazed Digital)