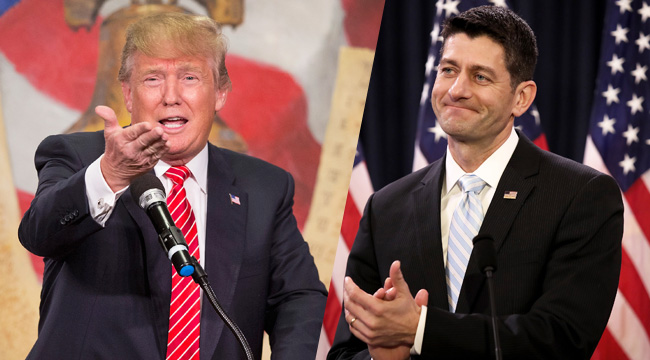 Nearly one month has passed since Speaker Paul Ryan sent a public message to Donald Trump, which was that someone needed to work much harder for a presidential endorsement. Ryan made this statement despite Ted Cruz leaving the building with John Kasich tossing in the GOP towel too. Trump stood as the presumptive nominee (and he's now passed the 1,237 delegate threshold), but Ryan wouldn't give Trump what he couldn't buy. He's made no secret of being appalled at Trump's rhetoric just like many establishment members of the party.
So, the highest-ranked elected U.S. Republican must have taken pleasure in thwarting the will of voters, even on a temporary basis. Ryan then explained, "I'm just not ready to do that at this point." He challenged Trump to unify the party, and Trump fired back with an "I am not ready to support Speaker Ryan's agenda." A week later, the two grumps met up at the Republican headquarters and emerged optimistic, but Ryan still took his sweet time while Trump began to launch offensive attacks against Hillary (and Bill) Clinton. And perhaps this tactic did the trick because Ryan finally bought the cow. He took to his personal Twitter account to tip off the public.
That tweet contains a link to Ryan's column for the Gazettextra (of Janesville, Wis.) that he penned for this momentous occasion:
"Donald Trump and I have talked at great length about things such as the proper role of the executive and fundamental principles such as the protection of life. The list of potential Supreme Court nominees he released after our first meeting was very encouraging. But the House policy agenda has been the main focus of our dialogue. We've talked about the common ground this agenda can represent. We've discussed how the House can be a driver of policy ideas. We've talked about how important these reforms are to saving our country. And we've talked about how, by focusing on issues that unite Republicans, we can work together to heal the fissures developed through the primary."
As with his tweet, Ryan says he feels confident that Trump will push the GOP "agenda," which feels like a pushback on Trump's reply a month ago. And Ryan also acknowledges the differences that remain between the two men's belief systems, but the Speaker promises to speak up when the occasion calls. Naturally, Twitter has some things to say beyond trucking out Ryan's bizarre workout photos. Man, people are so disappointed, and some of these reactions are downright cinematic.
This list wouldn't be complete without a Goodfellas reference, but sadly, there's no Crying Jordan to be found (yet).
(Via Gazettextra)