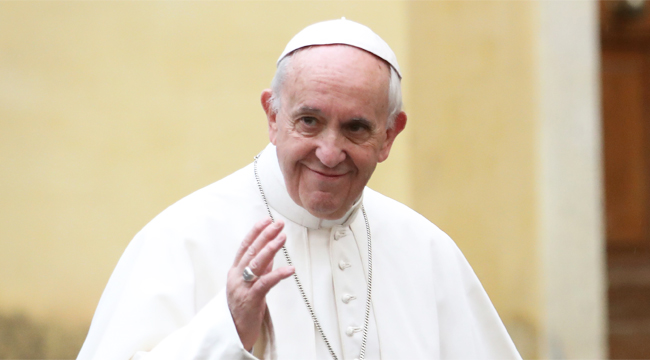 After the Parkland shooting survivors (and hundreds of thousands who support their fight for effective gun control laws) held Saturday's March For Our Lives, Pope Francis has taken note of possible change on the horizon. Especially after the fiery missive and palpable silence from Emma Gonzalez, it's clear that these teens won't give up their fight, and Francis devoted part of his Palm Sunday address to their messages.
In doing so, Francis told youth (via the AP) that "you have it in you to shout," despite how "we older people and leaders, very often corrupt, keep quiet." Francis is, undoubtedly, referring to those lawmakers who have refused to take measurable action while accepting gun lobby money and complaining about an "infected" young generation. The pontiff encouraged the youth to ignore these attempts to silence and continue with their crusade:
"The temptation to silence young people has always existed. There are many ways to silence young people and make them invisible. … There are many ways to sedate them, to keep them from getting involved, to make their dreams flat and dreary, petty and plaintive.

"Dear young people, the joy that Jesus awakens in you is a source of anger and irritation to some, since a joyful person is hard to manipulate."
Francis' words arrive after countless people have remarked upon how these young activists possess an unbeatable combination of charisma and world-weariness, which is heartbreaking to witness but effective nonetheless. Oprah likened these school shooting survivors to civil rights icons, and Bill Murray compared them to Vietnam War protestors. And although the march has concluded, these young people won't stop working toward change.
(Via CTV News/AP)