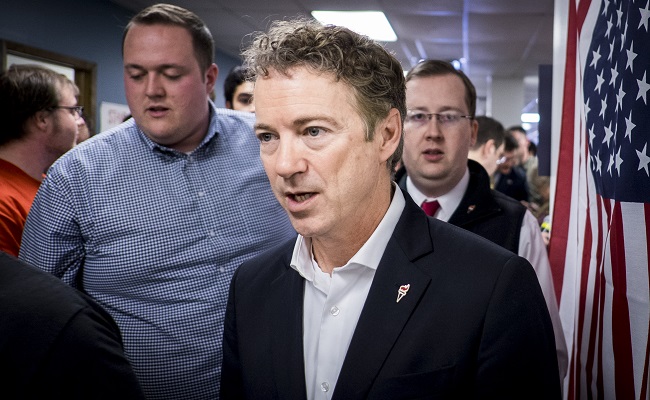 Over the weekend, Senator Rand Paul was reportedly attacked by a neighbor (Rene Boucher) while mowing his lawn in Kentucky. Paul's injuries were first thought to be minor, but his chief of staff later told reporters that Paul suffered worse injuries than previously believed, including five broken ribs from blows that were inflicted with great force. CBS News stressed that the two men were mere "acquaintances" while the local ABC outlet suggested that the attack may have been "politically motivated" in nature.
Well, Boucher's attorney, Matthew Baker, wants everyone to know that the dispute had nothing to do with politics. Further, Baker issued a statement to note that Paul and Boucher (who is also a physician) are fine with each other, and this was a "trivial" and "regrettable" matter:
"[The incident] has absolutely nothing to do with either's politics or political agendas … It was a very regrettable dispute between two neighbors over a matter that most people would regard as trivial. We sincerely hope that Sen. Paul is doing well and that these two gentlemen can get back to being neighbors as quickly as possible."
The senator is not expected to return to Capitol Hill for some time, possibly several weeks, as his "pain is considerable," and displaced ribs can cause permanent damage. It almost goes without saying that any altercation that ends in cracked bones is not "trivial," but to make this situation even more curious, Jonathan Rand of the New York Times tweeted what he heard about the attack: "Two Kentuckians tell me Rand's neighborhood fracas stemmed from a dispute over some sort of planting or flora issue around the properties."
Well, when was the last time an argument about yard work resulted in multiple displaced ribs? The motive for this attack will only be the subject of speculation as time wears forth, and yes, people will continue to wonder if this dispute may have been a little bit political when they're hearing about squabbles involving …. edging or bushes.
(Via Politico & New York Times)