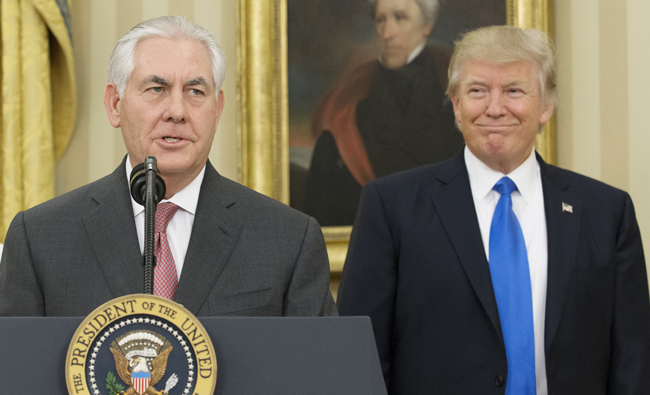 Amid rising tensions in the White House between Donald Trump and his top aides, on Wednesday morning NBC News reported that Secretary of State Rex Tillerson called the president a "moron" during a Pentagon meeting back on July 20 with members of Trump's national security team and Cabinet officials, and was apparently "on the verge" of a resignation. The news comes just days after the secretary of state revealed that the United States is in direct contact with North Korea, contradicting Trump's erratic outbursts in press conferences and on Twitter. Tensions between the two men previously came to a head in August over Tillerson's comments regarding Trump's handling of Charlottesville.
According to NBC News, things with Tillerson really boiled over around the time that Trump gave a politically charged speech before the Boy Scouts of America's annual Jamboree in West Virginia on July 24.
Tillerson, who was in Texas for his son's wedding in late July when Trump addressed the Boy Scouts, had threatened not to return to Washington, according to three people with direct knowledge of the threats. His discussions with retired Gen. John Kelly, who would soon be named Trump's second chief of staff, and Defense Secretary James Mattis, helped initially to reassure him, four people with direct knowledge of the exchanges said.

Kelly and Mattis have been Tillerson's strongest allies in the cabinet. In late July, "they did beg him to stay," a senior administration official said. "They just wanted stability."
Vice President Mike Pence was reportedly the one to step in and mediate between Tillerson and Trump — who may or may not have been aware of the incident — convincing him to stay in his post until at least the end of the year.
Tillerson's top State Department spokesman has since denied that Tillerson called Trump a "moron" when asked for comment, as well as the accusations that he considered resigning and that has was "unaware" of the details of Tillerson's meetings with Pence. The White House declined to comment, but given Trump's latest outburst on Twitter Wednesday morning we can probably guess what his response will be.
Update, of course: