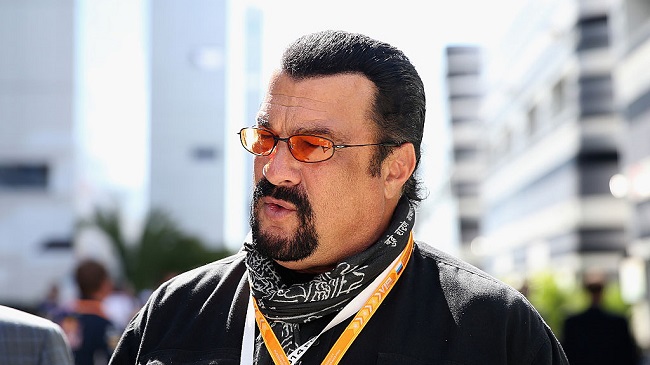 Actor and action star Steven Seagal, who made his "bromance" with Russian President Vladimir Putin official by becoming a Russian citizen and obtaining a passport in late 2016, now has a position within the country's bureaucracy. According to CNN, Russia's foreign ministry announced on its official Facebook page that Seagal "has been appointed special representative of the ministry of foreign affairs of Russia on Russian-American Humanitarian Ties."
Explaining Seagal's appointment further, the Ministry of Foreign Affairs said the actor's "task is to promote the further development of Russian-American relations in the humanitarian sphere, including interaction in the field of culture, art, public and youth exchanges and more." The position will be an unpaid one and, per the ministry's statement, akin to the United Nations' goodwill ambassador positions.
During a 2017 appearance on Good Morning Britain, Seagal spent his time decrying the NFL protests as "disgusting" and defending Putin against election meddling claims. "For anyone to think that Vladimir Putin had anything to do with fixing the elections, or even that the Russians have that kind of technology, is stupid," he told Piers Morgan. "And this kind of propaganda is really a diversion… so that the people in the United States of America won't really see what's happening."
The announcement sadly said nothing of Seagal's five-year ban from entering the Ukraine, which was enacted last year after officials there deemed the actor too "dangerous" to be allowed in.
(Via CNN)