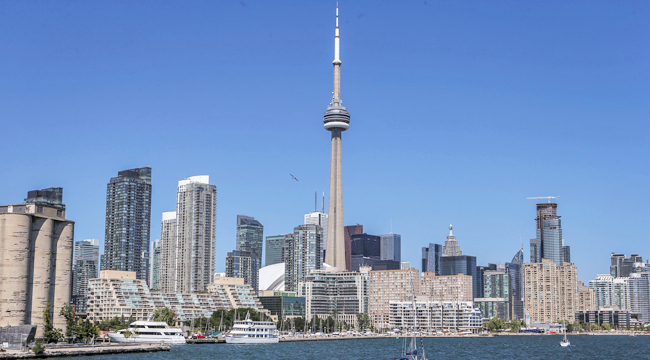 On Monday afternoon in Toronto, a van crashed into a group of pedestrians, causing numerous casualties. CNN reports initial details from the scene at Yonge Street and Finch Avenue (along one of the city's main thoroughfares), where police are only beginning to assess the situation. Paramedics are said to be attending to "multiple patients." BBC soon reported that at least one body bag was quickly transported from the scene, and CBC later added that 10 people died while at least 16 more were injured.
CTV estimates that anywhere from 8-10 people were struck and reports that the driver of a white van has been taken into custody. A witness, Alex Shaker, told how the vehicle was driving on the sidewalk at a high rate of speed in what sounds like an intentional attack:
"He started going down on the sidewalk and crumbling down people one by one," Shaker told CTV News Channel on Monday afternoon. Shaker said he saw the vehicle strike someone with a stroller.

"He just destroyed so many people's lives," he said. "Every single thing that got in his way."
Another witness, Phil Zullo, told CTV that he saw police "take down" the suspect near the attack site, and then he noticed that there were articles of clothing strewn about the scene.
Van attacks have been on the rise beginning in July 2016, when a truck driver killed over 60 people on Bastille Day in France. Since then, there have been multiple incidents in London, an August 2017 van attack in Barcelona, and a NYC Halloween 2017 attack on pedestrians in Tribeca. A few weeks ago, a truck also plowed into tourists in the German city of Muenster.
UPDATE #1 – 3:30pm EST: Sky News reports that the van may have been traveling at up to 70 mph at the time of the collision.
UPDATE #2 – 3:50pm EST: Witness Chelsea Luelo told CNN that she watched two cars attempt to halt the van, and she confirms that its sidewalk journey looked very intentional.
UPDATE #3 – 5:20pm EST: CBC reports that 9 people have died with at least 16 more injured, and police expect to conduct a lengthy investigation. Prime Minister Justin Trudeau has told Canadians, "Our hearts go out to everyone affected." He is expected to further address the tragedy later on Thursday.