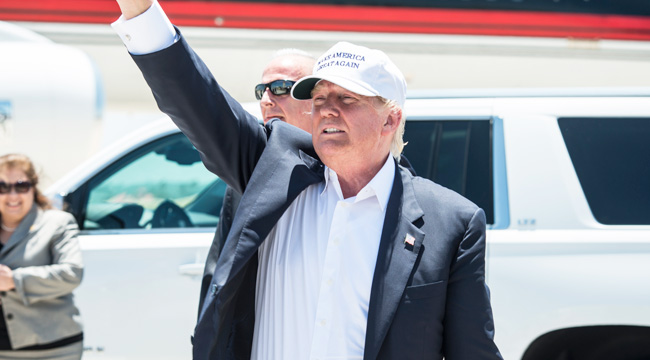 In order to help fund the border wall, the GOP is preparing to cut $1 billion in disaster relief, even as FEMA deals with the effects of Hurricane Harvey on Texas and Louisiana, and new storms could impact the U.S. as well. According to the White House, after traveling to Texas and claiming to have "witness[ed] first hand the horror & devastation," President Trump is set to donate $1 million of his "personal funds" to relief efforts.
Trump reportedly asked advisors about groups to whom he should donate.
This story is notable because President Trump has pledged to donate large sums in the past for a number of reasons. After Sandy rocked New Jersey and New York, Trump offered to extend a deadline he had set for President Obama to release his birth certificate.
And as the Washington Post's David Fahrenthold reminded people on Twitter, Trump held a January 2016 fundraiser for veterans' groups and said that he personally donated $1 million. However and four months later, Trump had still not made his donation until after he was publicly called out for not making the donation yet. "You have a lot of vetting to do," Trump said to explain what had taken so long. Undercutting that reasoning, Trump ended up donating to a charity that the previous year held a gala while honoring Trump:
When asked Tuesday whether he had given the money this week only because reporters had been asking about it, Trump responded: "You know, you're a nasty guy. You're really a nasty guy. I gave out millions of dollars that I had no obligation to do."
Hours later, after 10:38 p.m. Eastern time, Trump responded on Twitter: "While under no obligation to do so, I have raised between 5 & 6 million dollars, including 1million dollars from me, for our VETERANS. Nice!"
At the time, Trump ended up also donating to a charity that is headed by a man who served in Iraq "with Trump's bodyguard's son."
(Via NBC News & Washington Post)