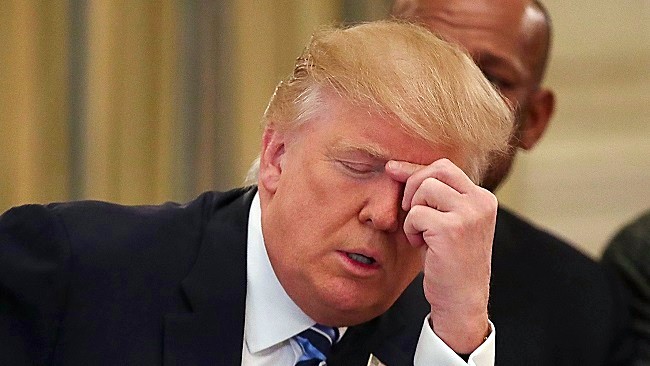 President Trump spent his Saturday morning lamenting Friday night's government shutdown, which he blamed entirely on Senate Democrats. Yet before the previous evening's final showdown between Senate Majority Leader Mitch McConnell and his Democratic counterpart, Sen. Chuck Schumer, the president reportedly fumed to White House staffers about the looming shutdown's preventing him from attending a long-planned inauguration celebration at Mar-a-Lago. According to The Daily Beast, sources close to Trump claimed he had whined about not being able to attend "my party."
The president's planned trip to Florida was summarily canceled Friday afternoon ahead of the government shutdown. Even so, administration officials who spoke with The Daily Beast and others insisted "the expiration of government funding would not necessarily impede the president's travel plans to Mar-a-Lago or elsewhere." Rather, Trump's trip to Mar-a-Lago was canceled because of optics — if the president was seen attending his own inauguration celebration amid a government shutdown, it wouldn't look good.
Meanwhile, Democratic strategist turned Democratic Coalition co-founder Scott Dworkin cited "[m]ultiple people close to the White House" who told him Trump is "absolutely furious he hasn't been able to leave for Mar-a-Lago yet."

Whether or not Dworkin and other outlets' claims regarding the president's ire are true remains to be seen. As Washington Post reporter David Fahrenthold notes, however, Trump's mood doesn't really matter as the Mar-a-Lago celebration will continue as planned in his absence. What's more, the event will "raise money for his reelection campaign and the Republican National Committee" while helping Trump's own bottom line:
By holding the event at his own club, Trump will be able to collect tens of thousands of dollars in fees for food, ballroom rental and other costs. In effect, he will have transformed his supporters' political donations into revenue for his business.

Again.
(Via The Daily Beast and Washington Post)