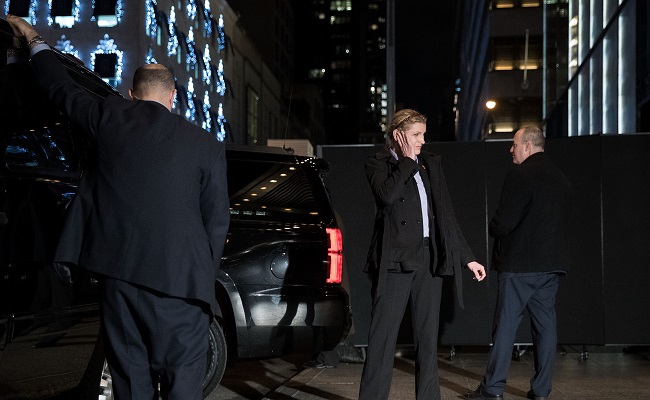 Sure, someone renaming Trump Tower "Dump Tower" on Google Maps is fun and all. Yet with reports that not all of President-elect Donald Trump's family will be leaving their luxurious residence for the White House, the state of New York and national taxpayers are spending a lot of money on its protection. And while the so-called "White House North" is apparently set to rack up further bills for the American people, a new report suggests a prominent New York real estate agency with property in the building is already trying to cash in on its namesake's upcoming new job.
According to Politico, the Douglas Elliman agency emailed potential customers a message with the subject line "Fifth Avenue Buyers Interested in Secret Service Protection?" mere days after the general election. It's purpose? To advertise a 1,052-square-foot condo listed for $2.1 million located on 721 Fifth Avenue that — thanks to the ongoing presence of the U.S. Secret Service — possessed a rather unique amenity:
"The New Aminity [sic] — The United States Secret Service," screamed the flier sent in an e-mail on Nov. 13 for a one-bedroom apartment on the 31st floor, represented by brokers Ariel Sassoon and Devin Leahy.

"The Best Value in the Most Secure Building in Manhattan," it stated.

Like Weatherproof's controversial attempt to sell a new winter coat line based on photos of President Barack Obama wearing the brand, the Douglas Elliman agency's apparent use of Trump Tower's intensified security presence as a selling point isn't necessarily something Trump himself can control. As Politico notes "most of the 263 units are individually owned," though the Trump Corporation does retain an application processing fee of $2,000 for ever sale (along with an additional $250 per additional adult). The company also manages the building's garage and vendors.
Then again, considering the president-elect's own contentious business history, the real estate group's advertising the Secret Service to sell condos still doesn't look good for either Trump or his family's brand. Especially since his daughter Ivanka has already caught flak for her company's attempt to use her father's 60 Minutes interview as a selling point.
Politico reached out for comment from the Douglas Elliman brokers, Sassoon and Leahy, named in the email. Neither of them, nor their agency, responded. A Trump spokesperson also didn't respond to a request for comment.
(Via Politico)