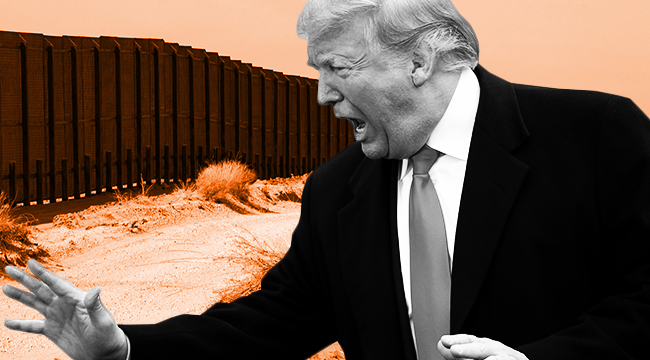 Trash overflowing from unserviced receptacles. Rare Joshua trees cut down in order to forge paths through fragile desert lands. Airport terminals in Houston and Miami closed. Food inspections stalled. Federal workers going without pay for almost a month. And especially ironically, E-Verify, a program that's supposed to prevent undocumented individuals from acquiring American jobs, is down. The consequences of the longest government shutdown in American history are far-reaching, and there's no end in sight.
All because President Donald Trump wants $5.7 billion for a border wall between the United States and Mexico. But the efficacy of a border wall as a means of security is dubious, at best. After all, despite Trump's 2015 assertion that "Mexicans" coming over the southern border are "rapists" who are bringing drugs and crimes, and his later assertions that this wall is a matter of national security, the fact of the matter is that more terror suspects enter the U.S. from Canada than from Mexico, and most drugs are smuggled through ports of entry, not the southern border.
At the end of the day, this hostage situation is all over money that could be well-spent elsewhere, and we have a few ideas. Here's what the $5.7 billion Trump wants for his wall could pay for instead.
Federal Salaries
In the middle of this whole fracas are the 800,000 federal workers who have been furloughed since the shutdown began on December 22. According to the New York Times, while the median federal salary is $77,000, roughly 20 percent of those furloughed make less than $50,000, and many have a month or less of savings. The shutdown is costing these workers a combined $200 million per day, with no end in sight. Congress may decide to retroactively pay them when the shutdown is over, but do you imagine any of these government employees are expecting their leaders to do the right thing right now?
With $5.7 billion, the U.S. government could afford to pay $6,500 to each of the 800,00 federal workers who have been furloughed.

National Parks
Reports have been coming in from all over the U.S. of overflowing trash and toilets, people cutting down trees and trampling on delicate grounds. And while there are people volunteering to keep wild areas like Yosemite National Park clean and safe during the shutdown, there's still the issue of some 23,000 employees not being paid, maintenance (deferred and otherwise) not being addressed, and destruction being wrought in some of our most delicate wild lands.
The fact of the matter is that volunteers alone cannot protect our national parks, which includes 84.7 million acres over 417 sites. With $5.7 billion, the U.S. could afford to pay for 1 year and 9 months of funding for the National Park Service.
Paying Teachers What They're Worth—Or At Least Starting To
According to the National Center for Education Statistics, there are about 3.2 million full-time teachers working in the public school system right now. With $5.7 billion, the U.S. could afford $1,781.25 raises for each of the full-time teachers in public schools. That works out to approximately $148.44 extra each month. Alternatively, $5.7 billion could fund GEAR UP, a grant program that helps low-income students prepare for a successful undergraduate education, for almost 16 years.
If you're wondering about whether preventing undocumented immigration (which has held stable for years now) or funding programs that help low-income students is better for our society, guess what? It's the latter.
Making Good On Promises To Native American Nations Across The Country
Lest we forget this tidbit as we fight over who belongs in the U.S.: people like Trump came here from other places. This is an adopted home for the lion's share of Americans. And the irony of having a conversation about who can and cannot cross our borders is not lost on the 6.6 million Indigenous Americans living here. With that in mind, we could use Trump's border wall money to more than double the Bureau of Indian Affairs budget and, as Uproxx writer and Skokomish Native Zach Johnston says, "make an effort to actually fulfill treaty promises to Native American Nations across the country."
Alleviating Food Insecurity
In 2017, 11.8 percent of American households had low or very low food security. That's 15 million American households, and that figure includes 2.9 million households with children. That is unacceptable in a country called home to four of the five richest people in the world, including Jeff Bezos, whose net worth is currently $136 billion and counting.
For families
With $5.7 billion, based on average monthly benefits calculated by the Center on Budget and Policy Priorities, we could cover SNAP benefits for 12.5 million families of four.
For children
Alternatively, we could fully fund the National School Lunch Program, which feeds 30.4 million children every day, for six months. We could even fully fund the School Breakfast Program, which feeds 14 million kids daily, for 1 1/2 years, or cover the cost of nutritional assistance programs, which provide balanced meals outside of the school year, for 1 1/2 years.

Providing Health Services to Low-Income Individuals
Title X is an oft-misunderstood healthcare program that covers family planning and related preventive health care. Contraceptive supplies, STI treatment, breast and cervical cancer screenings, counseling, and more are covered under Title X, which is a grant program that allows participating clinics to service low-income individuals.
In 2018, the program's budget was $286.5 million, but the American Journal of Public Health found that Title X needs an annual budget of $737 million to meet the need for its services. That money would cover the approximately 20 million women who would benefit from preventive care and family planning, instead of the approximately 6.2 million who are currently able to take advantage of the program.
With Trump's border wall money, the U.S. could either pay for nearly twenty years of the current Title X budget or 7.7 years of a fully-funded budget which would, again, help the approximately 20 million additional women who need it. And if you're not convinced this is a good thing, keep in mind that access to family planning is a boon for the economy, so we'd all benefit from a move like this.
At the end of the day, maybe these are just pipe dreams—pie-in-the-sky ideas of where we'd like to see money go, rather than building a monument to nationalism, a symbol of racist policies. Hey, we can dream, can't we?