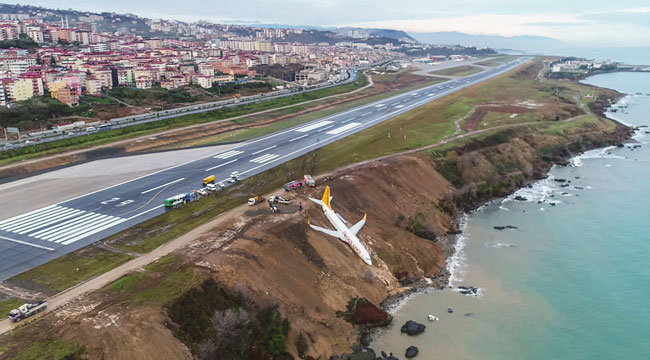 Disaster nearly struck late Saturday night in the Turkish province of Trabzon, where a commercial airliner skidded off a runway and perched precariously on the side of a cliff, mere feet from the Black Sea. The Guardian reports that the Pegasus Airline plane experienced a "runway excursion incident" upon its arrival from the Turkish capital of Ankara, and although it's clear that this situation was a dangerous one, genuine harm was somehow averted.
All 162 passengers and crew aboard the aircraft were uninjured, and everyone safely evacuated from the plane. The New York Times reports that the incident occurred at around 11:25pm local time, and they relay word from Turkish news Agency Anadolu, which spoke to passenger Yuksel Gordu:
"It's a miracle we escaped," he said. "We could have burned, exploded, flown into the sea."

"Thank God for this," he added. "I feel like I'm going crazy when I think about it."
The airport remained closed after the incident until around 8:00 am local time but has since reopened. Trabzon Governor Yücel Yavuz told reporters that, at this time, investigators aren't aware of a cause for the plane barrelling off the runway. You can see a close-up image of the plane below, and it truly is amazing that everyone onboard was left unharmed.
(Via New York Times & The Guardian)