It's finally Super Bowl week, and that means it's time for some predictions. You may have already placed some prop bets on the game, but when it comes to actually winning, straight up, now's the time to start calling your shot.
Madden has now done that as well, using one of the best football simulators on the planet to plug in the scenario that will play out on Sunday in Atlanta to see what will happen in Super Bowl 53. EA Sports put together a video giving us some stats and performances from the simulated game and, most importantly, the final score.
Madden 19 isn't a flawless prediction machine, of course. And anyone who has simulated a game or week or even season with a video game knows that you can get some surprises. But a quick look at the numbers here actually gives this prediction some pretty solid footing.
According to the sim, the Rams will win Super Bowl 53 by an extremely narrow margin.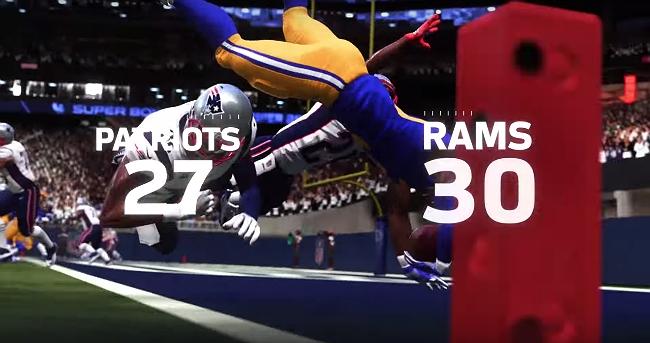 That 30-27 score comes thanks to a huge Rams comeback in the sim, as the Patriots opened up a 17-3 halftime lead on the strength of a rushing touchdown from Sony Michel and a passing score from Tom Brady to Julian Edelman. Brady, by the way, has himself a pretty good Super Bowl, statistically.
Jared Goff, for his part, does a bit better. Much of his 300+ yards comes in the second half, when he notched touchdown throws to Robert Woods (46 yards) and Josh Reynolds (26 yards) to bring the Rams back.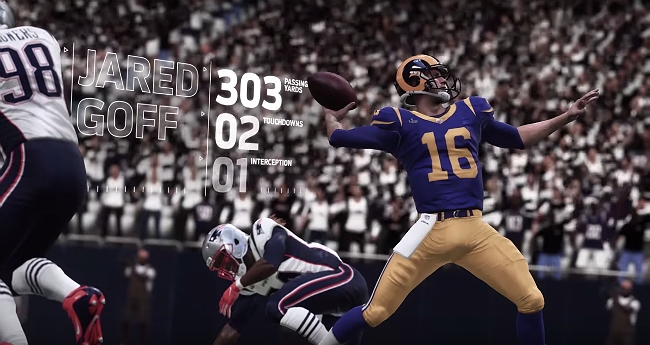 The Reynolds touchdown made it 20-all in Atlanta at the end of the third quarter, and a 53-yard Greg Zuerlein field goal gave the Rams the lead in the fourth, but you truly cannot count out Touchdown Tom, who led the Patriots down the field for a score late in the fourth to give the 5-time Super Bowl champions the lead back once more.
Brady just couldn't stop the Rams, and a late drive was capped by Todd Gurley's 5-yard score to make it 30-27 and give the Rams their first title since 2000. Despite all the offense, especially in the second half, it was a defensive player that Madden 19 declared Super Bowl MVP. Aaron Donald was a dominant in the virtual realm as he's been all season, and he had a huge defensive effort to take home MVP honors.
That's a very satisfying image for people who are tired of the Patriots always making things happen in the Super Bowl. But whether it actually happens on Sunday, well, there's only one way to find out.