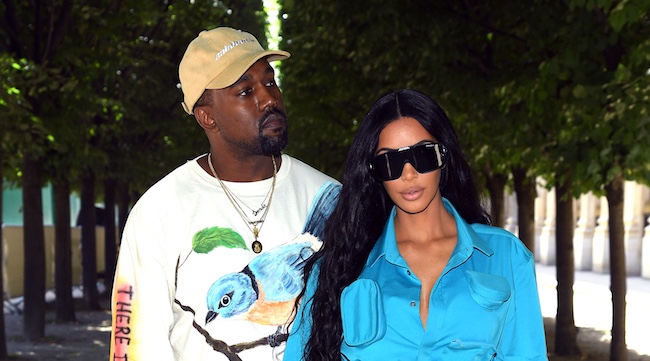 Apparently, Kanye West has a lot to get off his chest now that he says he's "out of the Sunken Place," much of it owing to his feelings about how his wife is addressed in rap circles in various media, from songs to interviews, suggesting that she's unfaithful or promiscuous. He dropped a series of videos on his Instagram of an extended, impromptu speech addressing Drake, Nick Cannon, and even model Tyson Beckford while on a walk to clear his head.
It seems as though Kanye has his own theory about the identity of the mysterious "Keke" from Drake's "In My Feelings." From what he says in the video, it's clear he feels that Keke is a reference to his wife Kim Kardashian-West and that Drake was disrespectfully suggesting a tryst between Kim and himself behind Kanye's back. He says it doesn't "sit well with my spirit" that rumors are floating around without Drake interjecting to cut them off.
Kanye also chides Drake for mentioning Kylie and Kendall Jenner in a song snippet that was leaked to Snapchat by Future, but ultimately unreleased, due to the fact that "Travis is your man. That man just had a baby with her." He also notes that his own goofy "XTCY" track was cleared with Travis, who he calls "family."
Kanye calls out Nick Cannon and Tyson Beckford as well, as Cannon had insinuated in interviews that Drake and Kim hooked up as well, while Beckford made comments on Instagram posts that many felt body shamed Kim for her figure.
It seems that being back in the Windy City "for good" has brought back some of Kanye's old, fiery Chicago attitude. He invites all three to discuss these issues in person to hash it out (which sounds a lot like a veiled threat of the sort some of Kanye's old Heavy Hittas associates would have followed through on in the old days). However, the best revelation of the whole rant? It turns out Kanye is using social media to air out these complaints is that he doesn't talk on the phone. It's anyone's guess why, but given Kylie's recent introduction to the wonders of cereal and milk, figuring out the eccentricities of the Kardashian-Jenner-West family seems like a lost cause.
Check out the full rant below.
https://www.instagram.com/p/Bn9JkSXnTS7/?taken-by=kanyewest
https://www.instagram.com/p/Bn9KMuVn5oc/?taken-by=kanyewest
https://www.instagram.com/p/Bn9KndWnmCS/?taken-by=kanyewest