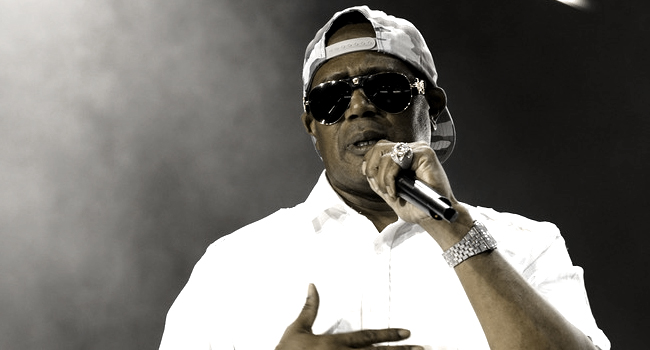 The legend of Percy "Master P" Miller reads like a Jack Kirby and Stan Lee comic book origin fever dream. Rapper, former dope dealer, store owner, man who alleges he beat Michael Jordan in 1-on-1, label head, mogul, Forbes' list crasher, pro basketball player, basketball league boss, film director, pro wrestler, motivational speaker.
To run down the full history would take up a pretty length book, or in P's case, a real-life biopic that held casting calls earlier this year. There are neighborhood superstars and borough kings who may never escape regional status, and then there's Percy Miller: The ghetto Superman. Without Master P, you have very few DIY entrepreneurs in rap. Without Percy Miller, you lose a large chunk of what turned the South into the premier space for rap creativity after he came into the picture.
Ghetto D, his sixth album of the '90s, arrived when half of the county was still dealing with the wake of the murders of The Notorious B.I.G. in March of 1997 and Tupac Shakur in 1996. Shakur's fiery spirit contained a blueprint that was emulated by countless rappers after him. If a rapper could promote the grit and grime while also sounding as real and honest as he did, the music could sell. P's boutique had a hand in everything; films, music, clothing and look. Despite a scratchy delivery with a drawl that could constrict around certain idioms and totems of street wisdom, Master P was never an impressive rapper.
But he and his sound were the perfect mid-90s entry point for learning the ghettos of New Orleans. Unfiltered, chaotic, and shot through with a crackling urgency, his most signature song was based off a rather undecipherable grunt, and his catalog littered with punches about drug dealing, losing friends, and getting money. Throughout his career, P brought the ghettos of New Orleans front and center on every album release, and Ghetto D was his signature moment.
The original cover art for the album depicted a fiend taking in crack and blowing out the previous P and TRU albums that came before Ghetto D. That cover was ditched for the now-iconic gold-plated font that began Southern Rap's infatuation with Pen and Pixel cover art; a feat blown up even more by Cash Money's exploits a year later. The name was shortened to Ghetto D but many people know it as Ghetto Dope. In his own play for world domination after lifting plenty of influence from 'Pac, Master P created an entire universe that everyone got sucked into.
The album was a family affair, a full-blown showcase for Silkk Da Shocker's dance around any concept of metered rhyming, time signatures, and physics, and all for a whopping eleven tracks. Fellow TRU brother C-Murder only appears twice. The star's biggest free agent, Mystikal, locked in on three tracks. It cemented Mia X as the label's most formidable rapper, a rarity for a female artist on a mostly male-dominated rap label. Ghetto D was a No Limit Records compilation album cleverly disguised as a Master P solo disc. P couldn't do all the heavy lifting for an entire album. The idea persists today with a wide number of crews who have a personable lead act but more talented rappers allowed to shine in their collateral spotlight.
"Make crack like this. Ghetto dope!" P encouraged on the album's title track. Behind the bubble of crack cocaine being cooked on the stove, Ghetto D became a 79-minute odyssey of frustration, street fame, anger and high-end grandstanding. At times, P fell off beat, but couldn't toss the records due to how much energy he exerted throughout them. One of the album's producers, Beats By The Pound created an aura of bedlam, drums and synths ringing like klaxons and machine gun funk throughout the record. Only they could micromanage Silkk's unorthodox rhyme schemes and delivery and P's honest emotion. For instance, "I Miss My Homies" found a way to blend thug heartbreak with "Brandy" by The O'Jay's.
P was shameless in picking through samples and clearing them for bigger hits. "Gangstas Need Love Too" shared the same sample as The Notorious B.I.G.'s "Missin You" from Life After Death, an album that predates Ghetto D by five months. "Burbans & Lacs," the never-correctly-spelled ode to creative and inventive car culture (a Cadillac Suburban doesn't exist!) lifts Marvin Gaye's "Sexual Healing." How did P and company avoid the wrath of the Gaye estate? "Burbans & Lacs," produced by Mo B. Dick is a half-chord different than the original — that's the kind of shiftiness Vanilla Ice would appreciate.
Master P knew that living in a part of the world that was designed for the freeway needed at least one song for riding music ("Hit interstate ten, to Texas / Listening to DJ Screw just raced a Lexus.") "Rumors" by Timex Social Club was woven into "Stop Hatin," and Eric B. and Rakim's "Eric B For President" got snapped up for the legendary title track. P learned from Bad Boy's glossy take on New York rap and built in New Orleans' signature gift to rap, bounce music, creating something wholly different and all his own. It was pop rap at its lowest common denominator, but then came "Make 'Em Say Uhh!," making stars out of all five credited rappers, and turning the rap world on its ear.
The "Make 'Em Say Uhh!" video was a cultural moment in its own right, too. There's Shaquille O'Neal, geeking out in the crowd, the No Limit jerseys, the Tank coming out and parking on the court, and to top it all off, Mystikal sitting on the backboard delivering his verse straight from Tchoupitoulas. It premiered four months after Ghetto D initially landed, but became a monstrous phenomenon. Love it or hate it, "Make 'Em Say Uhh!" was ubiquitous. It was the only song I knew nearly word-for-word when I managed to sneak into a middle school dance as a fourth grader. The imagery is eternal and it single-handedly made Silkk da Shocker and Mystikal stars on a national level, giving America their first true glimpse at the New Orleans' Tasmanian devil. "Make 'Em Say Uhh!" turned Ghetto D into a legendary album; the rest of the album played the voice of the voiceless during a period when the city of New Orleans was the murder capital of the United States.
Charting the influence of Southern rap before and after Ghetto D is easy. Before Louisiana got its own version of 'Pac in Lil' Boosie, the Baton Rouge rapper picked up on P's "Going Through Somethangs," morphing it into his own take on plight and the pressures of the world surrounding him years later. Isaiah Rashad was no more than a baby when Ghetto D arrived in stores, yet he's championed P's legacy, and Cilvia Demo's "R.I.P. Kevin Miller" lifts its chorus from "Weed & Money," a tandem track between P and Silkk The Shocker. "I need diamond teeth / Livin' like it's 1998 / Like when Percy was the King / Back when Juve was the Great," Rashad rapped, on a track that served as both tribute to Louisiana's zenith of rap dominance, and to Miller's late brother Kevin, who was murdered in 1995.
In the end, Ghetto D felt like a wound up ball of chaos and frustration, the kind of high that skitters and shakes until the comedown arrives. Fittingly, P's breakthrough album toppled another outstanding album from a growing mogul to reign supreme on the Billboard chart. Even if it only lasted a week, Ghetto D was superior to Puff Daddy's No Way Out in 1997. In the South, it was hailed as a watershed moment. No Limit secured a reign over American hip-hop that wouldn't loosen its grip until another crew of self-made entrepreneurs from New Orleans took P's blueprint and, with a few more tweaks, wound up becoming their own massive entity that still runs the airwaves through Young Money today.
Years later, P would attempt to recreate the magic of Ghetto D with subsequent albums such as a "retirement" album in MP Da Last Don and the follow-up Only God Can Judge Me. Da Last Don is the highest selling album of P's career, essentially built off the goods sold from Ghetto D. But the No Limit tank fizzled when it swapped out Mystikal as a prized-possession and freed Snoop Dogg from his Death Row Records deal, and the label never truly regained its 1996-99 luster. Still, the South knows the legacy of Master P, so much so that his words and impact helped give Solange's A Seat At The Table even greater weight and appreciation in regards to freedom and independence. Percy Miller always sought a land of self-rule, and he wanted everyone to walk on that same path. Ghetto D was only the first step to showing how far he was willing to take it.