"All it takes is one bad day to reduce the sanest man alive to lunacy. That's how far the world is from where I am. Just one bad day." That familiar quote spoken by the Joker in Alan Moore's The Killing Joke is being referenced heavily in this Thursday's episode of Gotham, titled "One Bad Day." Even though the show isn't calling Jerome Valeska's twin brother Jeremiah "Joker," the new trailer above demonstrates why they might as well start calling him that.
The video recaps previous episodes but is also filled with new footage from the last two episodes of Season 4, including an homage to the amusingly literal signage of the Batman '66 series: a scene in which Jeremiah seems to burns some of his followers alive by hitting a big button conveniently labelled "purge." Gotham hasn't officially been picked up for a fifth season, although Fox chairman Gary Newman has said, "I feel like Gotham should have a place in our schedule."
If you missed last week's episode, you missed seeing Jeremiah reveal his real personality in an elaborate fake-out (the videos may still be available here and here), during which he claimed his brother's insanity gas only had cosmetic effects, like the bleached skin revealed when he wiped a victim's blood off of his face.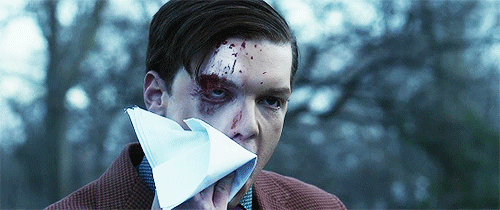 Then the totally-not-crazy Jeremiah called himself the "face of sanity" and told Bruce Wayne, "You're my very best friend." (Don't let Ecco hear him say that.)
We've already seen part of this Thursday's episode, a scene we thought would air last week in which Jeremiah gives the Gotham police six hours to evacuate the city before he detonates all the bombs Wayne Enterprises unwittingly funded as an energy project (whoops). Jeremiah will also be attempting to drive his "best friend" Bruce Wayne insane with one really bad day. We've also gathered from promo photos that Jim Gordon makes it out of the maze and Jeremiah will be having a run-in with Penguin, Barbara, Tabitha, and Butch, who've teamed up in an attempt to stop him.
EVERYONE'S A HERO ON AN ALL-NEW "GOTHAM" THURSDAY, MAY 10, ON FOX

As Gotham falls into complete anarchy, a team of unlikely heroes step up to save it. Bullock takes the lead at the GCPD and Bruce's psychological limits are tested as those close to him are put in danger in the all-new "A Dark Knight: One Bad Day" episode of GOTHAM airing Thursday, May 10 (8:00-9:00 PM ET/PT) on FOX.
(Via We Got This Covered and Gotham)