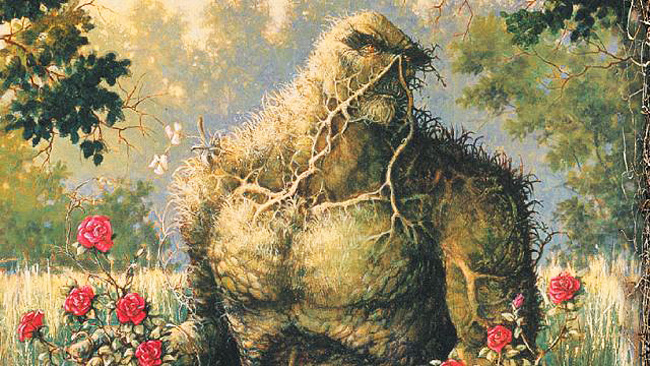 James Wan is already using his talents to bring Aquaman to the big screen as part of the DCEU, but now he's lending his talents as a producer to bring another hero to life for DC Entertainment's new streaming platform. Wan will executive produce a new Swamp Thing live-action series, set to join Metropolis and Titans on the platform, and it will follow the character's story as created by Len Wein and Bernie Wrightson in the early '70s.
Wan said he had been developing the series for a while and aimed to bring "mood, mystery, gothic romance, and swamp monsters" to the platform according to The Hollywood Reporter:
Mark Verheiden (Battlestar Galactica, Daredevil) and Gary Dauberman (It and its forthcoming sequel) are attached to co-write the script and serve as showrunners on the live-action drama. James Wan (Aquaman) will executive produce alongside his Atomic Monster banner topper Michael Clear, with the company's Rob Hackett set as a co-exec producer. Verheiden and Dauberman will also exec produce.

The drama follows what happens when CDC researcher Abby Arcane returns to her childhood home of Houma, Louisiana, in order to investigate a deadly swamp-borne virus. There, she develops a surprising bond with scientist Alec Holland — only to have him tragically taken from her. But as powerful forces descend on Houma, intent on exploiting the swamp's mysterious properties for their own purposes, Abby will discover that the swamp holds mystical secrets, both horrifying and wondrous — and the potential love of her life may not be gone after all.
Swamp Thing has evolved as a character over the years, moving from the scientist that is transformed into the swamp creature by the accident with his own experiments towards a more elemental and mystical creature under writers like Alan Moore. It's hard to think that Wan and the team on the show wouldn't incorporate this into their version, in an attempt to bring a more authentic version to the screen.
It's also not the first time that Swamp Thing has had his own movie or television series. Wes Craven's adaptation is actually pretty good and features Adrienne Barbeau as the creature's love interest, though Heather Locklear steps in for the sillier sequel. This was followed by a live-action series on the USA Network that lasted for three seasons and an animated series that aired on Fox Kids for five episodes. All of these are heavier on the super-heroics, while Craven's movie does feature a bit more horror.
As for the animated series, its legacy is probably its toyline and this theme song. Maybe Wan and company can bring this back with their series.