If you log in to that Pinterest account you made years ago, a trip to Santorini probably has its own "bucket list" travel board. Dubbed one of the most romantic places in the world by Conde Nast Traveler, it's no wonder Santorini is a highly coveted honeymoon destination. The panoramic views and bright blue waters in Santorini are endless, and if you're hoping to start and end your days with those swoon-worthy romantic views straight from bed, the luxurious Andronis Concept Wellness Resort is the place to be.
Did you catch that? You don't have to get out of bed for the views.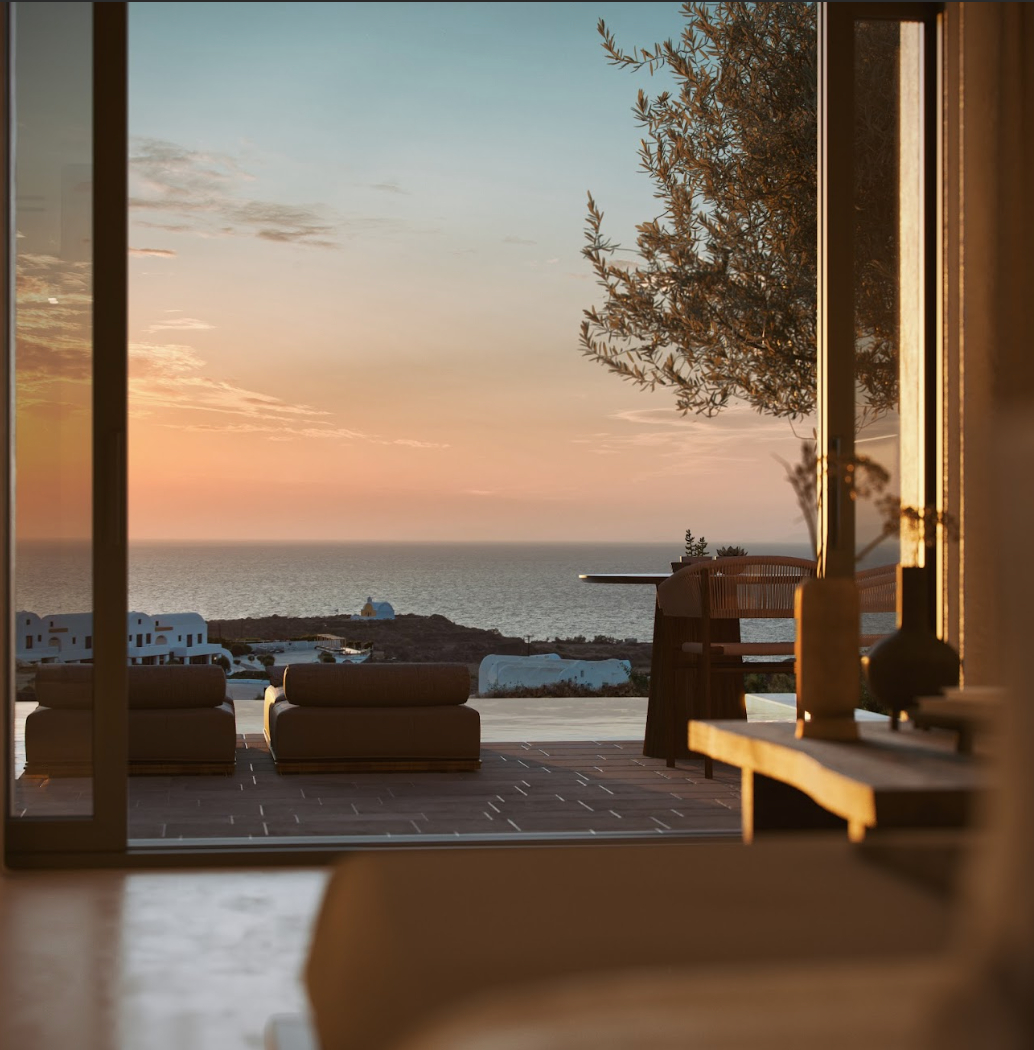 Over the course of my recent 16-day honeymoon that sprawled two countries and three islands, Andronis Concept Wellness Resort created a new standard of luxury travel for me and my husband. Set back on the hillside adjacent to the Mediterranean Sea, the rooms, intimacy throughout the resort, local cuisine, crafted cocktails, and staff were all five-star. If you're looking for supreme luxury and a peaceful getaway, this is absolutely the place to be. If you crave people-watching, late nights, and sweaty dance parties, well… you'd better have a cab on speed dial.
WHY IT'S AWESOME:
Andronis Concept Wellness Resort is no stranger to setting the bar for extraordinary luxury, something they do quite well across their seven Andronis Hotels. After catching glimpses of the bright blue ocean Santorini views, pulling up to property felt… a bit underwhelming. Although check-in was seamless, the staff was friendly, and the pool was picture-worthy and inviting, it wasn't until we got to our room that my jaw dropped.
Each of the resort's 28 luxurious suites comes with a private terrace and infinity pool that overlooks one of the most majestic backdrops I've ever seen. After seeing our room, it made complete sense why the hotel was positioned the way it was, saving the best for last. Sure, the main pool was plenty nice, but absolutely nothing compares to having your own private pool set on the cliffside overlooking the volcanic caldera.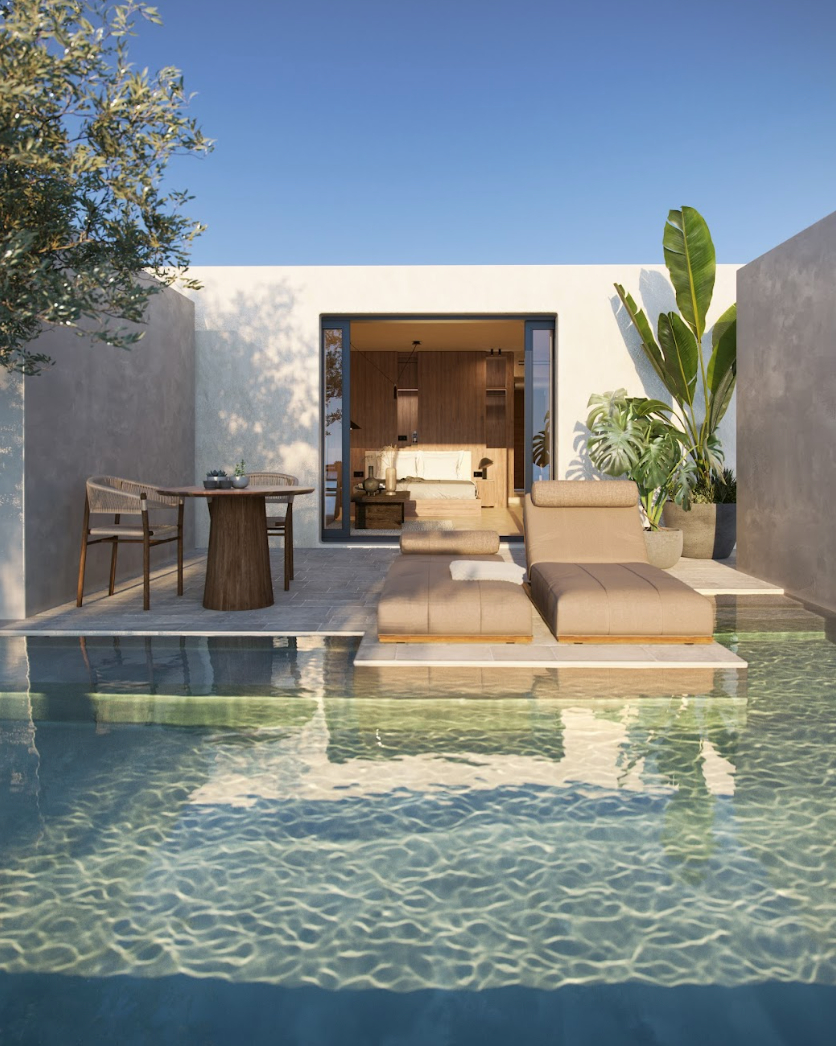 The minimalist room décor only added to the sensorial and simplistic ambiance. Set between the room's private infinity pool and the distant volcano was a well-traveled hiking path connecting the villages of Oia and Fira, making it a perfect escape each morning. Surrounded by serene views of the water and passing through other boutique properties was a far better wakeup than the strongest cup of coffee.
IN-HOUSE FOOD + DRINK:
Continuing with the sunset theme, every seat inside and outside Throubi Restaurant has a stunning view of the sunset. At the helm of the resort's only restaurant is Executive Chef Charalampos Koukoudakis, whose specialty is creating high-end Santorinian gastronomy with a focus on well-balanced nutrition. He makes it look easy. Using only the freshest ingredients from the resort's on-site garden, Koukoudakis collaborates with an expert nutritionist, adding to the overall wellness element of the resort.
If you're there celebrating, likely amongst other honeymooners, be sure to check out their extensive wine list or their wine or cocktail pairing menu.
View this post on Instagram
The resort's drink menu was just as well thought out as the resort layout itself, including cocktails that made you bubble with excitement. Pool service featured cocktails like the Caldera Fizz (Prosecco, Aperol, Pink grapefruit soda) and the Salty Kiss (Brut Champagne, Blue cheese gin, Honey, Truffle bitter).
AMENITIES:
Air Conditioning
Bath Amenities
Bathrobes and Slippers
Bathroom with Shower
Cable-Satellite TV
Daily Maid Service
Direct dial telephone
Hairdryer
Living Room
Magnifying Mirror
Pool towels
Safe Deposit Box
Turn down service
Wake-up Call
Wi-Fi Internet Access
ROOM TYPES:
With only 28 rooms, you still have a wide range of choices from cozy suites, split-level living, and two, three, and four-bedroom villas. Each room boasts a lovely terrace and features private infinity pools of varying sizes overlooking the Aegean Sea.
View this post on Instagram
See all room types here.
THE BEST THING TO DO WITHIN A 15 MINUTE WALK:
The best thing to do within a 15-minute walk is to actually walk. The idyllic resort borders along one of the town's most famous hiking paths, which is an easy and stunning walk around the beautiful backdrops. The trail stretches 6.5 miles, but you'll want to stop so many times to take in the views (and pictures) that you probably won't get far.
The trail itself is easy to moderate alternating between concrete, cobblestone, rocks, and dirt along with some stairs in various places, and gives you a peek inside neighboring boutique hotels and villas.
View this post on Instagram
THE BEST THING TO EAT/DRINK WITHIN A $20 CAB RIDE:
Andronis Concept Wellness Resort is located on the outskirts of Imerovigli, which is a quick ride from one of town's best restaurants, Argo. Argo has great vibes and of course, great views — a must in Santorini. If you're a meat lover, you'll love their kebabs or lamb shank, and they have a great wine selection.
The resort offers a complimentary shuttle into Thera, so save your $20 for an Aperol Spritz with a view. You'll be doing that a lot.
BED GAME:
Expect nothing less than luxury when staying at Andronis Concept Wellness Resort, which lives up to their Instagram hype. The bed was well-appointed but it was the view that made it difficult to wake up and get out of bed.
Rating 9.5/10
SEXINESS RATING:
View this post on Instagram
For the views alone, I would give it a 10. Alas, this is a family-friendly resort, so with kids around, I am mandated to take a point off.
Rating 9/10
THE VIEWS & PICS SPOT:
The resort won a 2022 Conde Nast Readers' Choice Award as one of the best resorts in the world, and there's no doubt the view from your suite is what garnered that award. I have traveled the world for many years, and I've never seen a hotel room with a better view. You don't even need to leave your private terrace to get one of the most epic vacation photos you've ever taken.
Stepping off the property a few steps to the neighboring hike also provides some of the best panoramic views.
BEST SEASON TO VISIT: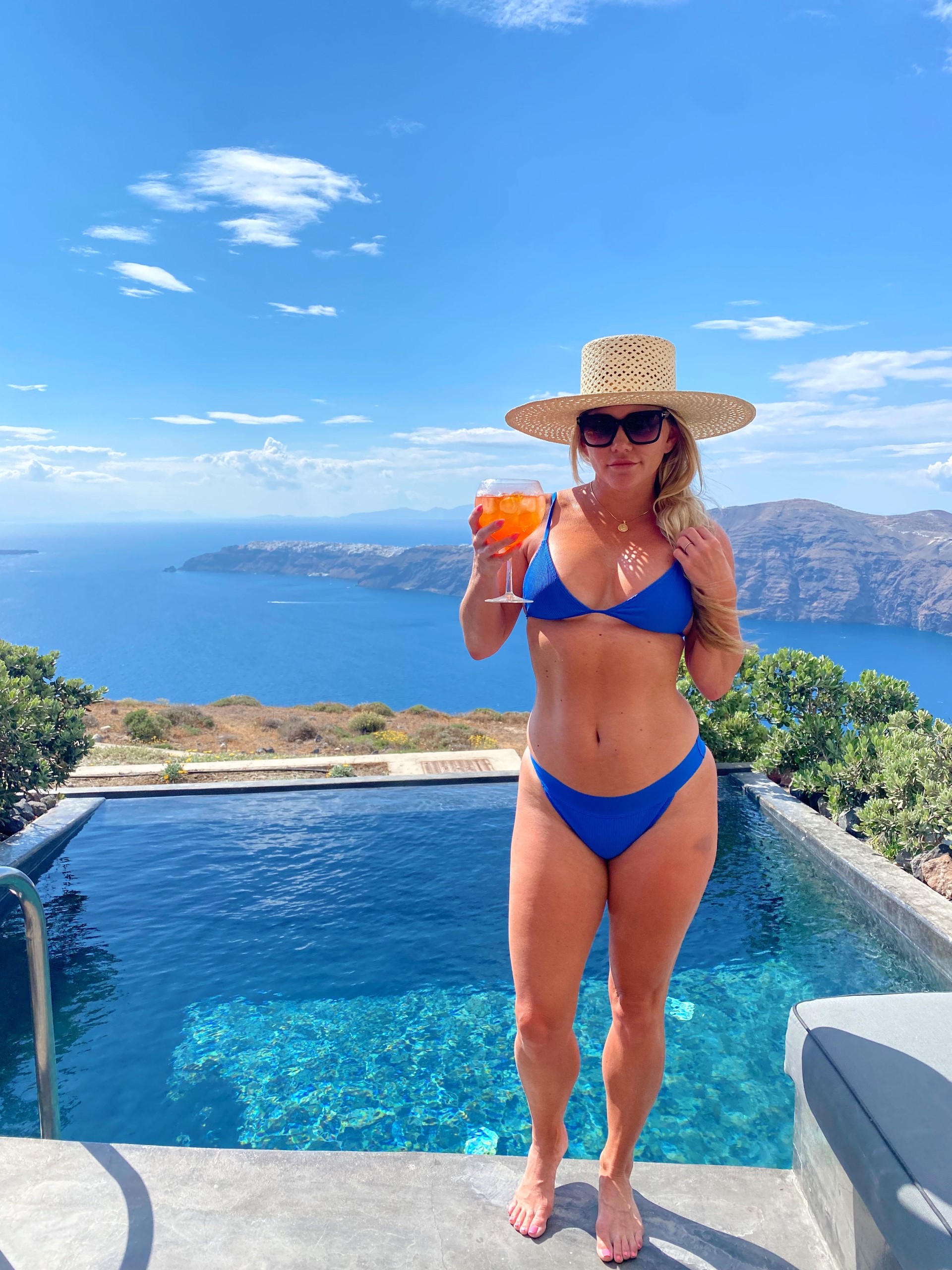 June – September is when most people say is the best time to visit Santorini, but I'd say May. Going a month before the season officially kicks off gives you less crowded areas and better hotel prices.
IF I HAD TO COMPLAIN ABOUT ONE THING:
We should all know by now that influencers always make everything look glamorous. We tried the Instagram-famous floating breakfast trend, and not only did our poor server actually fall in our pool with our entire breakfast, but once it was recooked and redelivered, I realized that I am almost the same height as the pool itself. It didn't leave any room for me to stand in the pool looking all chic and fun to eat my crispy bacon and drink my mimosa.
So maybe save your money on the floating breakfast and simply enjoy the views from the lounge chairs on your terrace.
View this post on Instagram
BOOK HERE:
Rates start as low as $1250 per night for June dates, which include some online specials. The nightly rate goes up about $200 a night for July dates.
MORE INSTAGRAM IMAGES FROM ANDRONIS CONCEPT WELLNESS RESORT: