Though the trending hashtags have shifted since last month, the protests that have broken out across the country calling for racial justice and accountability with regards to police violence have continued on. Unless you're marching or following on social media, it's easy to forget that people are still out in the streets daily, standing up against oppression. But they 100% are — with protests planned this holiday weekend across the country.
Of course, systemic racism is a massive tree with rotten roots infiltrating all parts of our lives. As various states begin reopening their economies (while others un-reopen), it's a crucial time to recognize that, now more than ever, Black-owned businesses are in need of support. Particularly as COVID-19 proves absolutely devastating to the restaurant industry, with eateries nationwide unable to stay afloat on take-out and delivery sales alone.
While the US unemployment rate in June was 11.1% — slightly down from 12.4% in May — according to the Bureau of Labor Statistics, the Black unemployment rate its much higher at 16.8%, and historically, depressions and recessions tend to hit African-American and other minority communities the hardest. A report on the Impact of the US Housing Crisis on the Racial Wealth Gap Across Generations reveals that during the Great Recession of '07, black households lost 40 percent of their wealth, and haven't recovered to the lengths that white households have during the same period. Which means that the racial wealth gap is continuing to grow unchecked.
To help support Black-owned businesses in our communities, we've collected some of the resources you'll need, from Google spreadsheets to apps.
PART I — Apps, Features, and Websites
There are several apps and websites out there designed to directly connect consumers with Black-owned businesses and some existing apps like UberEats are adding new search features to help increase the visibility of Black-owned businesses.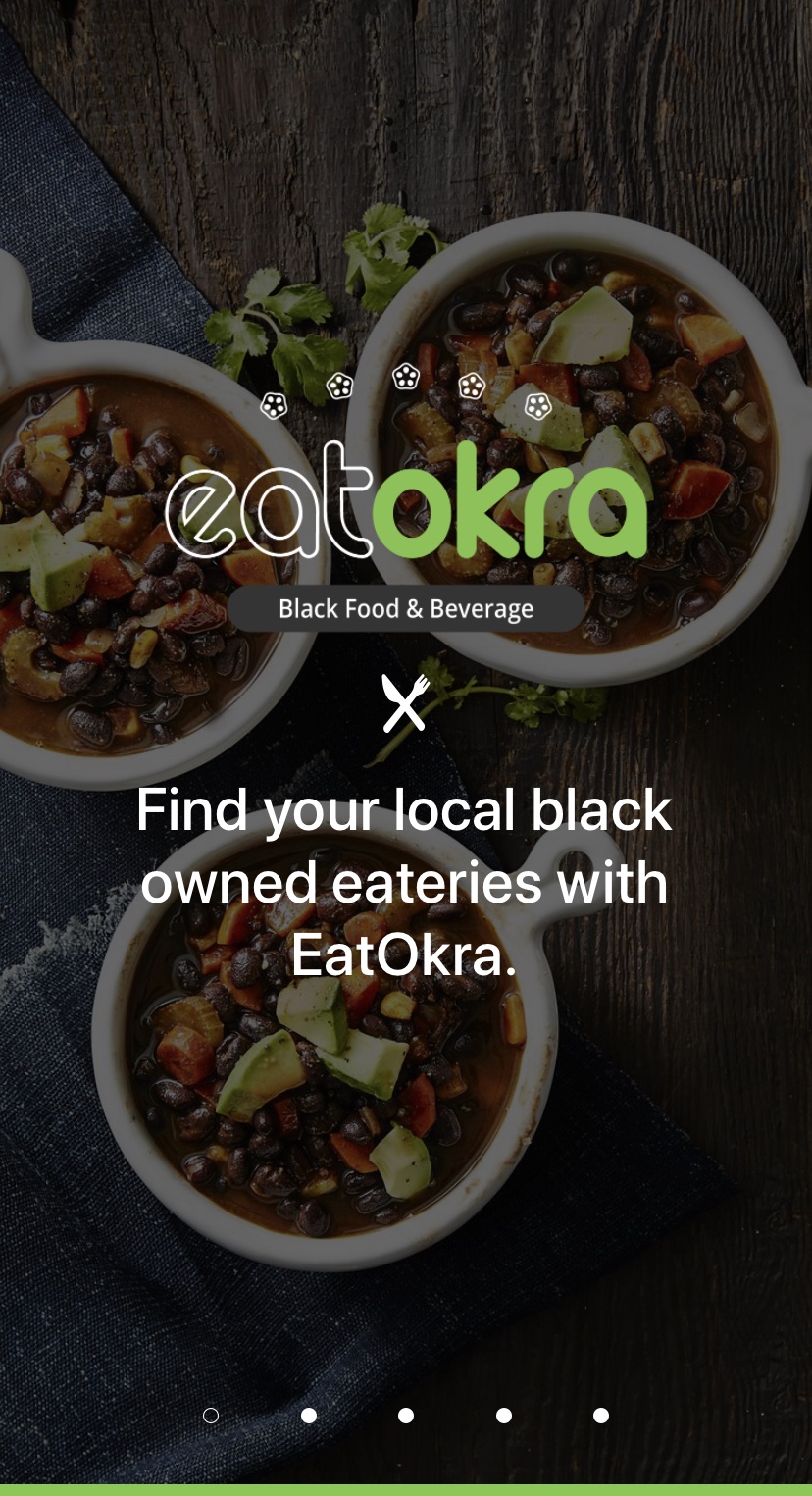 Created by husband and wife Anthony Edwards and Janique Bradley, EatOkra is one of the faster-growing and most popular apps right now — connecting users to nearby black-owned restaurants, bakeries, cafes, food trucks, bars, and wineries, with a focus on businesses struggling to survive in neighborhoods experiencing gentrification. Currently, the EatOkra database has just 2,600 total listings, but according to Matador Network, around 5,000 new businesses have reached out to the app's founders since June 1st in hopes of being added to the directory.
If you're looking to support Black-owned businesses outside of the realm of food, the Black Wallet app provides an online directory of black businesses, as well as educational courses and other business services meant to build community and raise the visibility of outstanding Black-owned businesses. The Black Wallet app has an easy to use search function that will allow you to connect to businesses close to you, or search specific terms like "pizza" or "athletic wear."
Though we can't exactly engage with our communities in the middle of a global pandemic, Black Wallet also has a feature that'll alert you to nearby events hosted by, at, or for Black-owned businesses, which will come in handy next year.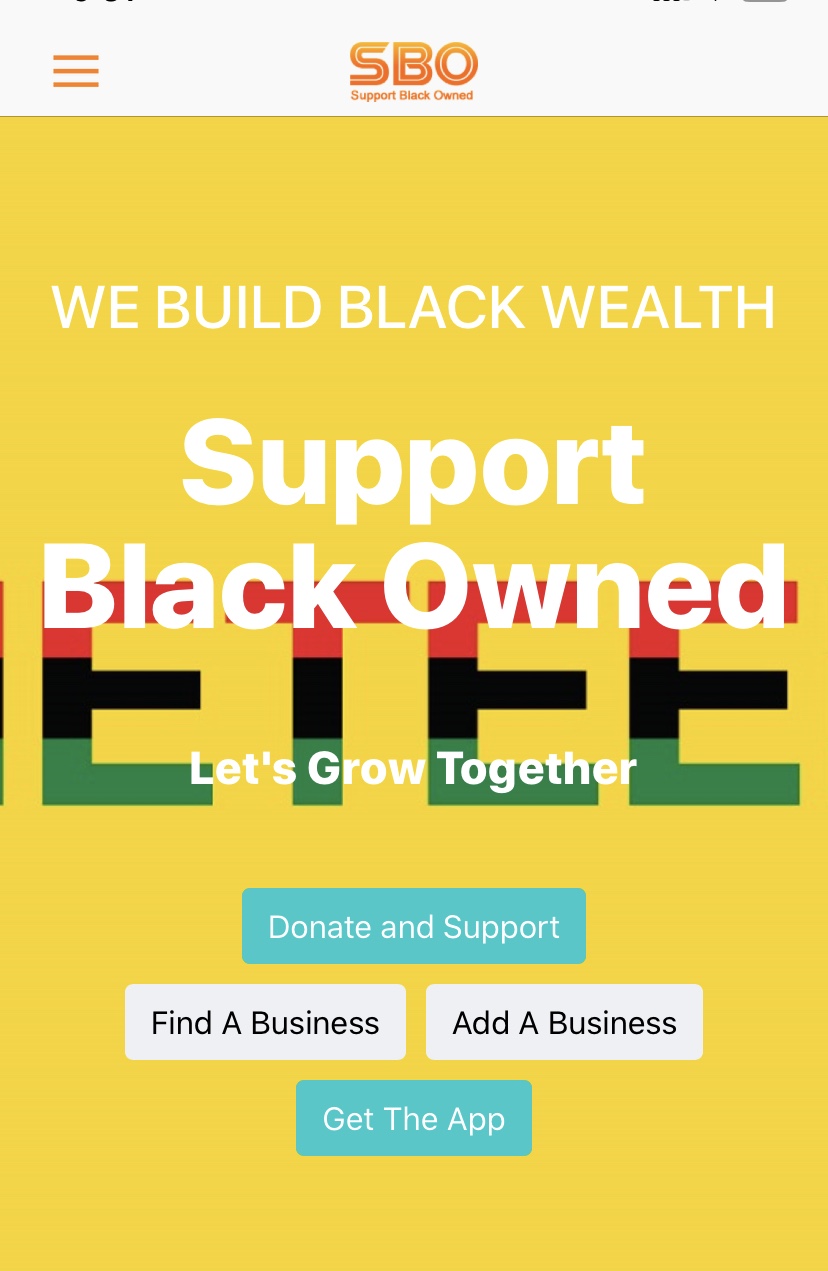 Support Black Owned, or SBO, connects users to the nearest Black-owned business in their areas — using a familiar format that recalls Yelp, complete with 1-5 star user reviews. Find Black-owned photo businesses and visual art firms, dentists, beauty companies, restaurants, bars, and even legal and financial services with data for 48 states in the country (sorry North and South Dakota).
Yelp added a new function in June that allows Black-owned businesses to self-identify as such and added a "Black-owned" search feature to their site's filtering options to help users connect and support nearby businesses. According to yelp, searches for and related to "Black-owned businesses" increased by 35x between March 27th and June 10th, when compared to data for the same days the previous year.
Since early June, UberEats has been highlighting black-owned restaurants by way of a banner on the app's landing page that is being shown to users in major cities in the United States and Canada. In addition, UberEats has also waived all delivery fees from Black-owned restaurants for the rest of the year and is looking to expand their support outside of major cities in tandem with their general expansion of services.
The restaurants on the list were chosen by members and allies of the Black @ Uber employee leadership group.
A new feature on Postmates allows you to find Black-owned businesses in your immediate area by simply typing "black-owned" in the Postmates search bar. Postmates, like UberEats, is also waiving all delivery fees from each restaurant in the "Black-owned" category.
Launched in 2018, Black Nation provides a platform for Black-owned business owners to increase the visibility of their businesses and offers consumers an easy way to find any kind of business they need in a fast and convenient way.
Created by Brooklyn-born Mandy Bowman, Black Wall Street is one of the largest digital platforms focused on connecting consumers with Black-owned businesses. Find, review, and support businesses near your with the Black Wall Street and connect with the platforms over 1.16 million users. The Black Wall Street app will alert you of special offers from businesses nearby, and help new businesses gain more exposure.
African American Literature Book Club
The AALBC has a list on its website of 129 Black-owned bookstores across the United States. Search for near you by state or add your favorite bookstore to the list.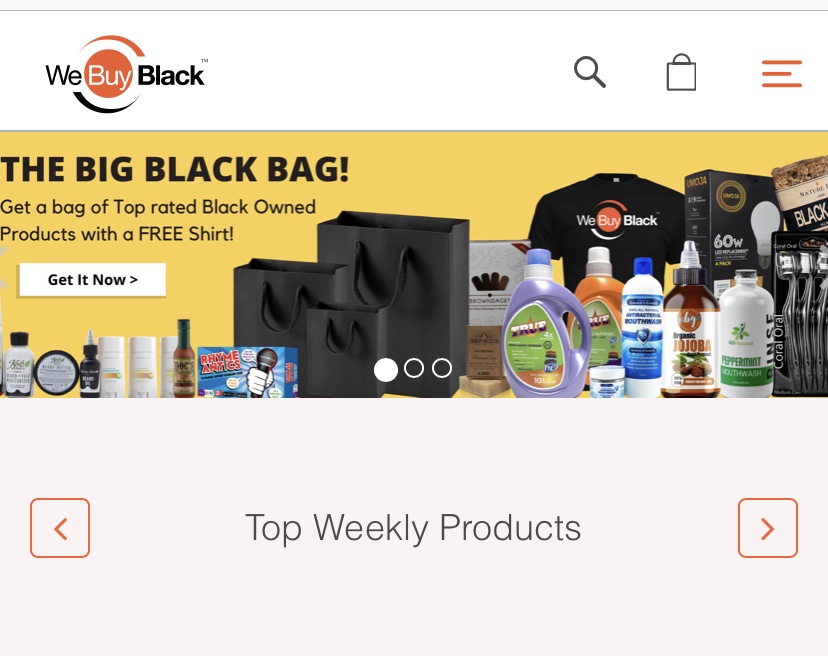 Browsing through WeBuyBlack is a little bit like skimming through Amazon, only instead of contributing to the insane wealth of Jeff Bezos, you'll be supporting Black sellers and businesses selling everything from clothing, books, and jewelry, to beauty supplies, and furniture.
PART II — Google Docs, Spreadsheets, and Directories
If the apps and websites aren't giving you enough local options, there are several community-made Google spreadsheets and directories specific to certain cities. Here are some of the most extensive ones we've found.
Arizona
Made in partnership between Local First Arizona and the Phoenix Black Collective, this guide provides a list of Black-owned restaurants in the greater Phoenix area and Tucson-based Black-owned businesses.
Massachusettes
Yankee Magazine created an extensive Google spreadsheet of Black-owned restaurants currently open throughout New England and the Boston area.
California
If you're in the Bay Area and looking to support Black-owned businesses that are currently offering take-out or delivery in your area, check out this google spreadsheet of restaurants, coffee shops, and bakeries compiled by the San Francisco Chronicle's Soleil Ho.
The Infatuation's Kat Hong made a similar spreadsheet for the Los Angeles area, and Packs Light's Gabby Beckford complied this list for the San Diego area.
Florida
Writer Zachary Fagenson made this extensive Google spreadsheet of Black-owned restaurants in Miami which features 69 entries, as well as the type of they serve and whether the restaurants are currently offering take out.
Georgia
Pastry chef Erika Council of Bomb Biscuits Atlanta created this Instagram post of coffee shops and black-owned restaurants to support in Atlanta.
Illinois
Black Owned Chicago provides an easy to use search function that will directly connect you to Black-owned business in the Chicago area.
Louisiana
Big Easy Magazine posted a list of Black-owned restaurants in New Orleans to their Instagram Account about a month back, and the Where Black NOLA Eats Facebook group created an interactive map of all the Black-owned bars and restaurants in the greater New Orleans area.
New York
Hannah Goldfield of the New Yorker and Josephy Hernandez and Rachel Karten of BA created this Google Spreadsheet of Black-owned food establishments in the five boroughs. Black-Owned Brooklyn also has a directory of bars, restaurants, and other businesses centered in the Brooklyn area.
Oregon
Support Black-Owned Restaurants Week compiled this list of Portland-based food establishments which features current status updates for each restaurant amid the city's COVID-19 restrictions.
Philadelphia
Kat Lani Palmisano of Check, Please! Philly created this Google spreadsheet of Black-owned restaurants opened for take-out and delivery in the Philadelphia area.
Texas
Local Austin bartender and artist Elizabeth Mathis created this Google spreadsheet of Black-owned restaurants in the Austin area, and those living in Houston will find a lot of useful information in this Instagram post of restaurants created by Feed the Frontline Houston. Soul of DFW also created a take-out and delivery list for the Dallas and Fort Worth area.
Washington
For people in the Seattle area, be sure to check out this Google spreadsheet of restaurants, bars, and other food establishments compiled by food and travel writer Naomi Tomky.