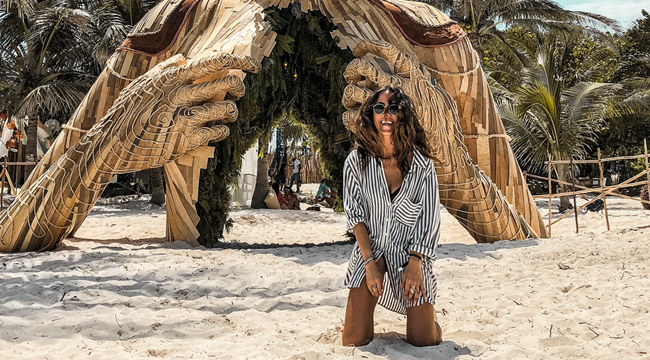 Here's a little fact you might not know about one of the most Instagrammed places in the world: Tulum is facing an environmental crisis. The local landfill has only four more months before it's completely full. There is no solid waste management plan for the overdevelopment of this tiny stretch of land. The Yucatan's sacred underwater Cenotes and the Mesoamerican Reef System, the world's second largest coral reef, are both in danger of being destroyed.
But while Instagram barely scratches the surface of the situation in Tulum, a group of local hoteliers, environmentalists and artists have come together to raise awareness through the arts, and they kicked off the campaign on May 10 at Art With Me *GNP.
Art With Me *GNP was Tulum's first Arts & Culture festival, the first to focus on sustainability, and the first festival I've ever attended entirely barefoot. It is the brainchild of one of Tulum's pioneering hoteliers David Graziano of Ahau Group. Early on, David recognized the importance of creating a sustainable footprint in Tulum, and his commitment to environmentally conscious living is apparent. All organic wastes are composted at his properties. Water is treated in accordance with local regulations, a concept many Tulum hotels don't yet fully grasp. A local Mexican biologist, Juan Canul is part of David's full-time staff and has helped his hotels become the only properties in Tulum to achieved Green Key International Certification status.
As an artist himself, David recognized the power that art has to trigger an emotion and impact change. Using the creative arts as a catalyst for action, Art With Me *GNP launched on May 10 in bold fashion: international chefs, musicians, artists, hoteliers, activists and spiritual gurus took over the majority of Tulum's most beloved venues. Four immersive days and nights of programming was comprised of mind-expanding art installations with powerful messages, heart-opening concert events, soul-baring meditations and thought-provoking panel discussions,. All this growth was fueled by tacos, ceviche, raw vegan treats, James Beard chef dinners, and mezcal.
"While I was witnessing the downfall of what was happening in Tulum with waste management, pollution and negative press, I was also witnessing a rise in creativity with a lot of the new galleries, artists and creative projects," said David Graziano. "It felt like a critical time to launch the festival. We couldn't wait any longer to address this."
A refreshing aspect of Art With Me *GNP was the almost non-existence of Instagram influencers and wanna-be festival bloggers. Attendees were noticeably eclectic; Marian Goodell, the CEO of Burning Man, was there. So were Santiago Guggenheim (Peggy's great-grandson), Ex-Green Beret turned tech entrepreneur Tom Katis, Ben Pundole of EDITION Hotel, and lots of kids. While there was a consistent buzz in the air, the flow of the festival never felt frenetic or forced. For the most part, everyone I encountered seemed extremely… brace yourself… present. The lack of Internet and phone service in Tulum certainly helped.

The Art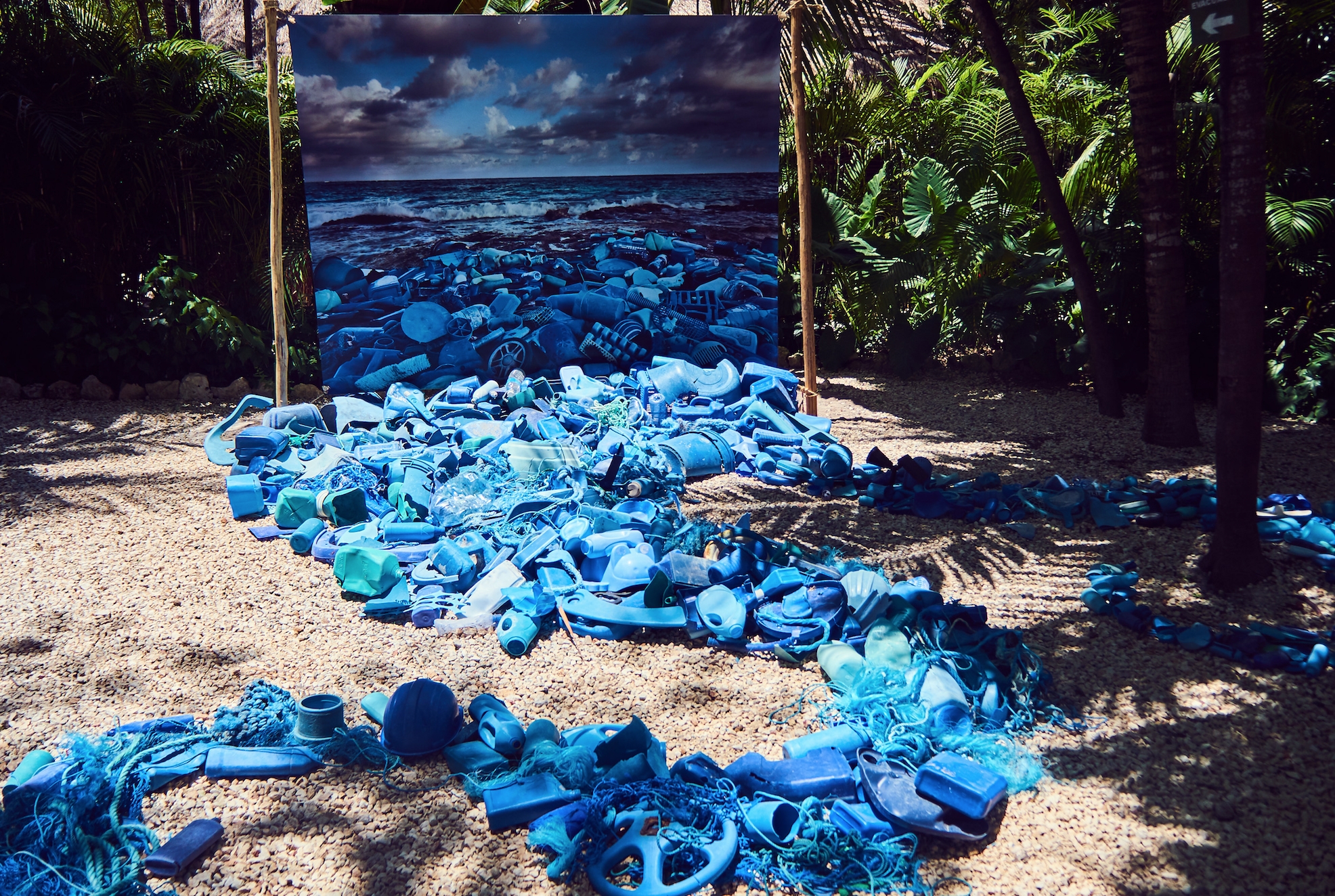 One of the most powerful installations was by Mexican artist Alejandro Duran. Beautiful and tragic at the same time, Alejandro takes trash he finds on Mexico's Caribbean coast and transforms it into art. Over the course of his project Durán has identified plastic waste from fifty-eight nations and territories on six continents that have washed ashore along the coast of Sian Ka'an. His "Washed Up" installation is now permanently installed at Nomade Tulum. At Hip Hotel, artist Leo Tezcucano's similarly-themed messages, "It's Our Home" and "Take Care of Me" lined the beach, not far from sand sculptures of turtles and whales decorated with plastic bottle tops and trash collected from Sanara Tulum's 5-minute beach cleanup.
Two beacons of the festival's message were Ilumina by Pablo Vargas and Ven a La Luz ("Come into the Light") by South African artist Daniel Popper. Ilumina is an interactive light and sound sculpture powered by people's collective heart energy, a beautiful reminder of the interconnectivity of our planet and each other. Ven a La Luz towered 30 feet over Tulum and her open heart was the gateway to the festival's Pavilion (think Burning Man's "Center Camp"). The Pavilion was one of my favorite places to hang out during the height of hot Tulum days. Under the shade of a giant Uva del Mar I sat in on panel discussions by Ben Pundole of Stay Plastic Free, participated in cacao ceremonies and left my mark on Richard Art Felix's "Love Wall."
Inside the Pavilion, Gianpaolo "JP" Bini erected another standout piece called "NOW," using the plastics from volunteer beach clean-ups conducted in Tulum since March 2018. Kids who attended the festival loved playing on the slide that was built out of the "O" of NOW; a stark reminder of how future generations will be impacted if something isn't done soon.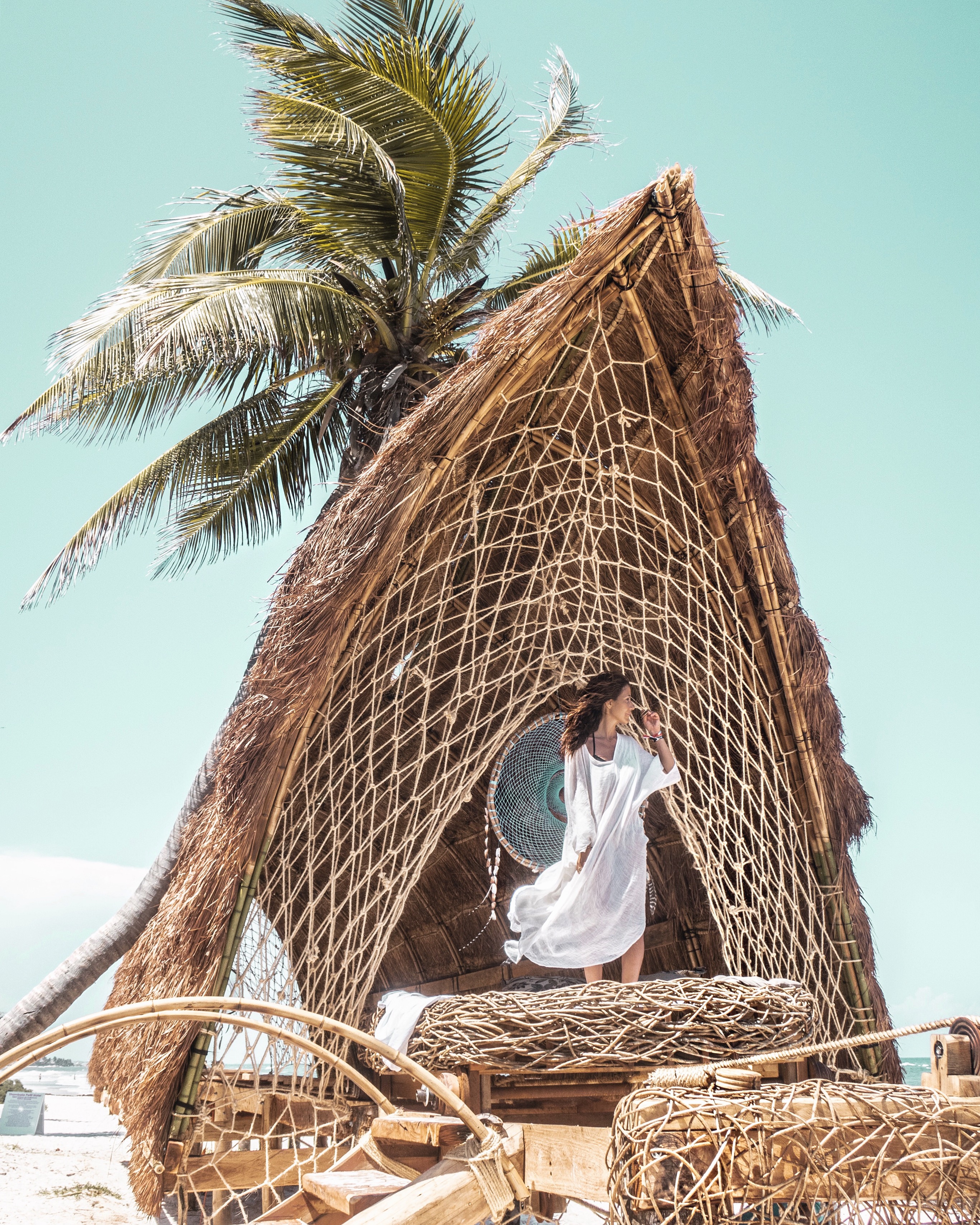 Art took on many forms at the fledgling fest. Opening festivities began with a barefoot cocktail party at Azulik's new eco-inspired gallery, IK Lab, a private viewing of Tatiana Trouve's installation in Azulik's Dome and dinner in the "Nest" at Kin Toh, undoubtedly the most surreal dining experience I've ever had. At the entrance to Tulum's beach zone, conceptual light artist Olivia Steele installed her signature neon "This Must Be The Place." Over in town, Sabino Guisi Zapotec Death Poems light and smoke installation at Tulum Art Club earned him a $10,000 grant for the best emerging Mexican artist at the festival GNP awards.
Tulum town was also the place to feel most connected to the local community. Nowhere was that more palpable than during the free Celso Pina & Pato Machete concert in the town square where over 1,000 Tulum locals danced cumbia late into the night. Deep in the jungle, there was more art. A festival-goer favorite was the Holistka jungle art walk and mapping experience. An LSD trip without the psychedelics.
Participatory art was an ongoing theme. Aaron Taylor Kuffner's fully robotic gamelan orchestra (the world's first) was installed in a giant Balinese hut on the beach. In order to ride it, you first had to put some muscle into activating a pulley system that pushed and pulled another rider through. After working up some blisters on your hands it was your turn for the whimsical moving sound bath.

The Food
As the sun set each day, a series of pop-up dinners commenced. International and Mexican chefs curated custom menus ranging from La Docena's 13-course tasting menu at Habitas, to Bradley and Soraya Kilgore's James Beard Award-winning pop-up at Ahau Tulum. Local chefs Chef Cesar Castañeda of Nu and Jose Luis Hinostrosa of Arca also wowed fans.
Perhaps my favorite dining experience was the beachfront stand in the pavilion. Fresher tacos I have not tasted in quite a while; the fish was locally sourced from the local fisherman just up the beach at Villa Pescadores.
The Music
Executive Produced by Matt Caines of Summit Series and The Cityfox Experience, Art With Me *GNP had the musical line-up that you would expect to find at a top-billed summer festival but the grassroots immediacy of a community on a mission. The last time I saw Thievery Corporation perform was in 2014 on top of the Robot Heart art car at Burning Man. Dancing barefoot in the sand to their Art With Me performance at Papaya Playa Project reminded me why they are such musical legends. Mike Love's reggae performance at Ahau created the perfect feel good sunset vibe with intelligent lyrics that spoke to the heart of community and consciousness. Dutch musical genius, Djordje Petrovic (Satori) took the stage accompanied by a full band in his latest and much-buzzed-about live project that I could have listened to for at least an hour longer than the runtime. Like Burning Man, it was impossible to see everything but I was lucky to witness an intimate performance by Mardeleva at Habitas. Performed in the round by a troupe of musicians led by Eduardo Castillo, Mardeleva began as rather civilized seated performance and was still going three hours later to a crowd of frenzied wild souls swaying in synchrony under the stars.
The author's own DJ set at the festival.
The volunteer effort to manage trash generated from the concerts was impressive. Waste separation teams worked overnight at recycling stations, based at each of the venues — sorting compostables, recyclables, and garbage. Nine of the venues committed to using no single-use plastics.

A More Sustainable Future for Tulum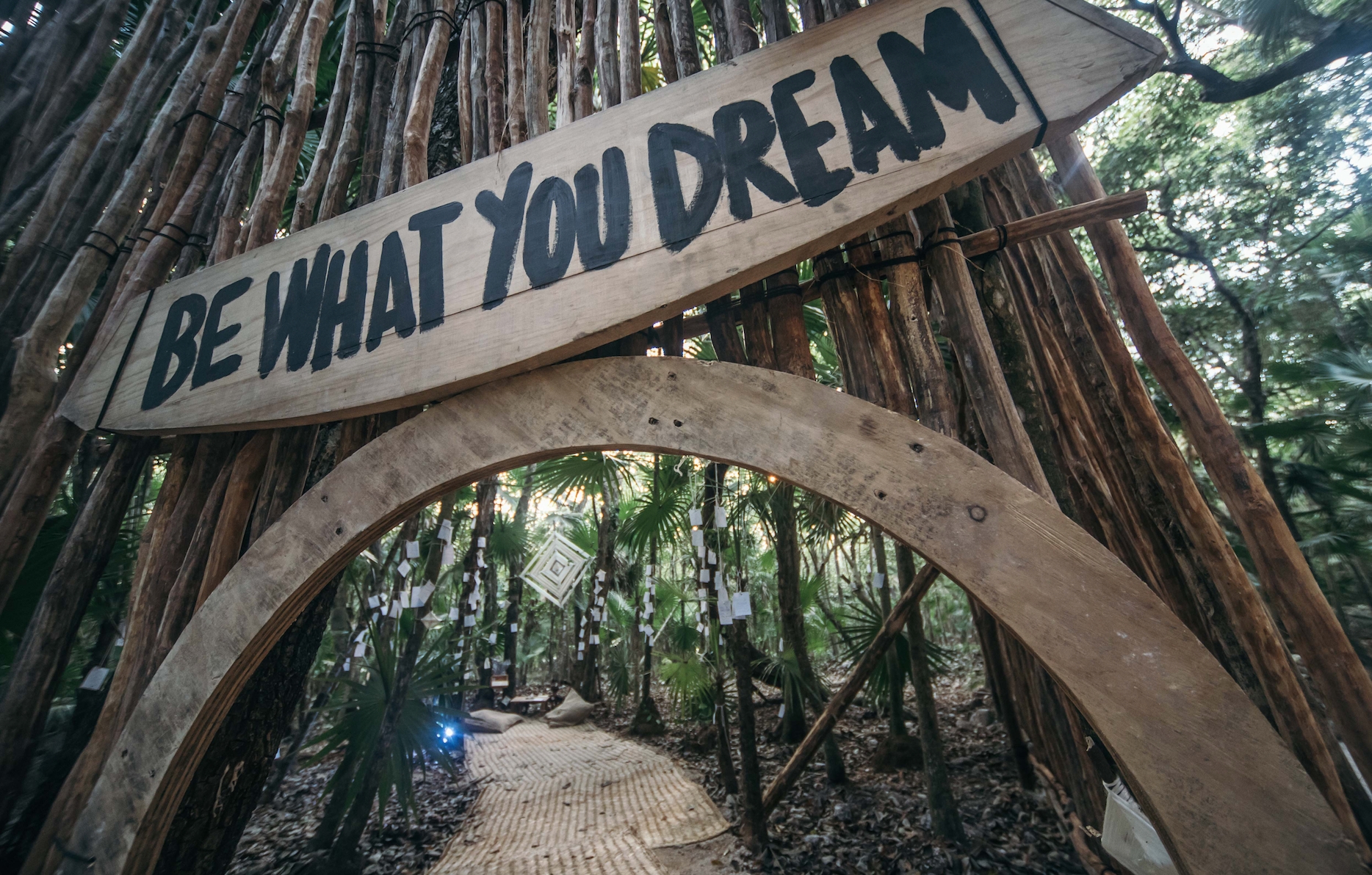 "It it especially important that those of us who reside in Tulum focus all of our effort on saving this fragile ecosystem," said Art With Me *GNP co-founder, and Tulum resident Jorge Mondragon.
From what I gathered after sitting in on various environmental panels throughout the weekend, ignorance and silos have been the two biggest hurdles in achieving a more sustainable future for Tulum. There are technologies and proven plans ready to be implemented but bureaucracy and leadership have been the barriers.
A promising moment at Art With Me was a private environmental consensus held on Wednesday, May 9 where the most vocal environmentalists and experts on this crisis spoke to a packed house of Tulum business owners and local journalists. Out of that meeting came a Care With Me alliance between government authorities, hoteliers, managers, restauranteurs, and activists — a plan to expedite the creation of a solid waste management plan in Tulum. Arnold Ricalde, Co-Director of Organi-K was picked as the alliance's fearless leader. He's one of the key environmentalists responsible for putting Mexico City's waste management separation plan in place over the past decade. A portion of the proceeds from Art With Me *GNP will go to funding the implementation of this plan.
The planet doesn't need another mindless music festival. It needs conscious gatherings built on authenticity, created from the heart, and focused on change. I left Mexico with the hope that the festival's environmental leaders will make big strides in helping to fix Tulum's waste management problem. And I'm eager to return to Art with Me *GNP to find out how they do.