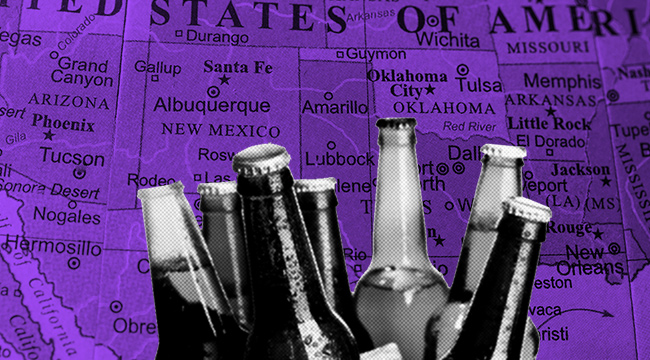 What's the single best beer brewed in your state? You just get one pick. No ties, no second place, no "also ran."
Tough, right? Sure to cause a flame war in the comments? Well let's get ready to throw down, because this week we're going through every region of the country and picking the very best beer in each state. These are the beers worth traveling for, the beers that demand your love, the very cream of the crop.
We looked for the tastiest, the hoppiest, the maltiest — the single most iconic brew in each of the 50 states. These are the best beers from the Southwestern Region. Cheers!
ARIZONA — KOFFEE KÖLSCH
Arizona is another one of those insanely hot states that screams for a thirst quenching brew to save the day. Huss Brewing Co. has just the beer.
Their Koffee Kölsch is cold steeped with caramel and hazelnut roasted coffee, adding and entirely new dimension to the old school German style from Cologne. The light lager comes in at a session ABV of 4.75 percent — making it very quaffable and the hints of coffee, caramel, and nut add a fascinating flourish.
COLORADO — NIGHTMARE ON BRETT
https://www.instagram.com/p/BDJ5icKgFRa/
Colorado might be best known for Coors, but the state has a great selection of craft brewers tapping those Rocky Mountain springs right along with the silver bullet.
Crooked Stave Artisan Beer Project's Nightmare On Brett is a premiere American Wild Beer that's been aged in Leopold Bros Whiskey barrels with a lot of very dark cherries. The taste of this sour ale is a rush of yeast tartness accented with balsamic, bourbon soaked oak and vanilla, and plenty of musky cherries, with hints of roasted coffee and very dark chocolate.
This one comes in at a 9.6 percent ABV, so sip and enjoy.
NEVADA — CITRA RYE
Nevada has a lot to offer — between the harsh deserts of the south and east and the high Sierra mountains on the western fringes. Joseph James Brewing Inc. makes some of the state's best beers. In fact, their Russian Imperial Stout is outstanding. But we're going with a different brew that feels more 'Nevada'… whatever that might mean.
Their Cirta Rye American Pale Ale is a great example of a well-made pale ale. Two malts are topped with two hops to make a beer that's enticing and balanced enough not to overdo the bitterness or the sweetness of either the hops or malt. Overall, there's a nice citrus hit from the hops, with a dry and almost spicy undertone to the rye malt. It's a refreshing ale that's very drinkable.
NEW MEXICO — PROJECT DANK
Out Albuquerque way, you'll find a lot of blue meth La Cumbre Brewing Co. brewing up some fine beers.
Project Dank is an IPA hop bomb up front that mellows out on the taste and the finish. The piney resins and heavy citrus give way to a hint of sweet malt offering a refreshingly drinkable IPA. And, yes, there's plenty of hoppy dank all around.
OKLAHOMA — BOMB!
Prairie Artisan Ales made a brilliant American Imperial Stout that's worth the trip to America's heartland. They've aged their stout with coffee, cacao nibs, vanilla beans, and ancho chili peppers. Now, we've gone on record before to question chili-infused beers. But this one has done it right. The coffee and cacao are at the forefront along with hints of vanilla. The chili adds a slight spiciness on the finish that's more attuned to a rye barrel aging than in your face chili pepper.
You might finally dig a stout with chili in it after you try this one.
TEXAS — LIVE OAK HEFEWEIZEN
Texas is a great state for beer. It's also a huge state with a deep bench of breweries to choose from. And we're going to have to go with a classic German Hefeweizen that'll serve as the best refresher on a hot Texas day.
Live Oak Brewing Company's Hefeweizen does justice to the original from the old country. There's a distinct banana, apple, clove, and sweet wheat malt on the taste that gives way to a hint of spice. This one's the perfect drink for a lazy day in the Texas sun while noshing on a big ol' plate of bbq.
UTAH — PILS
Utah is a beautiful state with a great beer scene. And while we could have gone with another imperial stout or IPA, we've gone with a very drinkable and crowd-pleasing Pilsner.
Uinta Brewing Company's Pils hits all the right notes for a great lager that's easy to drink and clocks in at a reasonable five percent ABV. This beer leans heavily into the German style so expect the hoppiness to be slightly bitter, but not overpowering so. Then a nice rush of slightly sweet maltiness takes over with a crisp hint of spice on the finish. This is the perfect beer for exploring Utah and kicking back around a few campfires in the high country.