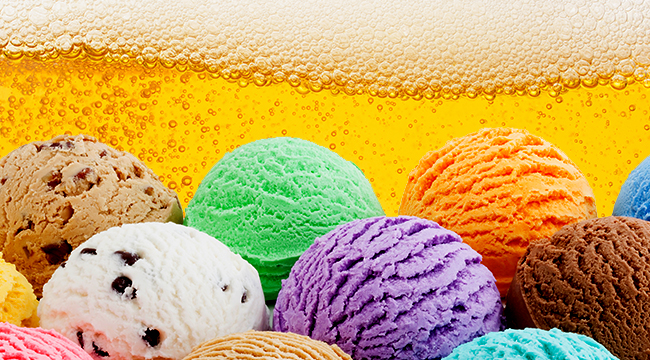 Ice cream, the nectar of the Gods. And I think we can all agree that it's especially lip-smacking on a hot summer day. When temperatures rise, we love a scoop or three of cookies and cream, cookie dough, or peanut butter cup — all covered in fudge, caramel, and sprinkles and piled atop a waffle cone. We don't even mind when it melts and drips all over our fingers and down our hands. That's just part of the magic.
As if we needed another reason to grab a pint of our favorite ice cream and hunker down with some friends and a spoon, July 21st is National Ice Cream Day. To celebrate, we wanted to find a way to pair ice cream with beer. Sweet and savory. Dessert with a drink. Makes sense, right? But we needed to come correct. Ice cream is serious business — no half-stepping allowed.
To be sure that we offered up legit flavor combos, we asked some of our favorite brewers to tell us what beers they like to pair with their favorite ice cream flavors. As usual, their answers did not disappoint.
Wasatch Devastator
Brian Morris, innovation brewer at Deep Ellum Brewing Company
Ice cream and beer are definitely made for each other. You just need to right combination. Wasatch's Doppelbock, Devastator, is an incredible pairing with a few scoops of butter pecan ice cream.
Casey Brewing and Blending Casey Family Preserves
Tim Matthews, head of brewing operations at Oskar Blues Brewery
It's all about mixed fermentation or saisons –since the bitterness of other styles doesn't jive so well for me with ice cream. Casey Brewing and Blending Peach Fruit Stand or Apricot Casey Family Preserves are special options here.
Not Your Father's Root Beer
Ellis Dee, QA Lab Chemist at Blue Point Brewing Company
I'm going to go as classic as possible with this and choose one that technically might not be a beer in the classic sense. Not Your Father's Root Beer. Let's not get too crazy here. It's an adult root beer float.

Anderson Valley Blood Orange Gose
Andy Ingram, brewmaster and co-founder at Four Peaks Brewing Company
Believe it or not, fruited gose like Anderson Valley Blood Orange Gose is a great pairing with ice cream. The sweetness cuts the sourness and the sourness cuts the sweetness. It's the classic confrontation of acid and fat. Add a little fruit like blueberry or clementine to the gose and you can transform even the most vanilla of vanillas.
Victory Storm King
Eric Warner, brewmaster at Karbach Brewing Company
That depends on the flavor and the occasion. If it's like chocolate, vanilla, coffee, or chocolate mint chip then I think big, boozy imperials stouts like Victory Storm King are the ticket. I'm thinking barley wine with salted caramel ice cream or any of those Ben and Jerry Ice Creams with candy bars in them. For a sherbet/sorbet/fruited gelato I would stay away from anything too bitter or sour. Actually, I think Hazy IPAs would work well for fruity ice cream, or some kind of wheat beer.
North Coast Old Rasputin
Rhett Dougherty, head brewer at Veza Sur Brewing Co.
I'm a sucker for the classic Imperial Stout Beer float with vanilla Ice Cream. North Coast Old Rasputin is the perfect rich, chocolatey pairing for a big scoop of vanilla bean ice cream.
Denver Princess Yum Yum
Brad Manske, beverage director at ViewHouse VH Beer
Denver Beer Co's Princess Yum Yum Raspberry Kolsch because it pairs amazing with cobblers and ice cream and it's a refreshing palate cleanser.
Belching Beaver Peanut Butter Milk Stout
Scott Francis, co-Founder, president & CEO of Santa Monica Brew Works
I've got to go with a scoop of salted caramel or vanilla with Belching Beaver's Peanut Butter Milk Stout which is awesome. My daughter and I love that beer, with or without ice cream. The taste is truly authentic.

Ecliptic Capella Porter
Shawn Steel, director of brewing operations at Coronado Brewing Company
Capella Porter by Ecliptic Brewing in Portland, because it makes a great beer float. Capella Porter has a ton of chocolate, caramel and toasted flavors that pair really well with a scoop of vanilla ice cream. The beer isn't overly sweet, so it provides a nice balance for a fun twist on a classic float.