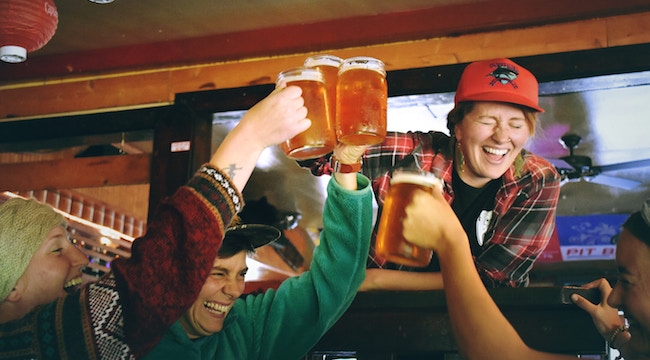 It's February! That means winter is nearly over. The Super Bowl is just around the corner. And it's time to drink some great beer. (Spoiler: It's always time to drink some great beer.)
February is generally a slow month on the brew scene. The winter ales and Christmas specials are almost all spent and the spring releases aren't quite here yet. Still, there's plenty going on in the beer world and some great beers are hitting the shelf this month.
Below, we've compiled a shortlist of some of the best beers being released and available this February. Some of them are easier to find, with larger distribution; some you'll have to travel for and do a bit of sleuthing to uncover. Either way, a good beer is always worth the trouble! Happy hunting!
STONE LORAL & DR. RUDI'S INEVITABLE ADVENTURE DOUBLE IPA — STONE BREWING
We know. We know. IPAs are so 2015. Trends aside, a great IPA is still a great beer — especially, if you're into the whole dank/hoppy side of beer. This double IPA brings the big numbers to the game: 84 IBUs and an ABV of 8.9 percent. That translates to lip-puckering hop bitterness and heavy-hitting alcohol content.
The beer blends the fruity and citrus forward Loral hops with the old-school Dr. Rudi — or Super Alpha — hops that are very west coast, with plenty of pine resin and cannabis-esque dankness. If you love IPAs, then this is the beer for you.
ORGANIC ABOMINABLE WINTER ALE — HUB HOPWORKS URBAN BREWERY
This is your last chance to get your hands on some great winter ales until next November/December. Abominable Winter Ale from HUB — up Portland, OR way — hits the marks of a full-bodied winter ale well. The spicy and citrusy Northwest hops blend wonderfully with the sweetness of their organic malts.
There's a pretty hefty alcohol kick with a seven percent ABV and the IBUs hoover around 70. So expect some nice hoppy bitterness that's accented with malty sweetness backing this one up.
THE GRACKLE HILL COUNTRY IMPERIAL STOUT — FAMILY BUSINESS BEER CO.
Family Business Beer Co. brought famed brewer Nate Seale back to Austin from Portland, Oregon's misty streets. Now, he's brewing great beers for the newly minted brewery.
Their Grackle Hill Country stout is everything you want a great stout to be. There's a deeply roasted quality that hits on the fleeting elements of coffee, cacao, and slightly bitter hops (the IBU is only 42). If you're in Austin, this is the beer to drink this month.
VIENNA LAGER — CIVIL LIFE BREWING COMPANY
There's a lot of great lagers in Europe — the Bohemian Pilsner, the Munich Helles, the Franconian Kellerbier just to name a few. The Vienna Lager is another classic style that gets a lot of love down Mexico way.
Out in St. Louis, Civil Life Brewing loves bringing classic lager styles stateside, and their Vienna Lager is a great example of their hard work paying off. Their Vienna Lager is an easy-drinking beer with a session ABV of 4.4 percent and very smooth IBU of 32. The caramel malts are the star here with the Noble hops adding a nice bitterness on the end.
This is a beer you can spend the whole day drinking with a big ol' smile on your face.
SPLIT SHOT — ELYSIAN BREWING
It's still winter, so hearty stouts are still a solid order. Elysian's Split Shot marries Seattle craft beer with Portland's Stumptown coffee roasting. The sweetness of the malts are turned almost creamy smooth here. There is a sharp roasted quality thanks to the coffee that never overwhelms, with a distant echo of hops coming in at the end.
This is very drinkable stout with a mid-range ABV of six percent. So, don't hesitate to buy the whole six pack.
BELGIAN STYLE PALE ALE — UPSLOPE BREWING COMPANY
Upslope has taken a page from the Belgians in creating this stone-cold classic beer in Colorado. They use Trappist yeasts to give their pale ale that distinct Belgian funk with a coriander finish. All of that's accented with a nice fruity hopiness over the malts. It's a great beer to pair with big flavors.
WHITE OAK JAI ALAI — CIGAR CITY BREWING
Down in Florida, Cigar City is taking their Jai Alai IPA to new and historically accurate heights. They've recently released a white oak barrel aged Jai Alai IPA. The oak mellows the IBUs significantly and adds hints of vanilla and coconut to the caramel malts and orange citrus hops.
If you ever wonder what real (original) IPAs tasted like, this is a great place to get an idea.
COOLSHIP RED 2012 — ALLAGASH BREWING COMPANY
This is the prized bottle to seek out this month. Allagash just released a lot of aged bottles onto the market and Coolship Red is one of our favorites. The wheat beer is fermented with wild yeasts and then aged in oak with raspberries for years. This gives the beer a distinct red color with notes of raspberry, barnyard funk, and dried apricots. The beer has a dry, nearly champagne finish that tickles the senses. This one's worth the hunt.