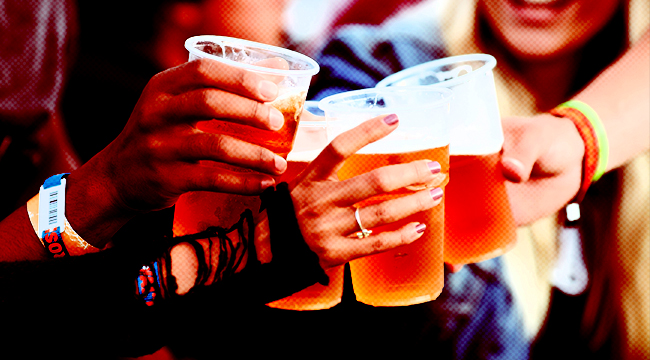 Labor Day Weekend is upon us. That means autumn, Oktoberfest, and pumpkin beers are all coming in hot. We're on the cusp of a seismic shift from summer sippers to full-bodied lagers and fruit-infused ales. That's not to say there's not a little elbow room left for dog-day sours or sessionable beers. After all, this weekend is all about saying goodbye to Summer '19 while the weather is still hot and the workload is light.
The eight beers below are some of our favorites hitting the market right now. Some of these beers are going to be lining shelves from sea-to-shining-sea while others will be a little harder-to-source without serious effort. Still, when is a journey to find great beer ever taken in vain?
SPREE BERLINER WEISSE — FAMILY BUSINESS BEER CO.
Spree Berliner Weisse is the perfect beer to sip as summer wanes. The low ABV (3.9 percent) sour has a tart edge that leans into the spiciness of the wheat ale. There's a thirst-quenching factor at play that makes this one the perfect beer to drink all weekend long.

OCTOBERFEST — SAMUEL ADAMS
Oktoberfest starts on the 21st of September this year which means breweries are releasing their best lagers right now. Case in point, Samuel Adams just dropped their märzen, OctoberFest, on the wide market. The beer has a light edge that embraces the sweetness of the malts while also bringing a hoppy bitterness into play. This beer as all about drinkability and balance.
DARK KNIFE — ELYSIAN BREWING COMPANY
Dark Knife, a pumpkin schwarzbier, is the opposite of an Oktoberfest lager. Elysian's fall lager has a roasted depth to it that brings out bitter espresso notes sitting next to cinnamon spiciness and pumpkin fruit earthiness. The kicker is the 4.3 percent ABV, making this a great sessionable beer for the weekend barbecues.
OKTOBERFEST — SIERRA NEVADA
You can almost hear the distant echo of an Oom-pah band when you crack open a bottle of Oktoberfest from Sierra Nevada. The collab with Germany's Bitburger is a classic example of a mellowed lager with a light note of hop bitternes next to a very quaffable malty base.
PUMPKIN ALE — UPSLOPSE BREWING COMPANY
Pumpkin Ale from Colorado's Upslope Brewing is a must-have right now. The freshly canned beer has a wonderful earthiness to it, derived from the organic baby bear pumpkins grown in Colorado. The spice kicks in at just the right moment, adding balance to the fruity sweetness and distant echo of hop bitterness.

BEST BROWN ALE — BELL'S
https://www.instagram.com/p/B1XXZJWoSeJ/
Best Brown Ale from Bell's is the perfect example of the murky depths beer can go to in fall. The caramel notes are cut by bitter cacao where malts linger over whispers of hops. This is one of those beers that's easy to drink one after another until the snow starts to fall.
SPACE WAYS — MODERN TIMES BEER
Sometimes a big, juicy New England IPA is all that's needed. Enter Space Ways Hazy IPA. This well-hopped masterpiece leans into notes of mango, nectarine, and lime zest while the dank takes a backseat to the juiciness. This feels like the last days of summer in a can with rays of sunshine darting out in every direction as you drink.
INT'L PICK OF THE MONTH: HOFBRÄU OKTOBERFESTBIER — HOFBRÄU
Oktoberfestbier from Hofbräu might not be the best ever Oktoberfest beer from Munich, but, god-damn, if it doesn't get the job done when you're 5,000 miles away from Munich in September. The beer has a light note of hops that are backed up by a solid, sweet bread malt base. This beer is effervescent and endlessly drinkable considering its high-ish ABV (6.3 percent).
Trust us, if you fill your cooler with this beer over the holiday weekend, no one is going home disappointed.