At this point, it feels pretty remedial to write something like "tequila, it's not just the stuff you regretted shots of in college anymore!" Backward, even.
These days, practically every celebrity has tequila brands — from Kendall Jenner to Michael Jordan to George Clooney — which is a good sign of the general public's acceptance of tequila as a luxury product. It's a spirit with a rich history, and just as with scotch and bourbon, there are fairly strict rules regarding what can be called "tequila." Per the CRT (El Consejo Regulador del Tequila, the Tequila Regulatory Council), blue Weber agave harvested from the state of Jalisco in Mexico is the only agave variety allowed in tequila production (Mézcal is also derived from agave, but can use other varieties).
Agave looks basically like a big cactus, though it's actually a sweet succulent in the lily family. The blue Weber variety grows at altitude, where the agave plants take five to six years to reach a harvestable size, at which point there are a few different ways to cook the agave "piñas" for tequila production — from autoclaves (steam ovens) to pit ovens and brick ovens, which all affect the taste in different ways. Some brands use a diffuser, which extracts sugars from the plant more efficiently but are generally frowned upon by tequila heads, who say they add medicinal or chemical notes from the acids used in processing to the tequila's "natural" agave flavor.
If you're ever in Jalisco, you should definitely try to visit a tequila distillery. The smell of cooking agave and the taste (most places will let you taste some cooked agave) will create a sense memory that you'll have in your head every time you sip tequila hence forth (not to mention the sight of an agave being harvested, which is pretty cool). From then on, you'll want your tequila to taste not just "sweet" or "smooth," but actually have agave flavor — which to me tastes a lot like sweet potato with some vegetal, artichoke-like notes.
Distilled tequila has been around since the 1500s, and at first, was drunk and distributed as an unaged product — like moonshine, only better tasting — to let the actual agave shine through. Herradura claims to be the first to have produced a "reposado" tequila (now classified as tequila aged for at least two months) and now most brands include reposado tequila and añejo labels (the latter, aged at least 12 months) as well as branching out into other types of aging, from "extra añejo" to other types of barrel seasoning. Reflecting its heritage, tequila is generally "younger" than bourbon or scotch, though Mexico's warmer climate means it also ages faster.
One of the biggest tequila brands out there is Don Julio, which started distributing globally in 1999 and as of 2020 was the fourth-largest tequila brand, with $1.12 billion in sales (behind Sauza, Jose Cuervo, and Patrón). They produce seven core labels, ranging from a $45 Don Julio Blanco to the Don Julio Ultima Reserva, which retails for $399 (with Don Julio 1942 being one of the earliest and most popular top-shelf tequilas around).
Just like we've done with Jose Cuervo and 818, we decided the best way to dive into Don Julio was to blind taste the full line.
Part I: The Lineup
Don Julio Blanco
Don Julio Reposado
Don Julio Añejo
Don Julio 1942
Don Julio 70
Don Julio Ultima Reserva
Don Julio Rosado
I knew which tequilas would be in the tasting, but I had my wife pour them all in unlabeled glasses so I wouldn't know which was which. And then I didn't peek because I'm not a cheater. You can trust me on this because I'm a guy on the internet.
Part II: The Tasting
Sample 1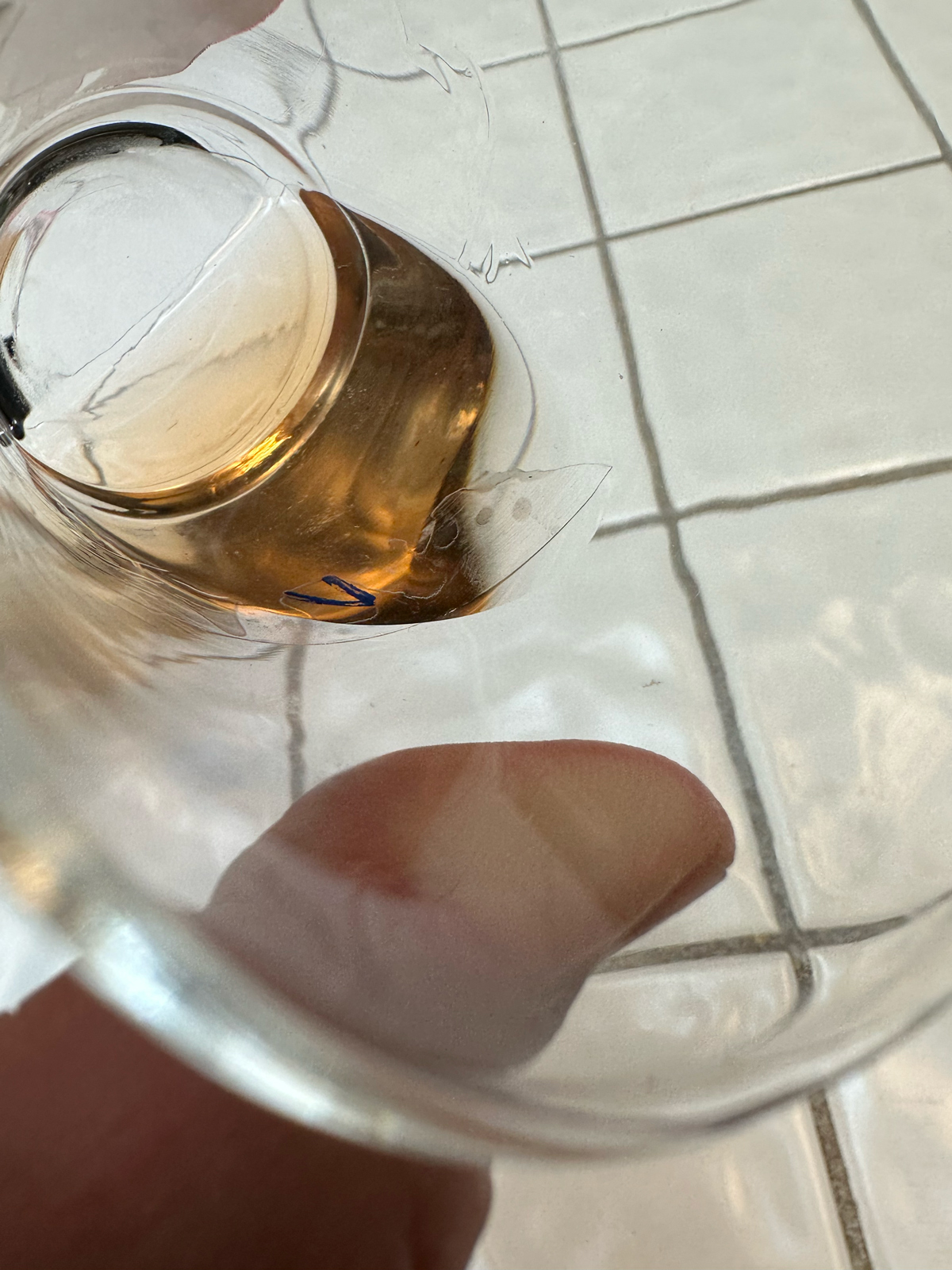 Look: This one is definitely pinkish, which seems like a clue. Hello, Rosado! Look, blinds don't always work perfectly when one is a different color. Though in fairness, I am also red-green colorblind, so this wasn't as easy as it would be for some people.
Nose: On the nose, I get pear, honeysuckle, and a woody bite.
Taste: On the palate, I get more of that pear and honeysuckle, but with a distinctive woody spice that hits me right in the back of the throat. It actually kind of chokes me a little. The finish is all burnt sugar, like smoking a swisher sweet, which makes me want to go back again, that choke notwithstanding.
It's sweet and mostly smooth, but there's a very astringent character, especially on the back end, that's a touch harsh.
Sample 2
Look: This one is clear. It's see-through. It looks like water. …You get it.
Nose: On the nose, I get thick agave syrup and burnt marshmallows. Maybe even a little bubblegum.
Taste: On the palate, this is even sweeter and more bubblegummy, but maybe a little more towards cotton candy, with a nice round, lingering mouthfeel. Very easy to drink, though maybe just a tad washed out on the finish. Slightly numbing on the tongue, not as sugary sweet on the finish as Sample 1, and yet somehow slightly cloying.
Sample 3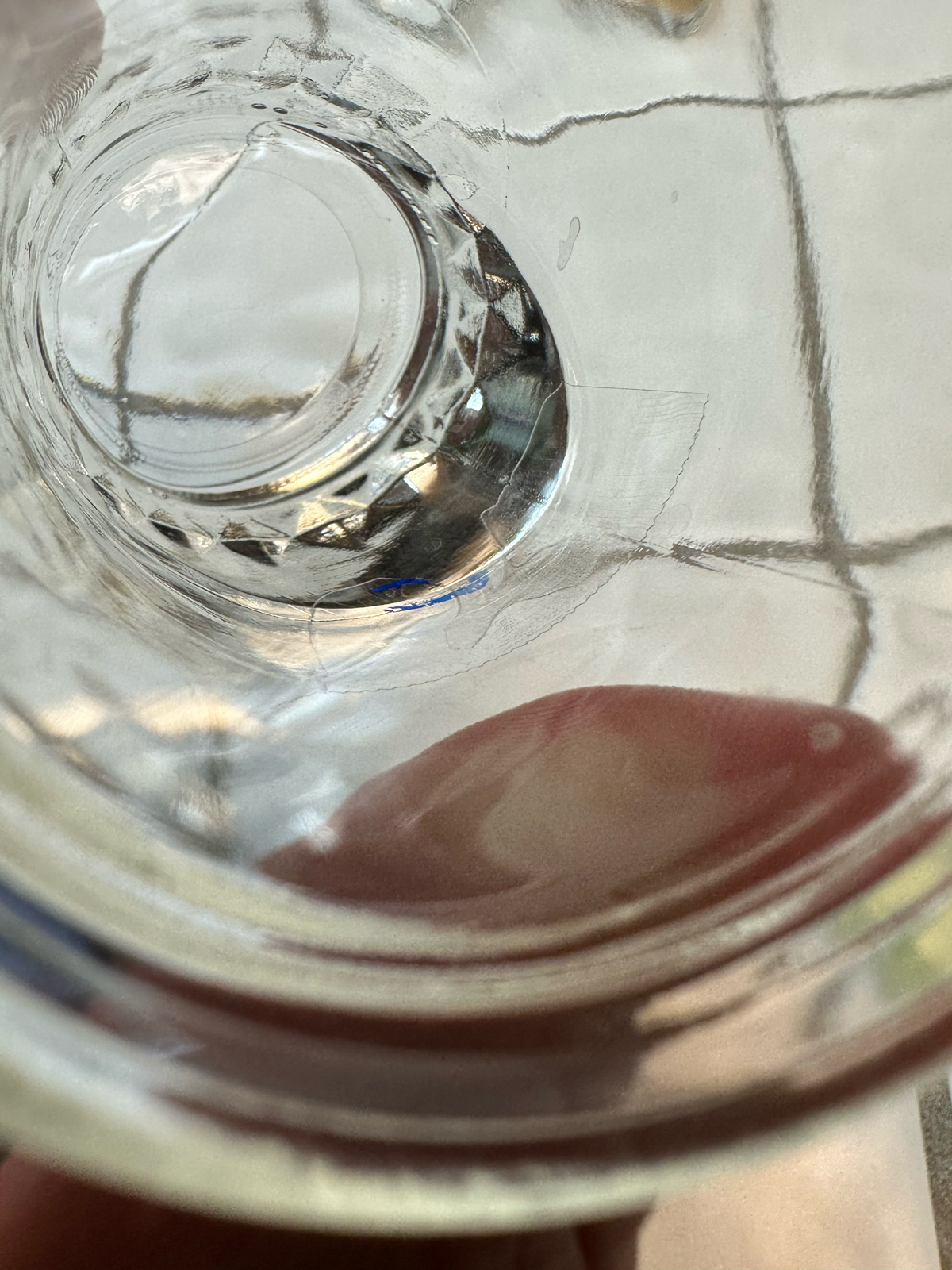 Look: Also clear.
Nose: On the nose, I get a roastier agave than the last one, with a slightly grassy, artichoke/vegetal note and the faintest hint of pepper.
Taste: On the palate… ooh, that's nice. It's similar to sample 2, only instead of that cotton candy, it's more like butterscotch with a hint of green herb. It also seems less washed out somehow. Where the last one was sweet, this is faintly medicinal. I get a spiky green plant in my mind when I drink it, which feels more true to "tequila."
Sample 4
Look: This is a faint pale yellow.
Nose: This is "hotter" on the nose, and I'm getting a bourbon vibe from it — vanilla, caramel, and dark wood in the forefront, with a little of that cotton candy and marshmallow creeping in.
Taste: Mmm, rich sweet agave on the palate. This is verrrry syrupy, plus butterscotch and cotton candy and just a hint of spice on the back end. The finish is more of that burnt sugar.
Sample 5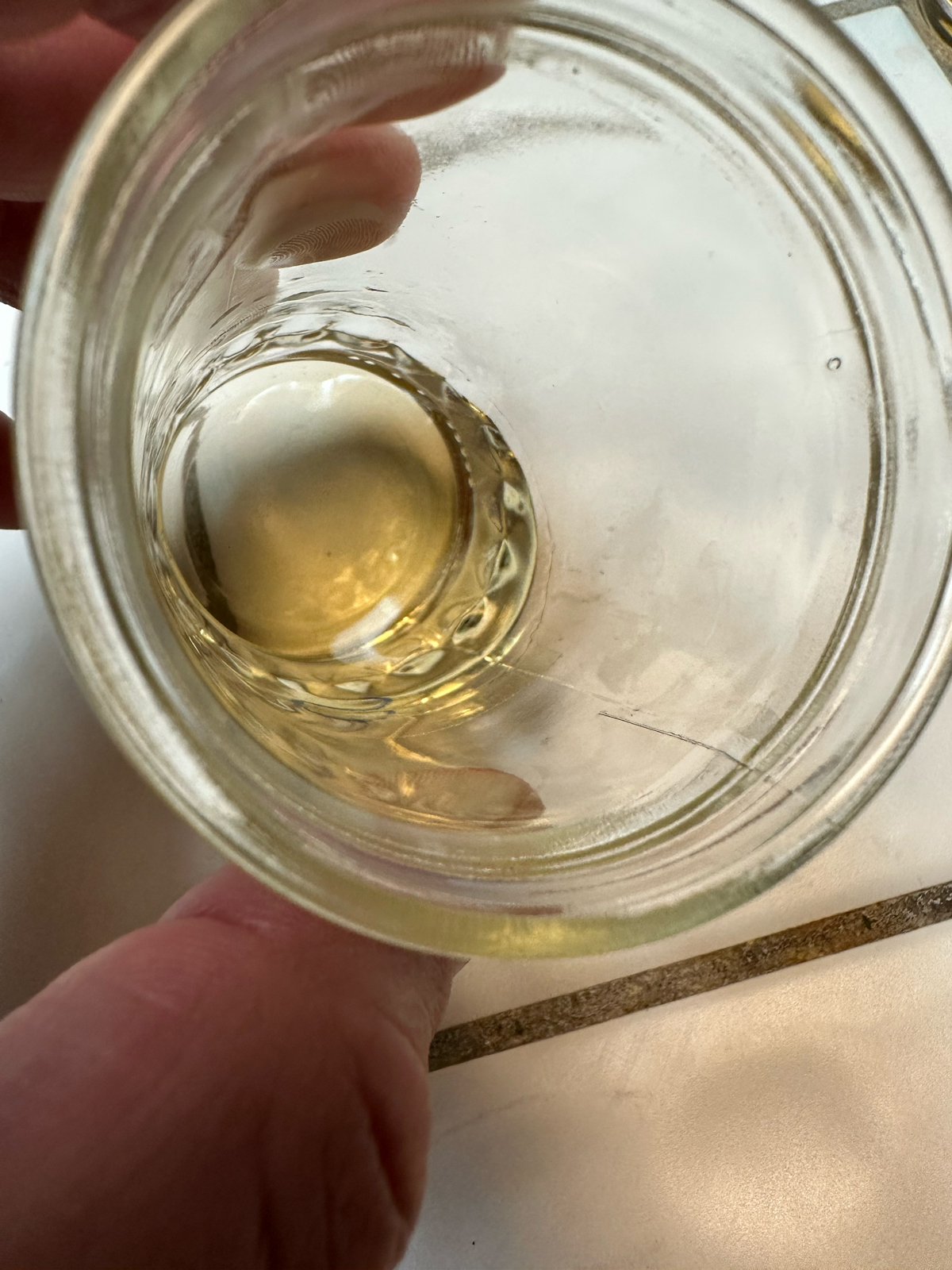 Look: Also a pale yellow, though looks like it has a little more color than sample 4.
Nose: On the nose, it's just so rich — like buttery sweet potatoes and honeysuckle.
Taste: On the palate… oh, that is magnificent. It's sweet, syrupy, buttery, and just a little floral. The taste is very round, with no sharp points, but not in a saccharine way, if that makes any sense.
Sample 6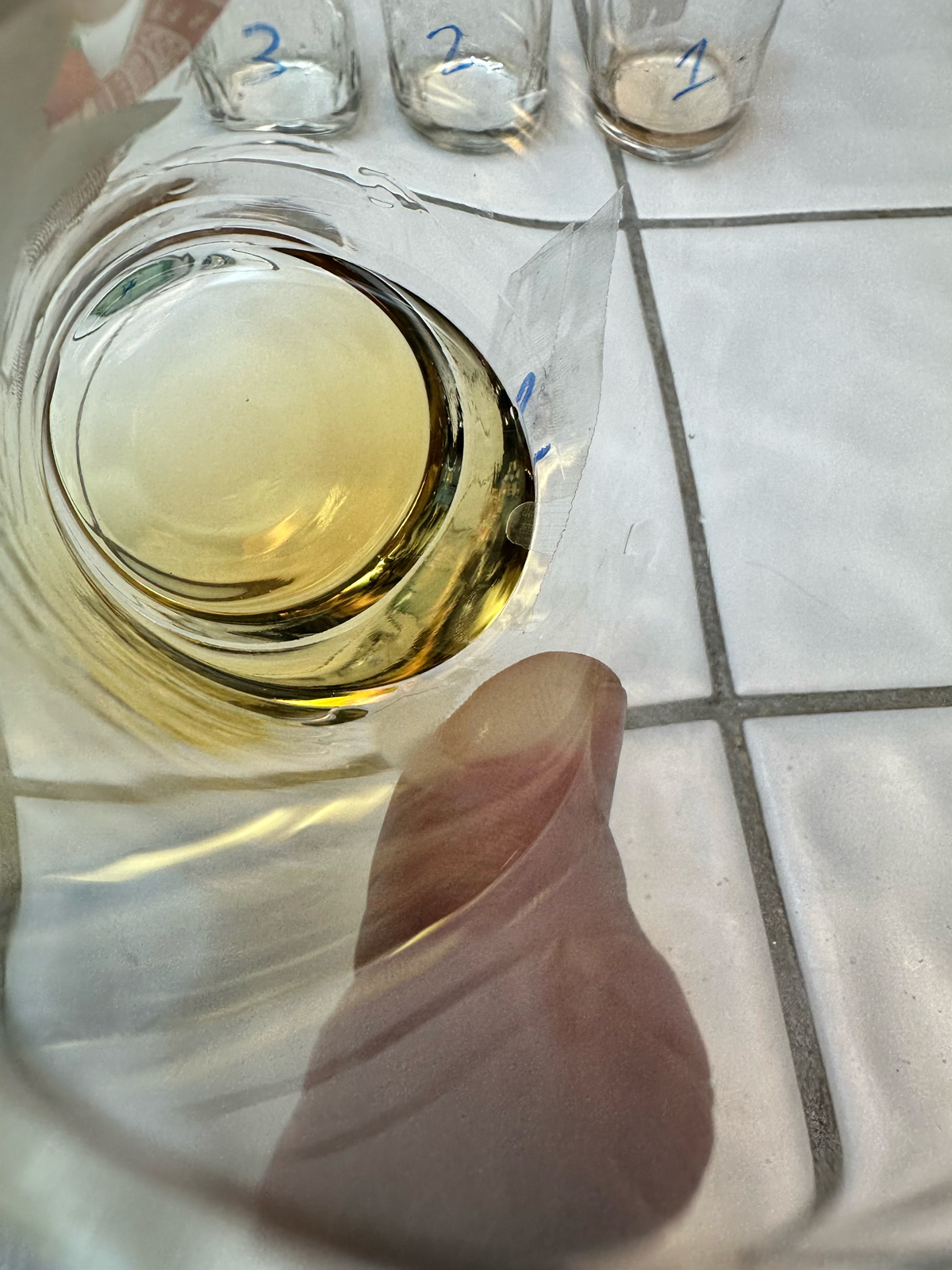 Look: This is slightly more amber-yellow in color.
Nose: On the nose, I'm getting a port wine barrel vibe from this one. I'm guessing it's the Ultima Reserva. Port wine, cane sugar.
Taste: Boy that's good. This one seems like it has a lot of the same qualities as the last one, but with a little more complexity. It's a little less oak-woody and a little more bright-floral, and still with that rounded, velvety mouthfeel. I like this a lot. It's going to be tough to rank this against the previous one.
Sample 7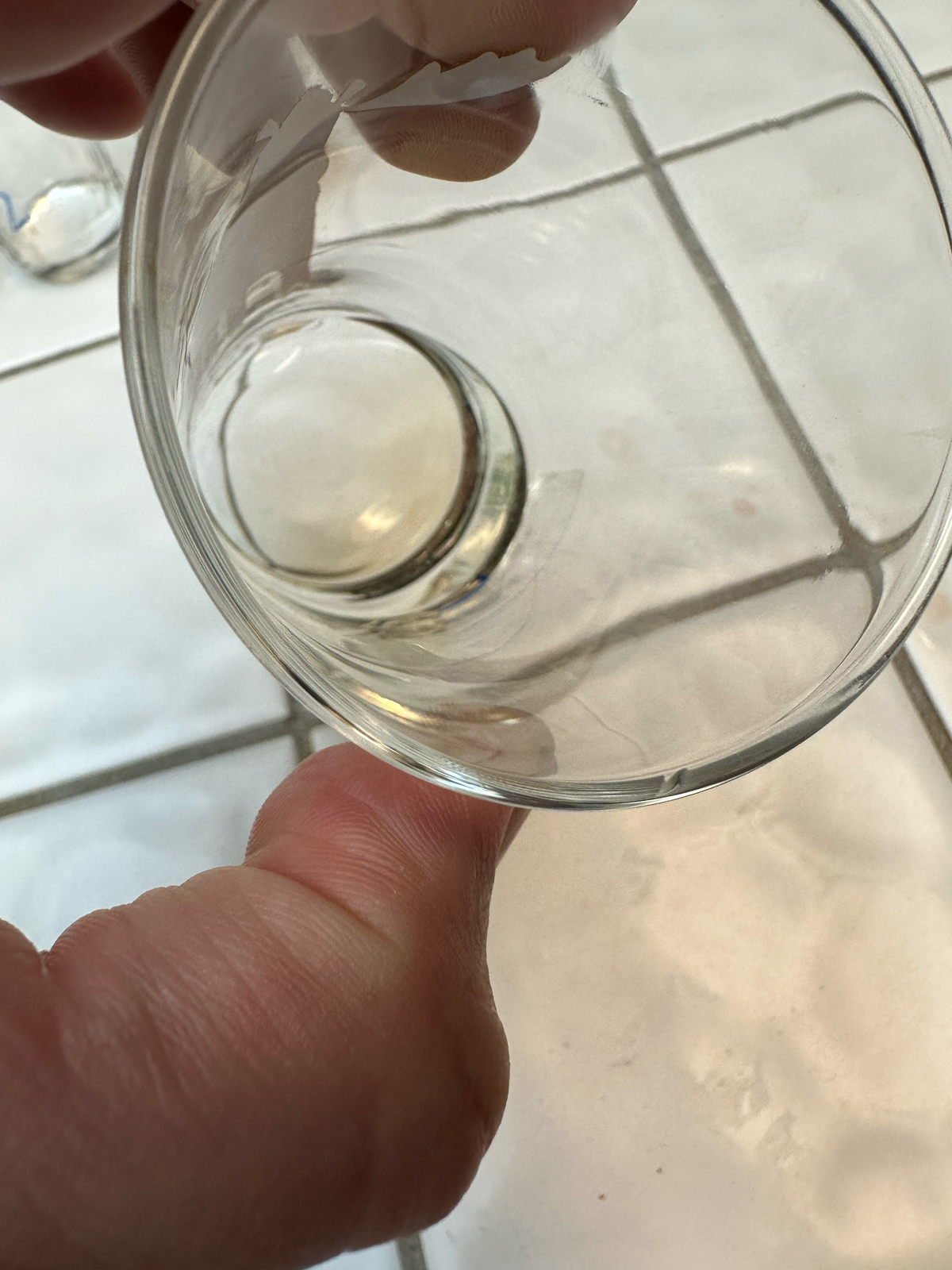 Look: This one is a pale yellow — or is that a little bit of rose color? I think it's just yellow. I really wish I wasn't colorblind right now.
Nose: I get rich, roasty agave on the nose, like baked sweet potato with a hint of aloe vera. A little oakiness creeping in.
Taste: On that palate, I get mostly more agave and oak, and very syrupy and sweet. More one-note than some of the others, but very drinkable and a great sipper. It doesn't linger as much as some of the others, but is pleasant and makes me want to go back for me. This is going to be tough.
Part 3: The Rankings
7. Don Julio Rosado
The Tequila:
"An exquisite Reposado tequila finished in Ruby Port wine casks that impart a light fruit finish and delicate pink hue. Tequila Don Julio uses only the choicest, fully matured and ripened blue agave, hand-selected from the rich clay soils of the Los Altos region."
Distilled at NOM 1449, the agave is reportedly cooked in brick ovens and extracted using a roller mill before being double distilled in a pot still before the aforementioned aging.
ABV: 40%
Price (MSRP): $125.99
Final Thoughts:
This was the most "different" of the offerings, easily, and not just because it was the only one that was pink. Those ruby port casks give it a nice fruity nose and some wild blood orange-type flavors, but they also impart a woodier, more astringent finish. If there's one thing I've noticed in my drink preferences, it's that I tend to steer away from anything "dry" in that way — whether it's woody cabernets or piny IPAs (no thank you!).
This is quite dry, astringent, and woody, though it does have some interesting grapefruity kind of flavors. Your mileage may vary, and whatnot.
6. Don Julio 70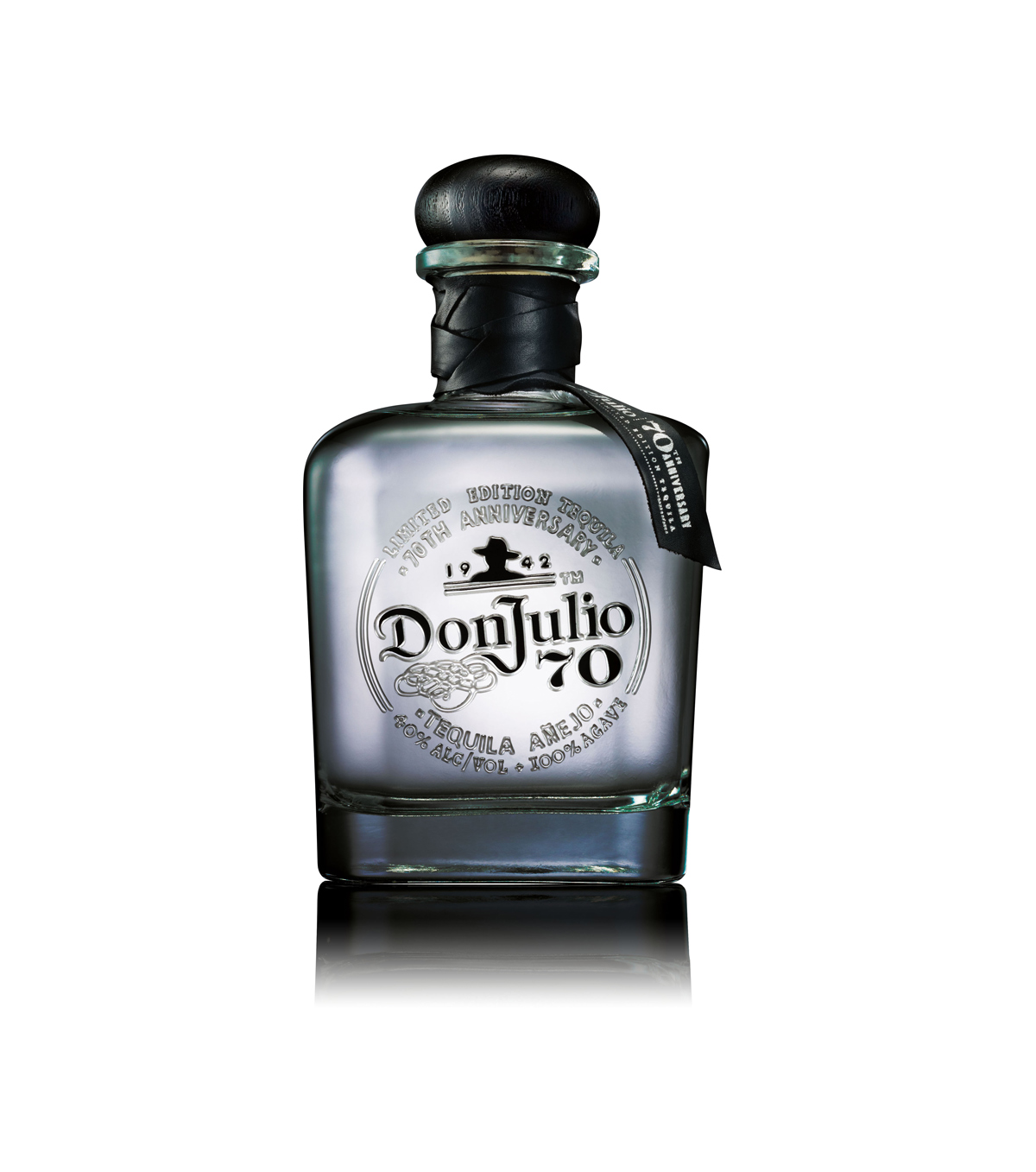 The Tequila:
Don Julio 70 is a "crystal añejo" or a cristalino tequila, meaning that it's aged for 18 months (like an añejo tequila) in American white oak, and then charcoal filtered to "bring back the crisp agave flavor typically found in a Blanco." And also, presumably, to restore the clear color.
Cristalino is an up-and-coming category now, and Don Julio says Don Julio 70 was the world's first clear añejo tequila.
ABV: 40%
Price (MSRP): $54
Final Thoughts:
I've heard tequila people say that cristalino was developed because Mexicans liked the flavor of añejo but were inherently distrustful of non-clear tequila, but that may be apocryphal. Anyway, this was the sweetest of the bunch and incredibly easy to drink. The only reason I ranked it lower than some of the others was that I thought it didn't have quite as much agave flavor as those and was maybe too sweet. I feel similarly about a lot of charcoal-filtered whiskeys (which are not clear, I'm not sure how that works) in that they become "easier" to drink and less harsh at the expense of some complexity.
It didn't really remind me of agave, which is a little disappointing.
5. Don Julio Blanco (Sample 3)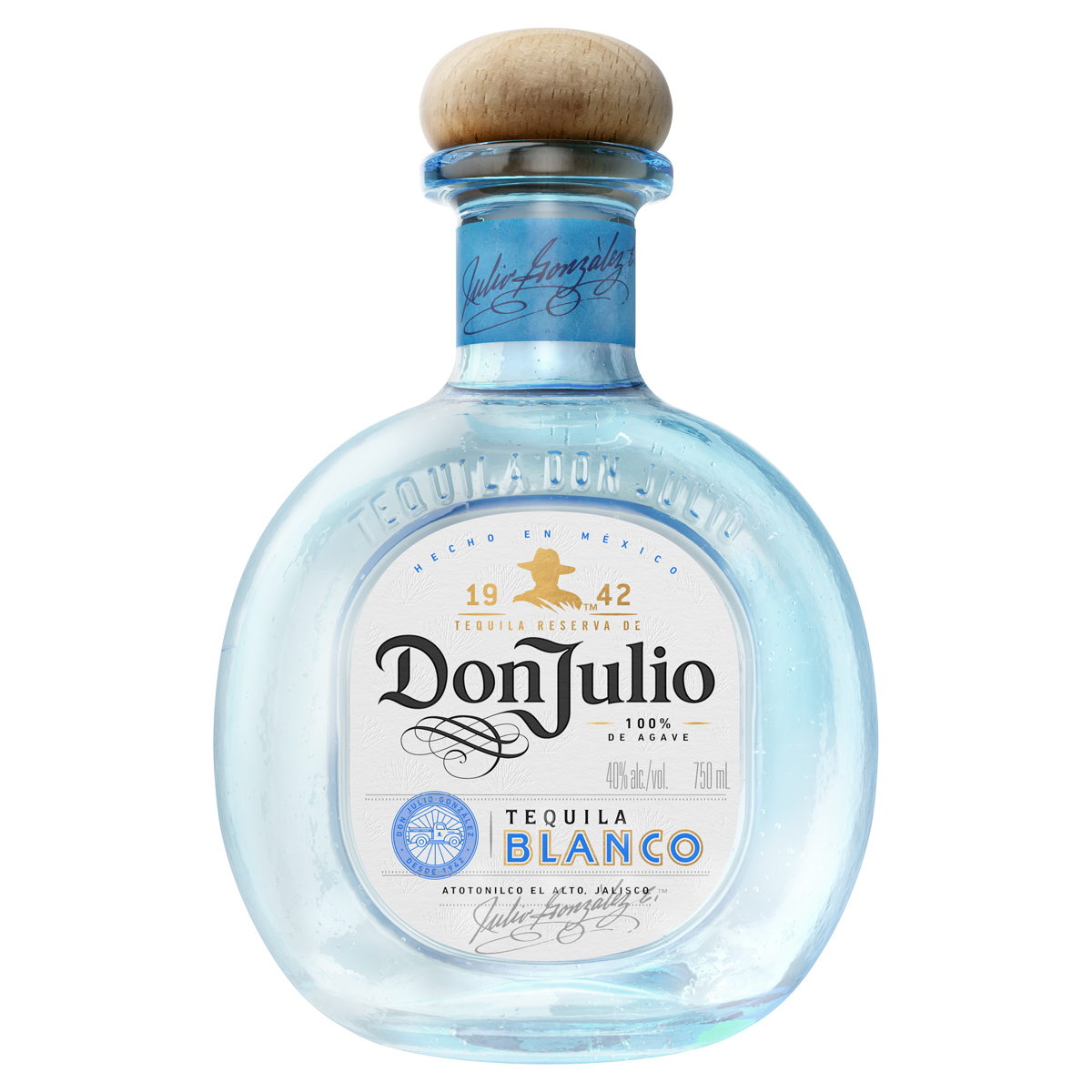 The Tequila: "Tequila Don Julio uses only the choicest, fully matured and ripened blue agave from the rich, clay soils of the Los Altos region."
We also know that it's double distilled, and the agave is reportedly cooked in brick ovens.
ABV: 40%
Price (MSRP): $45
Final Thoughts:
This was more herbaceous and butterscotchy than the 70, with more agave flavor. Buttery, grassy, and vegetal. This is a really solid blanco tequila, in my opinion. It's not harsh and it tastes like agave.
4. Don Julio Añejo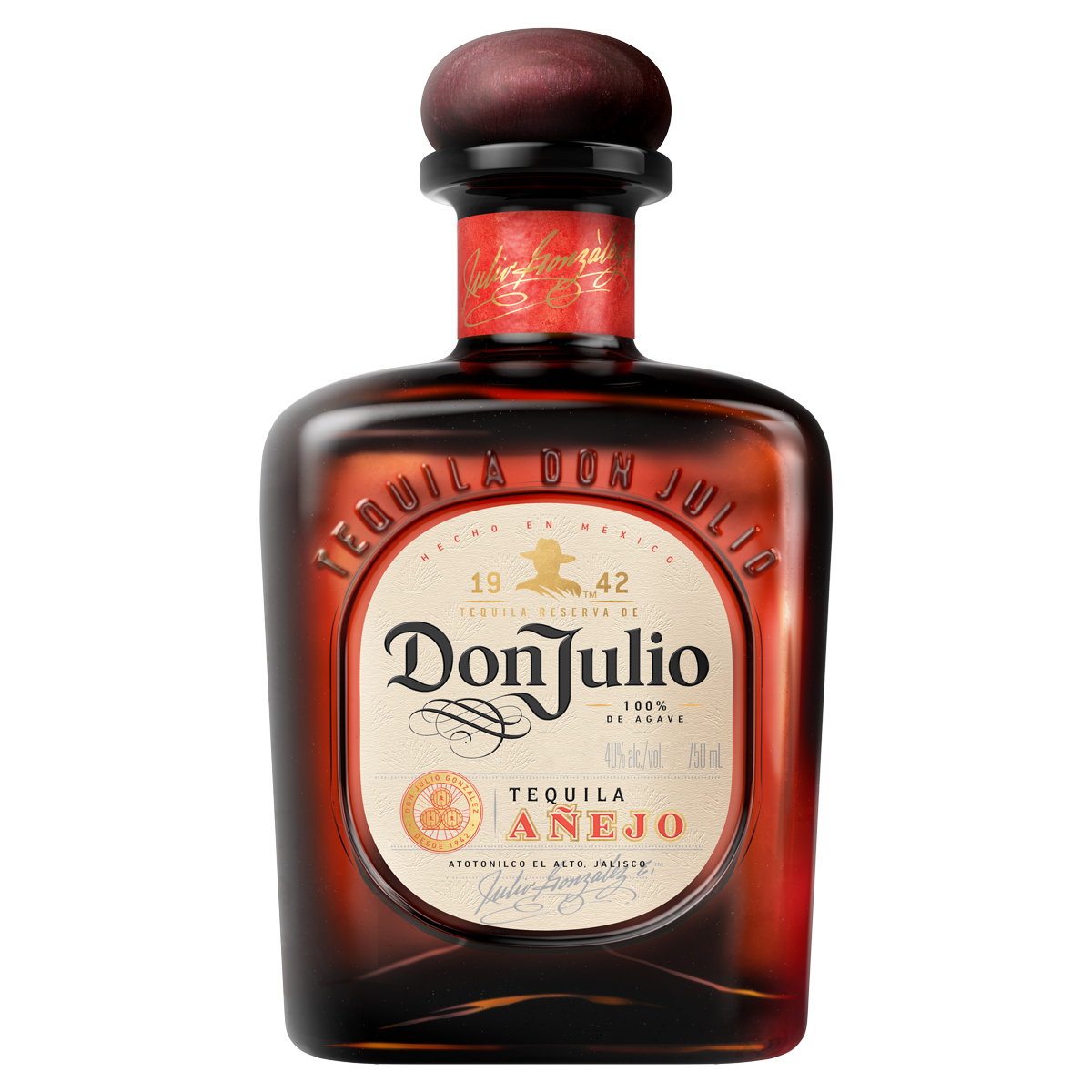 The Tequila:
Same as above, from the oven-roasted Los Altos agave to the double distilling and "unique yeast strain," plus 18 months of maturing in American white oak barrels.
ABV: 40%
Price (MSRP): $55
Final Thoughts:
This was very syrupy and with some dark wood flavors adding to that marshmallow/cotton candy base, with a finish of sugar and honey. An enjoyable añejo tequila all around. Great for easy sipping.
3. Don Julio Reposado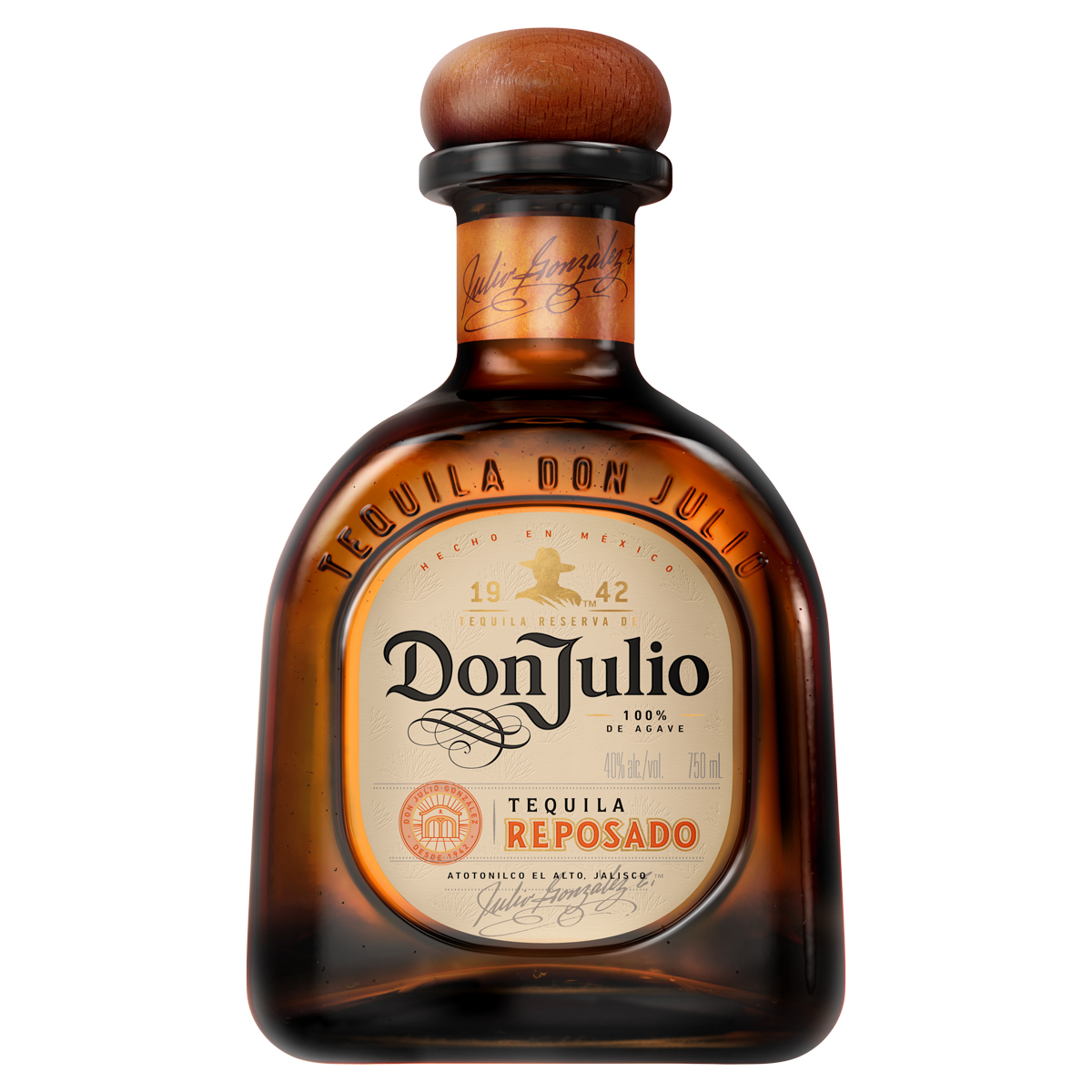 The Tequila: Same as the above — double distilled, Los Altos agave, brick ovens — but aged for eight months in white American oak barrels.
Price: $50
ABV: 40%
Final Thoughts:
Don Julio's Blanco, Reposado, and Añejo tequilas were all right there. To me, this one seemed like the best marriage of that roasty agave flavor and the caramel and nutty notes from the oak. Slightly less syrupy than the Añejo, but it was very close.
2. Don Julio 1942
The Tequila:
Don Julio 1942 was created to commemorate their 60th anniversary of tequila production. "Using a personal selection of prime agave," this batch of tequila is made with the distillate in Pot Still 6, which produces only three barrels per cycle, which were then aged for at least two and a half years in American white oak.
The tall Don Julio 1942 bottle is meant to mimic an agave leaf. Neat!
Price: $139.99
ABV: 40%
Final Thoughts:
My top two were distinctly the best two, but the margin between Don Julio 1942 and my number one was razor-thin. The thing that stood out to me about this was the buttery richness of it, like a decadent dessert tequila that I would happily drink neat. More wood in this one than any of the others, though it didn't have the astringent, blood-orange note that the Rosado had.
1. Don Julio Ultima Reserva
The Tequila:
"Tequila Don Julio Ultima Reserva is a special 36-month aged luxury Extra-Añejo tequila that preserves Don Julio González's ultimate legacy – the final agave harvest. In 2006, Don Julio González and his family planted this final agave harvest field. This agave harvest was set aside for a special distillation. After three years of aging, the result was this special Extra-Añejo tequila."
This distillation was then aged in ex-bourbon barrels and finished in seasoned Madeira wine casks. "To preserve this tequila and the exquisite agave piñas behind it," Don Julio implemented "a Solera aging method, which combines and matures tequilas of different characteristics and ages, allowing Don Julio González's final agave harvest to remain at the heart of this rare tequila."
It also comes in a fancy box!
Price: $399
ABV: 40%
Final Thoughts:
Should I be proud of myself for choosing the most expensive one as my favorite? I am a little… if I'm being honest. It doesn't always, or even usually, work that way in blind tastings, but the Ultima Reserva does taste distinctly expensive. Longer aging and more wood don't always equal "better" (as evidenced by me ranking the reposado over the añejo) but the ex-bourbon + Madeira cask formula for this one did seem a particularly ideal combination, bringing some of those brighter, more complex dried fruit flavors from the wine with basically none of those astringent notes that turn me off.
You know this is going to be a good one from the first sniff. I'm not going to say that you couldn't find a better tequila than this for less than $400 but I certainly haven't tasted it yet. I put this in a blind with a bunch of other brands and labels (I'll get around to writing that up sometime soon) and it still came out on top.
What can I say? I vibed with it.
---
Vince Mancini is on Twitter. You can check out his archive of reviews here.